In Which You Get an Earful
[Housekeeping first. It's just my opinion, but I think this page looks best when you have Baskerville as a primary font in your browser.]
Hi, Everybody
I'm Alice. I was born at Rose Elle's Oasis Kennels in Eketahuna, New Zealand, on 19th April, 2006, and Dave and Miranda collected me from there when I was just over 8 weeks old. Rose breeds schnauzers and miniature schnauzers - and westies too. If Rose's website is correct my dad was Drumroll Band Master (Imp Australia) and my mum was Stowlonga Vanity Fair. I think I take after mum more than dad, certainly in looks, if Rose's photo is anything to go by.
I'm not sure where I get my hairy ears from, though. Dave's vet described me as an exceptionally hairy little dog. I'm talking about the hair on the inside of my ears. Rose told Dave when he picked me up, he'd need to pluck it occasionally, probably while I was sitting on his knees in front of the television. Actually, I don't much like sitting on his knees. I slide off.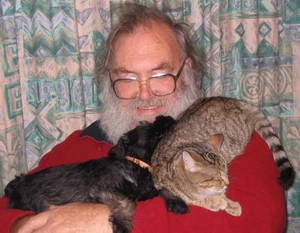 Anyhow, when Dave took me to the vet three weeks after he got me to get my microchip (no big deal) and second vaccination, Kathy the vet gave me a thorough going-over, and wasn't very happy at all about the inside of my ears. They were moist and inflamed, and full of hair and wax right deep down. And talk about plucking my ears while I sat on his lap in front of the tv, it took two of them, Dave and the nurse, to hold me still while Kathy just had a look. It was bloody uncomfortable, I tell you. Kathy gave Dave a tube of special ointment to put in my ears, and told him to bring me back in a week.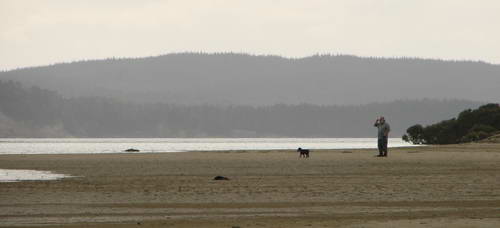 This is me and Dave at Journey's End. Miranda took the photo.
When I came back, Kathy the vet said there was no change in my ears, and she tried another tack, with some liquid stuff in a big brown bottle that Dave and Miranda had to syringe in my ears every night, for a week, and then twice weekly, deep inside, and then leave it to me to flick out.
Well, I got wise to that quick smart. As soon as I saw the syringe I took off under the kitchen table where it's real hard to grab me. Cunning sod got wise, though, after that, and grabbed me before Miranda got the syringe out.
Well, they tried that, but a fortnight later when I went back for the final jab, my ears were no better, and so bloody itchy I was starting to thin out the hair around the back of them with scratching. Vet's fees aren't cheap either, and Dave's wallet was a bit lighter than it had been.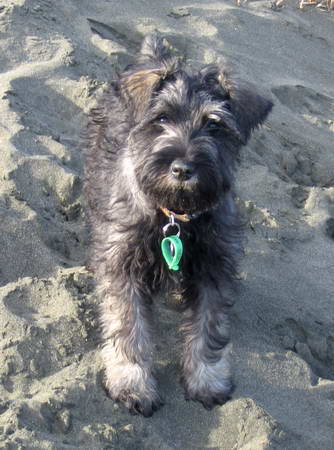 I like soft dry sand , don't you?
Kathy the vet was getting worried, too, as the only option left, she reckoned, was putting me under anaesthetic and pulling out all the hair inside my ears with special tweezers. Kathy said it was terribly early to be knocking me out with anaesthetic, and it was probably going to be a recurring problem, and might even need special ear canal surgery to open the passage enough to keep my ear dry. She made an appointment for a few days time to do the plucking under anaesthetic.
So, Dave dropped me off at the vet that Thursday first thing and collected me around lunchtime. Boy, did I have a ball seeing how much noise I could make when I woke up. And I kept it up for ages, right up until Dave came to collect me. Noise is something we schnauzers are really good at. I mean, I'm used to him ducking into shops and leaving me in the crate on the back seat for ten minutes or so, but this was different, and I let them know about it. (I was right up near the front when they handed out personality, wasn't I.)

Dave made just about as much noise as I did when he got Kathy's bill, but he made it quietly. The bad news, though, was that even with me knocked out, the vet still wasn't able to reach the hair right deep inside the ear canal. So it looks like surgery down the line some. I could be an expensive pup and a sad and sore one in the long run.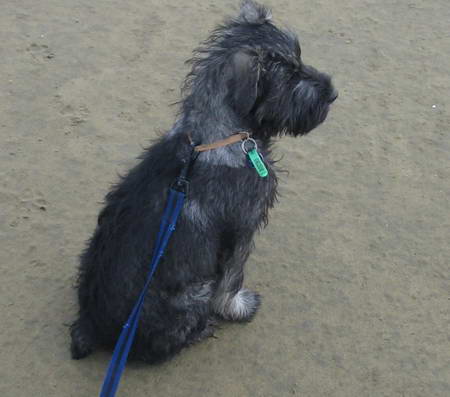 My best side
I have been taking a small dose of prednisone since then just to lessen the itch and the soreness a bit, but the down side of that is I get thirsty as hell and then I get caught short and piss all over the place.
So all in all, it's not all roses. I got in real trouble when I grabbed the roll of paper towel and headed off outside with it just after leaving a huge puddle in the front hallway.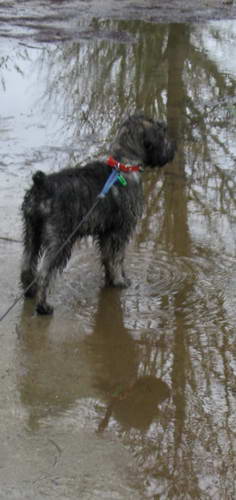 Did I do that?
I wish I knew how my ears got to be this hairy in the first place, or so damp and sore. Schnauzers do have inner ear hair, but mostly nowhere near as much as I do.
I suppose, when you're a pup, just like human kids, you don't get to choose your parents, or your grandparents. It's not as though I've had them under water or anything. Dave and Miranda have both been very careful about that.
15 August 2006. Dave took me back to the vet for a post ear-clean check. The wax is already starting to build up again, after less than a fortnight. Kathy called up a specialist and arranged a second opinion, but it seems now like I might need surgery to open up my ear canals so the air can get in to dry them, and so it's easier to keep clean. There's no pus-filled infection as yet, but she says it's almost inevitable that I will get a recurring series of them as I am. She reckons somewhere between $2000 and $4000 for the operation.
I keep hearing jokes about the Six Million Dollar Dog, and it's not really funny. A girl does have feelings, and I'm a bit of a wimp with pain when it's all said and done. And I hate getting the earcleaning drops in my ears every day now.
On the bright side, Dave took a wonderful photo of me when we all went up to Pouto last weekend. This is me at Bayly's Beach near Dargaville. Dave says I look like Piglet from Winnie the Pooh.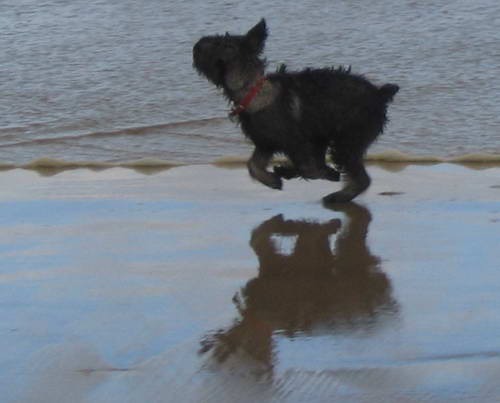 And speaking of poo, I never wet or pooed inside the van once all weekend. I also went nearly to the top of Tokatoka peak near Ruawai with Miranda. I have even less fear of heights than Miranda does. I had a ball.
31 August 2006 Today we visited Alex, the specialist that Kathy organised for us to see. He works at the veterinary hospital at Unitec in Pt Chevalier. They have a huge reception area with separate sitting areas for dogs and cats - makes sense, I suppose, if you're a human, but cats are real fun if you don't take them too seriously. The entire area is hard surfaced - floor, walls and ceiling, and its big, so when I barked it echoed wonderfully. You'd never think I could make so much noise to look at me.
Anyway, Alex had a look at my ears and he thought I might be a bit young for surgery. I love that guy. He said my head shape was still changing and would be for a while. I'll ask Dave for a floor mirror so I can keep track.
He hummed and hahed a bit and thought we might have a look at allergies before we considered operating. He told Dave that where humans tend to get asthma or dermatitis when they're allergic to something, dogs often get inflamed ears. I've got to go on a hypo-allergenic diet for a couple of months. Alex said that meant the protein in the diet would be from something like deer or fish that wasn't usually part of dog food. No liver treats, either, unless Dave can get some deer liver from Shani. If my ears start to clear up after a month or so, then we can begin bringing back other protein groups one at a time.
When he got back, Dave emailed Rose to find out what she'd been feeding me, and she wrote back that I'd been having Champ canned puppy food, and Eukanuba small breed puppy dried food. Dave went HMMMM. Champ puppy food, at least in our supermarket, is nearly all chicken-based, and Dave had been buying Champ, and he's been feeding me lots of chicken neck treats because they give us dogs lots of good calcium to build up strong bones.
(Chicken necks got me turned on to the sound of the fridge door opening. I just love the sound. Except I start to dribble when I hear it. Sometimes we're not as much in charge of our bodies as we'd like to think.)
Anyway, he's going to talk it all over with Kathy next week, but he thinks I might just wind up chicken-free. Albie, my mini-schauzer mate, is on a restricted diet for the same reasons.
Other news: We've been for walks along the Helensville walkway beside the river early in the morning, when the cafés are just opening in the main street.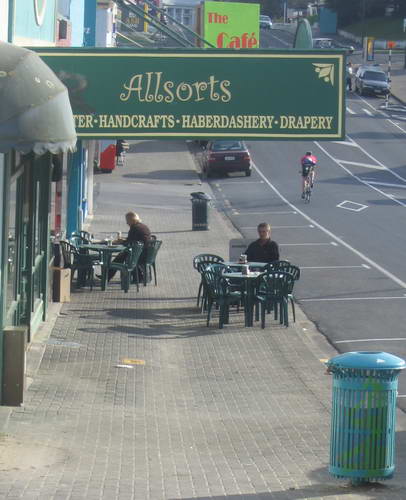 Warm baking smells, people to sniff and jump up on, other dogs, it's all really exciting. And down beside the river there are water rats. I've smelt them and I've heard them but I haven't seen one yet. Dave's not very keen on me heading down into the mud under the mangroves. And there are ducks, just like the ones in our park.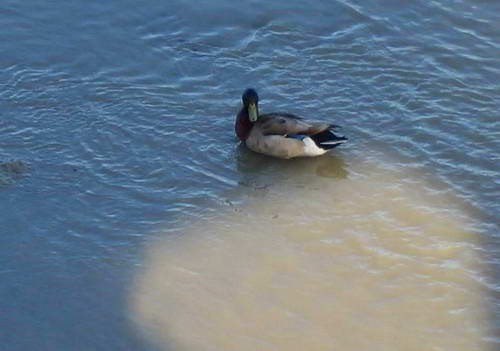 Must have been something she ate. Happens to me sometimes.