17 September 2006
The West Tunnel Mouth Track
It's just a bit under 500m. Yes, it's a track, but it's main claim to existence is that it gets you from one place to another. I found it otherwise scruffy with little to remember with pleasure. It's chief virtue is that it is mainly downhill, as I recall it, along the steepish side of a valley.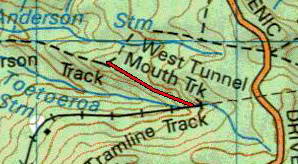 My memory of this track is attempting it earlier this year on the back of the Waitakere Tramway Walk. Right near the bottom, about 50m in, was a largish rocky area, fairly steep over a metre or two, very much covered in moss and wet under foot. A tentative tramping boot slipped out from under like a budding politician. There was no way I could see to get past the rocky area with my full pack on. So, today I start downwards with a few unspoken reservations. If necessary, I tell myself, I can double the dog lead and use it to lower myself over the slippery bit.
Undignified, yes. How about some pictures...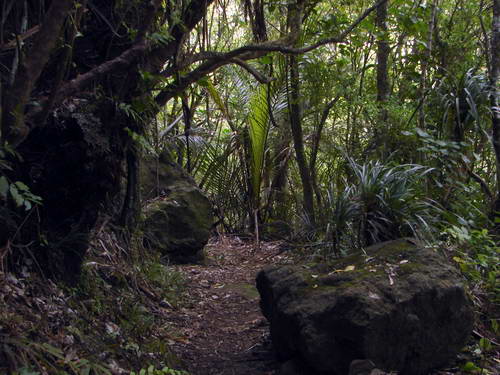 photo by miranda woodward
Looking at the next pic, I'd have to say it's pleasant enough, but it has started to rain gently - no pics from Miranda for the next bit as she's put her camera away.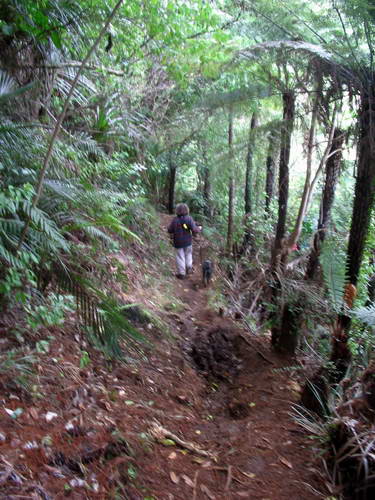 The next pic captures some of the quality I recall of the track, the slightly rougher, less hospitable aspects. The rain didn't help much.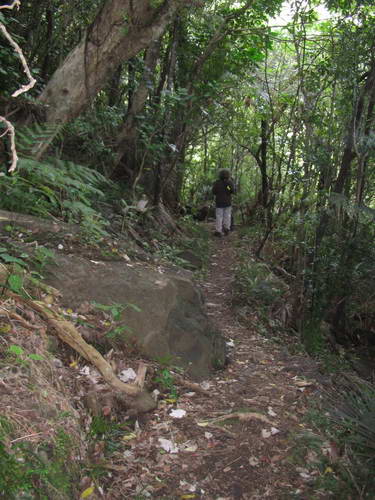 There's something vaguely familiar about this next bit, and then I twig. It's the steepish slippery section I had been anxious about.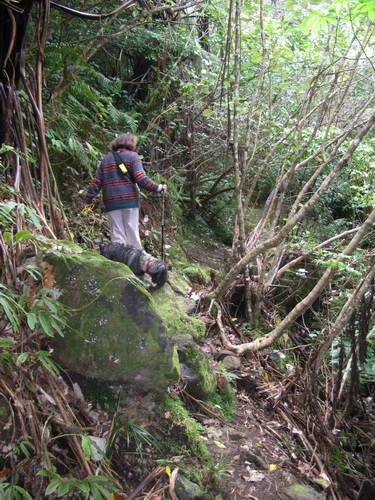 Someone has attempted to cut steps down here, but they are rudimentary, downwards sloping, and themselves slippery. Miranda is more agile than I am and makes her way carefully to the bottom. I don't fancy trusting myself to them, especially as my sticks have only mossy rock to get a purchase on, and from the top it's a bit far to reach Miranda with a stick.
I decide to try and find a way around them, and only then resort to dog lead tactics. By staying close to the cliff, this is possible and I inch around, swinging like some latter day and highly nervous Tarzan from some fortuitously placed mahoe trunks.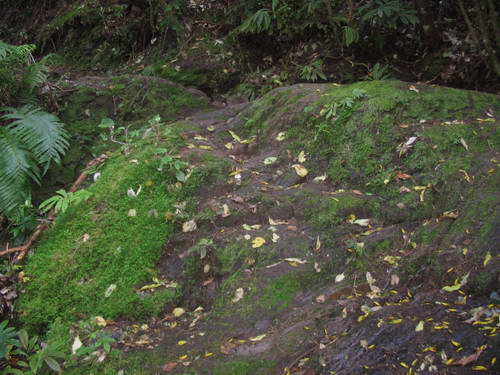 It doesn't look so fearsome from the bottom, and in fact I've seen runners casually leap up it and disappear along the path, but there's no leeway for mistakenly placed size twelve feet unless you do have that kind of agility. I don't.
Drama over. We can see the tramway through the trees about twenty metres further on, and make our way there. The rain has eased for a moment or two.