Not Your Average Backpackers
For a definitive description of this walk, you need to read the description on Tony's website written by a couple of very satisfied customers.
| | |
| --- | --- |
| | I first made contact with Tony Foster through his website, Bushman's Friend, when I emailed him to identify an unusual looking clematis I'd photographed in the Woodhill Forest. He has a great website, and an even greater knowledge of NZ plants. When it became obvious that we needed an interim target to boost our training for the St James Walkway in February, I contacted Tony and booked in for his guided Wairakau Stream walk. That's the DoC title. The locals call it the Lane Cove Track |
It was also an opportunity to confirm a number of tentative plant identifications from Woodhill. Tony pointed us at the Cedar House bed and breakfast, right next door to the track, and we booked in there as well. We headed up to Totara North, a few minutes north of Kaeo, and followed the directions to the Cedar House to get there late afternoon.
There's a modern king-size double bed waiting for us with a wonderfully comfortable mattress. Tea and coffee making facilities are available and there's a small fridge with room for food and beer, and a gas barbecue available as necessary. The en suite bathroom features both shower and bath. We are surrounded by native bush, tall tanekaha, flowering towhai and so on.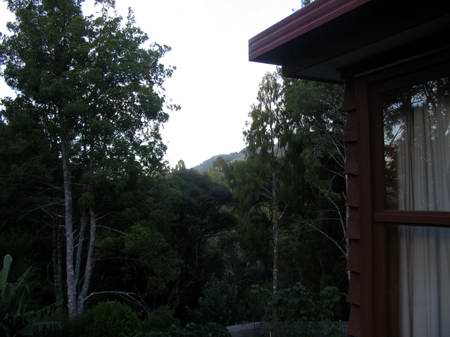 Joy and Richard recommended the Gumstore, the local pub and museum, for dinner, and we haven't had fish and chips this good since last year on the West Coast. Crisp and fluffy chips, light and crisp batter over the fish, and a huge salad. (This is in danger of being a food page as well as a walking page. We haven't even got to breakfast, yet.) The lager at $4 a 350 ml handle was pushing it a little, and the choice a little limited, but that was a small detail. (Shows you I don't drink out much. That's now about pub standard, I discover later.)
Breakfast was one of those extra large dinner plates just covered with eggs, bacon, sausages, mushrooms and salad. Cereal, orange juice, toast, breakfast rolls, tea or coffee available as requested. Same next day except it was Eggs Benedict. So much for losing weight from walking.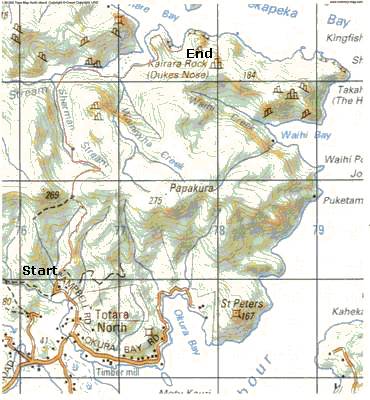 The track takes us from the Cedar House up an old fully-benched farm road through bush to the saddle.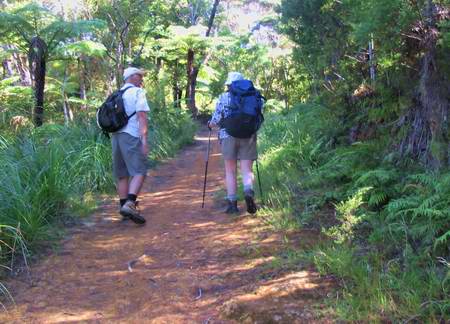 In just over a kilometre we climb about 120m with remarkably little effort. The remainder of the trip is downhill or level except for a brief part around the Duke's Nose when we climb 30 or 40 metres for some spectacular views.
The first thing I do is mis-identify a plant as a titoki. It's not. It's a towhai, (Weinmannia silvicola), one I'm not familiar with around our way. You can see the similarities in this young tree: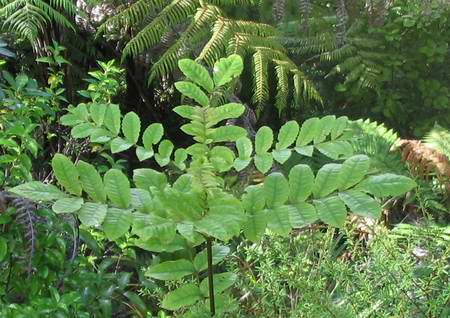 However, the adult tree in full flower is quite distinct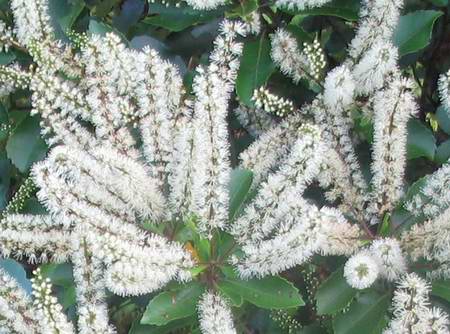 Tony points out several varieties of flax, and a miniature cabbage tree, Cordyline pumilio, which looks more like a clump of grass than anything else until you have a look at the base. We spot a large leaved mahoe, ( Melicytus macrophyllus), with heavier leaves than the ordinary mahoe and slightly larger berries.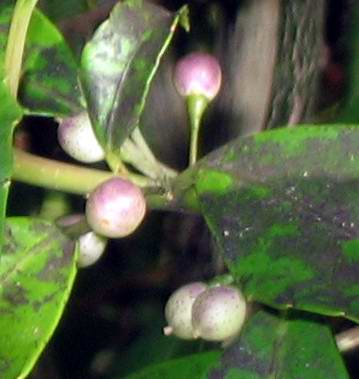 A collection of brilliant purple berries in another clump of "grass" signals a Dianella nigra, or blueberry. The Latin name is from Diana, the goddess of the woods. The Maori name is given as Rena by Laing and Blackwell, and as Turutu by Salmon. I have seen this often but never had a name for it before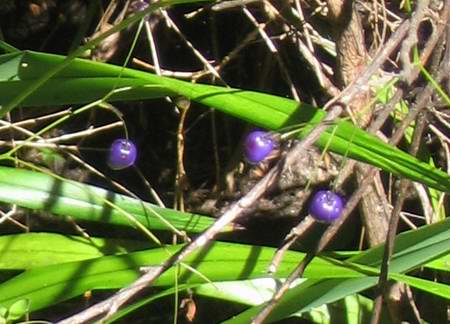 Tony draws my attention to a Coprosma arboreum, a tree with quite a marked difference between juvenile and adult forms. The juvenile form is very similar to C. spathulata, distinguished by being generally more leafy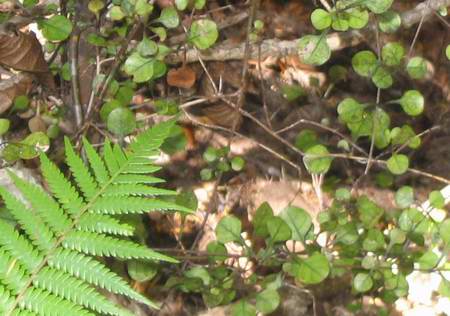 The leaves of the adult are significantly larger. Whangaroa is one of the few places where this tree is part of the canopy.
A couple of unusual kauri feature next - one of them growing two trunks from the base, and the other one with a sturdy branch coming off it about a metre off the ground.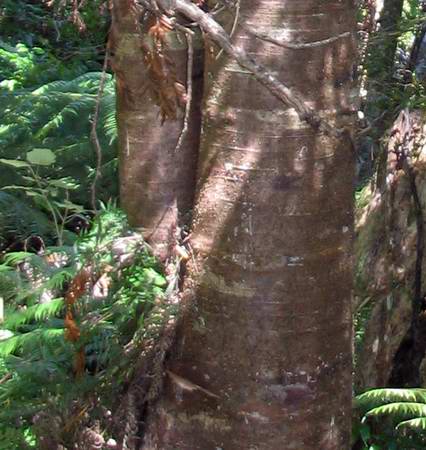 One of the feature views across the valley features some prime kauri that were spared because they were sited so close to a debated boundary that the millers could not agree on who they belonged to.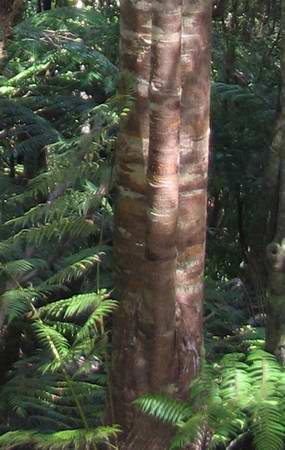 We meet another tree quite common in this area but rarely found outside of it. It is Pseudopanax gilliesii, the three finger five finger. Note the especially long petioles which distinguish this species from others in the genus.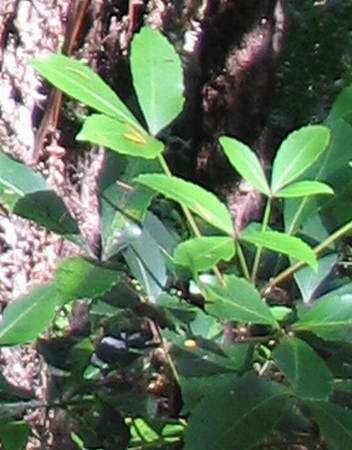 Before we know it, we have reached the saddle, and we break for five minutes. Tracks take off in all directions, most of them historic roads, bullock tracks, that linked Totara North with Taupo Bay and elsewhere. We take the downhill one to the right.
The downhill section is uneven and narrow, and requires more care - in places more like a streambed than a walking track. There are a couple of places that involve a little scrambling, but nothing that thousands of people of all ages have not done before. Being large and top heavy does not help though. I am very glad I have the hiking poles.