Brand New Revised....
Woodhill Forest Reserve
Woodhill Forest runs from Muriwai to the Kaipara Heads.
It was planted originally with a view to preserving farmland from encroaching dunes, and ensuring that the main north rail access remained open. Under the NZ Forest Service it was developed in conjunction with a wide range of public recreational reserves and amenities. In the reform years of the 80s and 90s the Forest Service was privatised to Timberlands and was eventually passed on to Carter Holt Harvey under a deal where CHH purchased the timber and the land remained the property of the crown.
I understand that as part of the original deal, CHH undertook to maintain public access to recreational areas of the forest, and (as far as I am particularly concerned) the Nature Reserves, except for closures as required for harvesting and maintenance operations.
The time since then has been characterised by a slow running-down if not closing altogether of many of the recreational areas and services established by the Forest Service. The picnic ground and lookout at the north end of of Selwyn Rd has been barred to all except equestrian keyholders. Another lookout area on Rimmers Rd has been closed to the public and a huge ditch/embankment combination erected to reinforce the message.
Until the winter of 2006, walkers could park in a small offroad area about 200m from the Boundary Rd/Restall Rd crossroads. From here, a short walk of about 600m got you to the DOC Nature Reserve, and you could pretty much choose your route from there.
During the winter, all walking tracks were closed to the public while harvesting was carried out on several blocks adjoining Walker Rd. This was complete by mid-August when I telephoned Andrea Collinge, the CHH recreational officer, who assured me that a follow up team would be through in about a fortnight to re-open the walking tracks. In the meantime, if I wished, it was safe for me to make my own way through the cut areas to the DOC reserve. I was also told that Bike Parks Ltd had taken over the administration of the walking tracks.
I emailed Bike Parks at their advertised address, info@bikeparks.co.nz, requesting information about their proposed plans for the walking tracks, and pointing out some of the dangers to pedestrians inherent in walking from the new OFFICIAL parking area to the beginning of the old walking track some 800m up the road . (See Woodhill Diary 061226)
To date, 22 February 2008, I have had no replies from Bike Parks.
To reach the DOC reserve, at present, your options are either
NOTE: Walking Tracks now available, but upgrades from the above have been minimal. See Woodhill Diary 080219
Let's say, you've read all the above and you still want to check out the Nature Reserve
Turn off SH 16 at Restall Rd just south of Woodhill School. Besides the roadsign there are a bunch of other signs advertising various forest-related recreational activities.
About 200 metres in, the Forest Headquarters road branches off to the left. Carry on straight ahead through the gate and up the hill until you get to crossroads where Boundary Rd intersects to right and left. Hang a right and continue a little over a kilometre, and you will find the carpark on the right. (The old walkers carpark was about 200m along this road on the left.)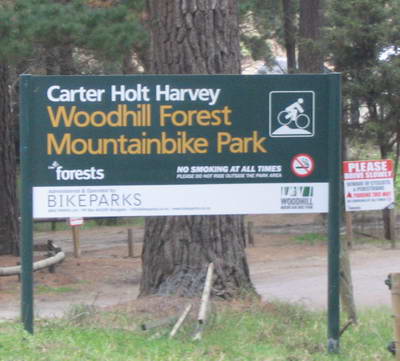 Note. With regard to maps, the recreational map supplied to me a year or two back by CHH was not easy to interpret if you were new to the forest and contains one or two outright errors which can throw you. It may have been upgraded since.
The forest is a maze of roads, paths and tracks. Some are formed gravel roads. Some are dedicated to mountain biking, some to horses, some to 4x4 bikes, some to pedestrians and some are shared.
The fact that a road is marked on a topographic map or any other map is no clue to its quality, or even its continued existence, and dozens of pedestrian, horse and vehicle-capable routes exist which the topo sheet does not show.
Note carefully, even when roads are marked on a topo map, these are not necessarily "public roads". See Paper Roads for a fuller comment.

The DOC Reserve lies for the most part along a ridge parallel to the coast. There's a variety of terrain to cover, nothing too steep or too demanding, a good example of regenerating bush with some nice older trees remaining, and the Modified Short Loop Track described on the following pages takes you through most of it.

Unlike the Waitakeres and other bushwalking areas, the "tunnel" effect is far less evident. You get to see out lots, and you get lots of sky. Take sunblock, if it's a fine day.

If you want to check out all the mysterious looking tracks that dive off into the pines every 100 metres or so, it's probably worth hiring a quad bike for the day just to get a feel for the place, and to get to know your shortcuts. But the native bush reserve is pedestrians only.
WARNING

During the winter months - July through October - there are hunters shooting deer in the forest. Those doing so legally are licensed and restricted to certain times and well-signposted areas that mostly do not bring them in contact with the public. Poachers are known to operate in this area, especially to the west, with fewer concerns for public safety. CHH advise that high visibility clothing be worn by those using forest recreational areas.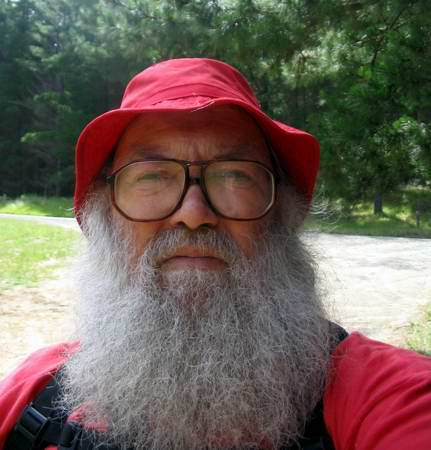 Me - I'm just here to check out the reindeer.....
As a matter of fact, sooner or later you will come across a deer — in about six months I've seen nine — five of them in one day — and there are fewer animals more graceful as they leap off into the bush and away.
Second warning.
Treat everything that looks as though it might be an electric fence as LIVE. Mostly it won't be but in the winter, stock are often brought in to graze the available feed, and the power will be on.
Enjoy!
Woodhill Diary
(This is an occasional record of our trips to the forest, either at Woodhill or just up SH 16 a little at Rimmers Rd Beach Access.)
Dave's Modified Short Loop Track 1
Dave's Modified Short Loop Track 2
Dave's Modified Short Loop Track 3
Dave's Modified Short Loop Track 4
Dave's Modified Short Loop Track 5
Dave's Modified Short Loop Track 6
---
Paper Roads
Public right of access along marked roads such as these is at times contentious.
CHH are frequently involved in tree felling and pruning, activities which can be dangerous to members of the public, and there are many groups - motocross, BMX, quad bikes, horse trekkers, deer hunters and so forth- whose activities are potentially hazardous in the presence of casual pedestrians. For this reason, many areas of the forest are limited to specific activities and certain hours of access.
Forest roads are not strictly public roads, even though they are likely to appear as such on your 1:50,000 topo maps, and may originally have been public roads. They are open to the public at the discretion of Carter Holt Harvey when the absence of logging or other forestry activity makes the area safe for public access.
Some roads have locked gates, or even large ditches bulldozed across them to prevent public access completely. Unfortunately, unmonitored public behaviour in isolated areas is not always compatible with forest safety.
Bear in mind the designation of forests - and farms - as "workplaces" by the Health and Safety in Employment Act, and the consequent responsibility placed on management to ensure hazards are eliminated, minimised, or managed to avoid harm to workers or visitors, and please observe signposted restrictions, (at least where the staples are not totally rusted through.)
(Once upon a time, for example, after an area had been logged, local Lions used to organise chainsaw and trailer gangs to convert scrap pine into firewood for senior citizens. Not any more. Too dangerous (!!) and CHH is likely to be liable in the event of an accident.)
---
Modified Short Loop Track. The original Short Loop Track as laid out by white marker poles - and as defined by the present official track - spent much of its length in pine forest at the beginning and at the end of the walk. Pine forest in small quantities repays investigation but in large quantities it's a diet of porridge. The modified track which I describe here reduces to a minimum the amount of time spent in pine forest and includes an extra stretch of bush officially part of the Long Loop Track.