8 - 12 November 2007
From the Psychotic to the Sublime
The Lake Waikaremoana Track
Day 1, Page 2
Morning dawned, as it does and we completed final preparations. Dakin dropped me off at the beginning of the track just on 8 am, and the others planned to follow about an hour or so later.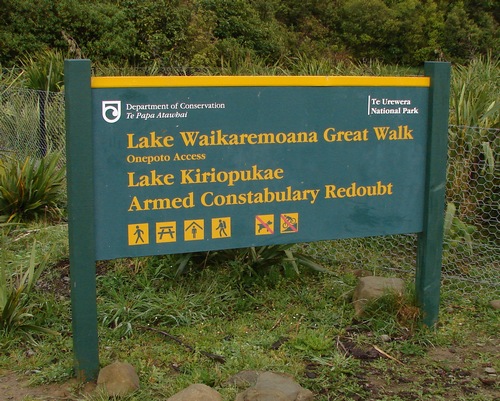 Cloud over the bluff is lowish and the lake is misty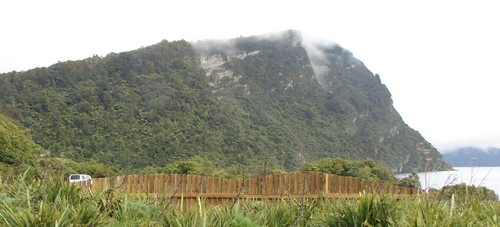 We pass a small shelter in basic whare shape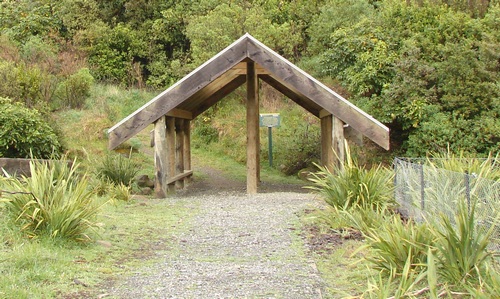 and move through to a day shelter about 50m further on. Weather conditions can be harsh in the area.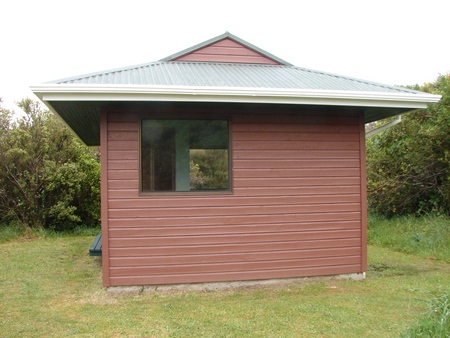 The initial track was narrow and gritty through basic native scrub and the usual weeds,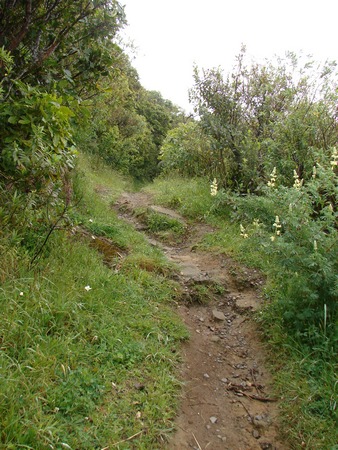 but soon joined a 4WD track up to a large clearing,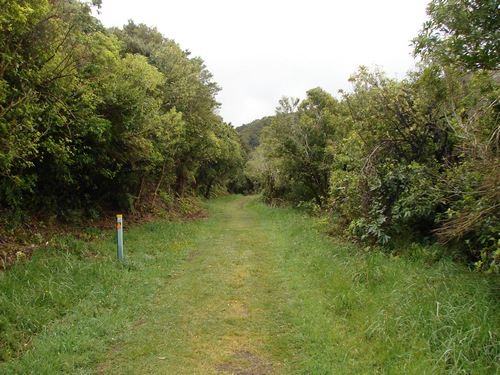 the site of a redoubt built during the Land Wars in the 1870s.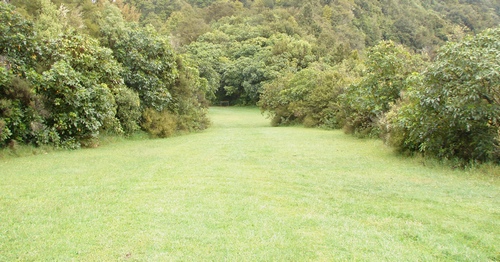 (Note that more recent cultural sensitivity has renamed what we older kiwis grew up with as the "Maori Wars").
A small bird is singing for all he is worth.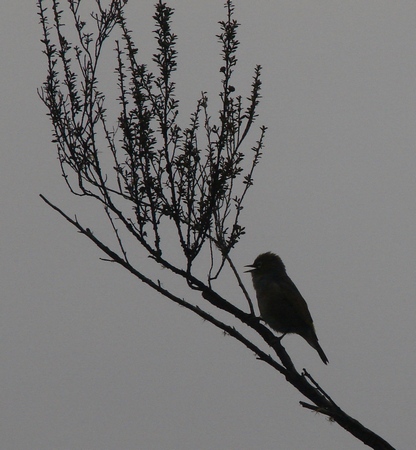 Vegetation is lush and it looks as though the kowhai down here is a late flowerer compared with up our way.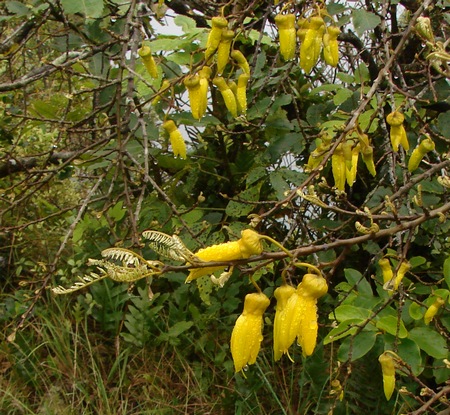 At this point the track proper begins.

I was once told by a ranger that DoC times are based on an estimate of the sort of people likely to be using the track. So 5 hours here is not necessarily the same as a 5 hour estimate for a track anywhere else. I must be one of the least likely trampers around. My general experience is that fatman time is approximately DoC time multiplied by a factor of 1.6.
If it's a Great Walk, then allowance needs to be made for highly variable weather conditions and for people who are less fit than the average tramper, or else a more realistic range needs to be provided. 5 hours for most Great Walkers is likely to be a minimum time or beyond their reach. A more useful estimate would be 6.5 - 8 hours.
The mist is generally low over the lake.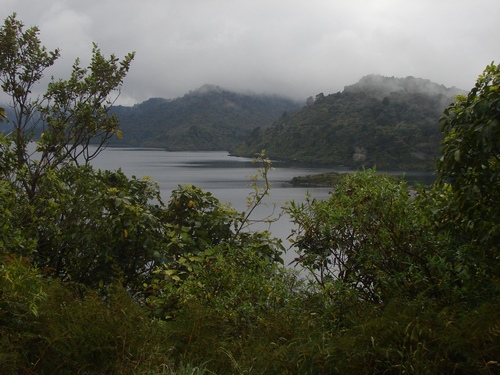 We head off uphill, a steady climb for about 90 minutes to 2 hours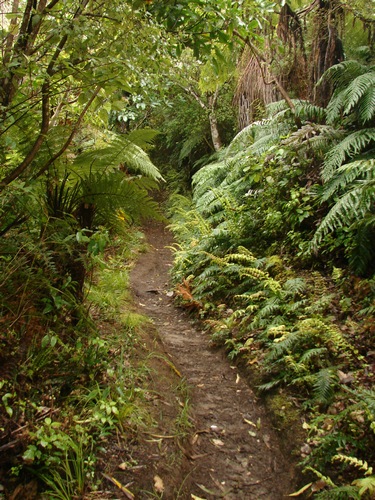 It soon becomes obvious that this is not a Great Walk as I know them. The dew on the roots is still quite wet and an unwary step can quite easily turn an ankle. Pay attention. I am still fresh and this is not as yet a major issue, but 8.5 hours later it will be.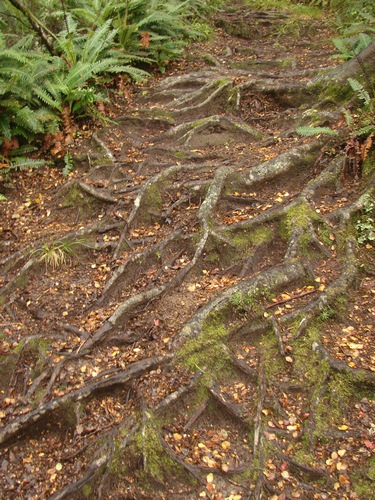 At first, the vegetation is lush with a wide variety of species. Later, it will diminish for the most part to lichen-draped beech, horopito and a few hardy coprosmas, and the ground will be carpeted in a dreary grey grass.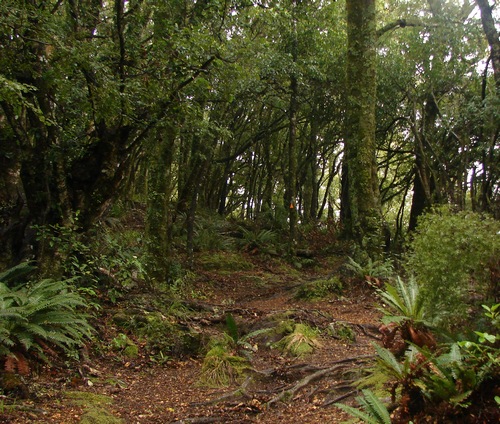 It's not difficult as such - you could find comparable patches on any track - but it requires constant attention, and constant means constant: there is virtually no let-up all day.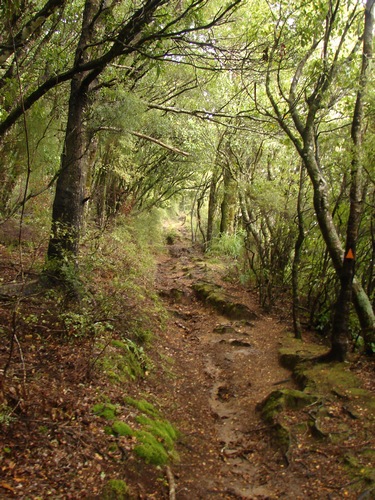 Beside the track, small beech seedlings emerge through a carpet of dead leaves and filmy fern.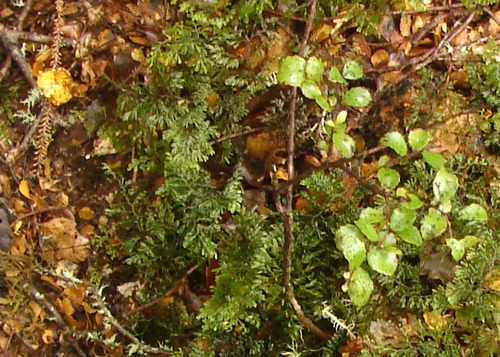 The odd patch of blue can be seen, but it's still by no means a feature.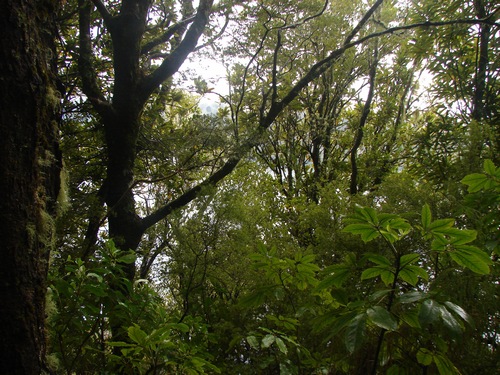 A flowering mingimingi still drips dew.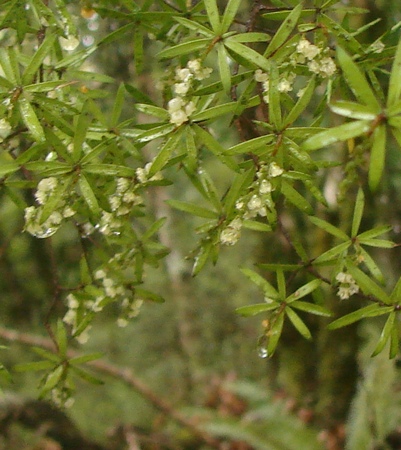 and the lacy network of young putaputaweta is all the way along the track at least as far as the first lookout.