An Open Letter to DoC
This Track is NOT a "Great Walk".
Here is the description of a Great Walk from a poster at the Waikaremoana DoC Motorcamp:

comfortable multi-day tramping/hiking

generally well formed, some sections may be rough, muddy or steep

suitable for people with limited back country (remote area) experience

some tracks suitable for mountain biking

track has signs, poles or markers, major water crossings bridged

light tramping/hiking boots required
The first day of the Lake Track violates just about every one of these.
The essence of a Great Walk is that while it may take you through country that is hazardous, the track itself should present no problems. I have walked extensively in the Waitakeres, including a number of tracks that are graded "Recommended For Experienced Trampers Only" by the ARC, and several that possibly should be, but none of these has presented anything like the difficulties I encountered on the first day of the Waikaremoana Lake Track, or left me feeling as completely shattered as I did at the end of the first day.
Neither did any day's walking on the Heaphy, the St James, The Greenstone, or the Mavoro tracks. The 17 km first day of the Heaphy and the 18-20 km middle section of the Greenstone were long and physically demanding, but otherwise straightforward.
The track between Onepoto and Panekiri is not "formed". The most that can be claimed is that DoC has chainsawed treefalls. It is root-ridden and demands constant attention to placing your feet. It is in your face throughout the day, like a dentist.
On half a dozen occasions it skirts the edge of the bluff with a sheer drop of several hundred feet marking the outside edge of the track, with track width barely a metre, and down to approximately 400mm at one point. There is nothing in the way of support or guard to prevent a stumble or slip sending you over the cliff.
Bear in mind also that tramping conditions were idyllic. Gentle, warm, near bluetop November sky with occasional clouds; and not a breath of wind. Winds are frequently gale force up there and temperatures extremely cold, and combined with rain would make traversing these sections of path exremely hazardous for many people who, like myself, regard the Great Walk label as an invitation to a friendly track.
Following one of these bluff-edge sections one is obliged to scramble up a step about 700mm in height with nothing in back but a ledge and a sheer drop, and a few small tree rootlets to provide support in front. After another, there is a scramble up a 40 degree slope about 2.5 - 3 metres over smooth-surfaced rock, with small worn outcrops and indentations the only support, and again, nothing to prevent a backwards slip ending in disaster. At the very least in these cases I believe there should be some kind of cable support secured to the rock to provide a handhold.
There are traces of these elsewhere on the track where railed boardwalks now exist. Why not here?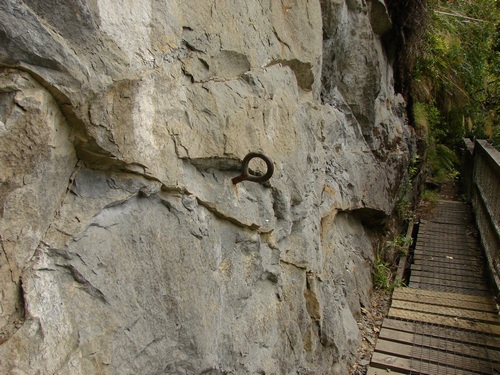 Immediately before the Panekiri Hut, there are a series of four longish staircases to take you up the edge of the bluff. In between the second and third there is a 2-3 metre section which is unrailed, narrow, and which is again edged by a drop of hundreds of feet, and which requires a largish step up before one can grasp the handrail of the third staircase.
After the fourth staircase is a further exposed section of a few metres, only slightly less terrifying, and coming as these do at the end of a long and strenuous day when knees and ankles have been sorely tried they are not what I want to see in a Great Walk.
I doubt whether I would have been able to manage the first day tramping independently, and I rather imagine I bring to the walk a good deal more experience than many seeking their first Great Walk adventure.
Granted I have a fear of heights that exaggerated many of these problems, but that is not a rare condition by any means, and should not be a disqualifying characteristic on a Great Walk.
DoC's estimate of 5 hours for the trip is ludicrous. Fatman time was 8.5 hours and, being experienced in the ways of DoC measurements, I was prepared for 9, and left an hour or two before the rest of the party. A group of athletic young Israelis and Germans took 7 hours for the walk the same day as we walked it. A couple we met on the track had relied on the estimate, left around midday, and arrived at Panekiri in the dark.
There is a sign at the beginning of the track warning of potential and unspecified hazards: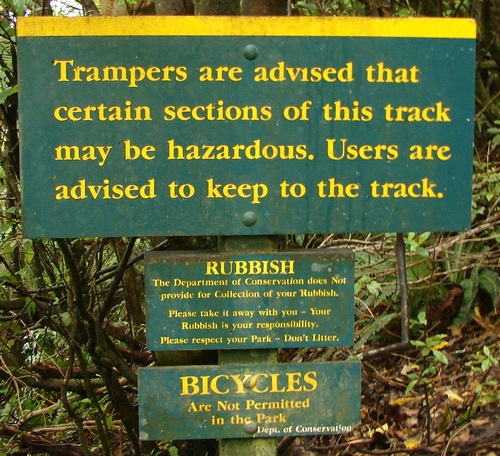 I had no intention, not the slightest desire, to leave the track at any point, nor was I even remotely likely to attempt the track on a bicycle. But on a Great Walk, staying on the track should not present as many problems as this day did, even in such idyllic weather.
If I was packaging a Great Walk on Waikaremoana especially for older and less agile walkers, I would use water taxis to take them from DoC's Waikaremoana Motor Camp (top marks for this facility) to Waiopaoa Hut early on the first day to park their heavy gear, and send them up towards Panekiri for 2-3 hours and back to Waiopaoa for the night, then on around the lake over several days to Hopuruahine Landing to be picked up by water taxi, brought back to the motor camp, and sent up to Lake Waikareiti and a row across to Rahui Island for dessert the following day. Perhaps even a walk as far as Sandy Bay Hut....
But not up to Panekiri Hut.
Further to "Great Walk" status, this track differs from South Island Great Walks in that in the South Island, all toilets are provided with paper, and nearly every hut has gas cooking facilities in the summer season, and a variety of ancient aluminium saucepans. On this walk, no toilet paper is supplied, and no gas cooking facilities, and once again, for those accustomed to the standards in the South Island and not necessarily reading the small print, this can be a trap. Fortunately we were organised for between hut boil-ups and toilet emergencies.
Also, I'm not sure who designed the Panekiri hut, or who approved the design, with it's excessively cramped sleeping quarters - sitting up in bed is dangerous - its negligible space for stowing packs, and its huge volume of wasted space in the high-ceilinged kitchen area where nearly all the warmth from the miniscule gas heater disappears into the roof, but they should probably be shot.
This is not a Great Walk as it is presently constituted.