13 November 2007
Lake Waikareiti Track
Two in a Row...
page 1
My apologies for a rather belated report and I'll do my best to recall it in some detail.
Following our return to Onepoto from the Waikaremoana Lake Track we stayed the night at Lesleigh and Dakin's family bach, and the next morning set off in the van around the lake to Aniwaniwa, the DoC Headquarters and the beginning of the Waikareiti track. "Iti" means, in Maori, small, so while Waikaremoana translates as the "sea of rippling water", Waikareiti is a "small rippling water"
It is a small lake at a somewhat higher altitude than Waikaremoana.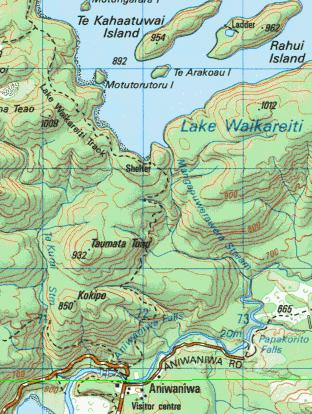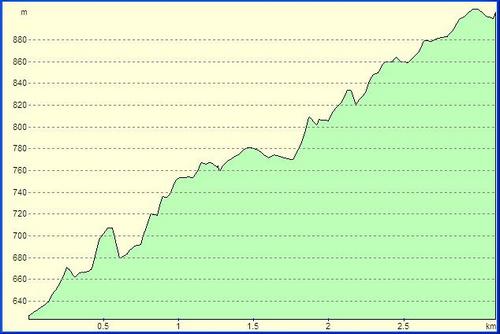 Because of its isolation it is, we are told, completely free of introduced lake weeds and pest fish species. It is host to several small islands that are totally free of vermin, and they are in turn host to a number of otherwise threatened bird and vegetation species.
One of the islands, called Rahui, contains another lake. On payment of $20 at the DoC office you can book one of a small fleet of lumbering 3.6 m aluminium dinghies, plus oars and rowlocks, and life jackets, and make your way out to the islands. The oars and rowlocks are in lockers at the lake edge, but the lifejackets we had to carry up the hill to the lake.
DoC time is an hour. Fatman time up is 90 minutes and down 45 minutes.
The track as far as the lake is designed for quadbike access. You could just about call it wheelchair friendly.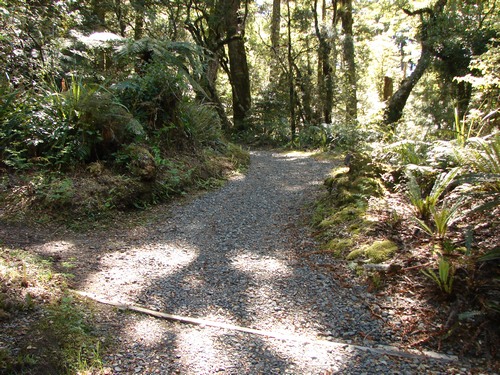 We carry on up the hill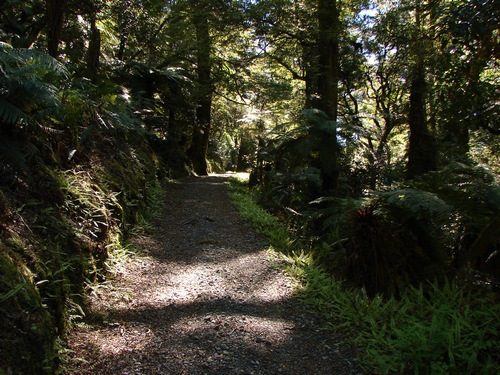 There's something about a path up the side of a slope where the bank to one side is steep and high and covered in ferns and mosses and lichens.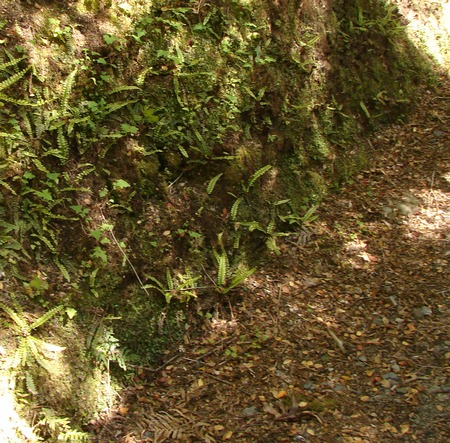 Some of the beeches have an almost tangible energy field around them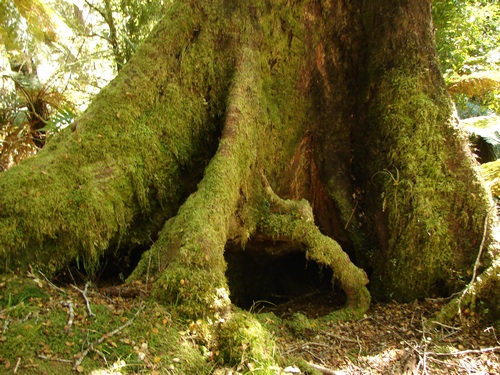 Fanciful, perhaps, but this is land that makes it's presence felt, and not just physically, as you walk through it.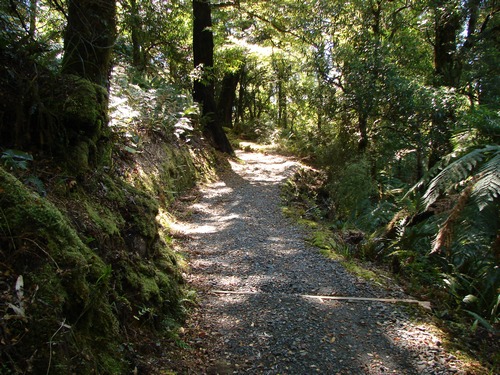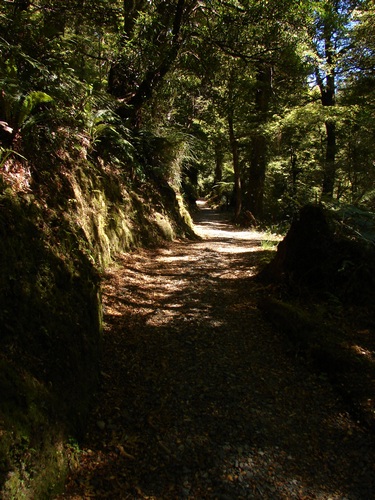 DoC Waikaremoana appears to be run by gorgeous women, graduates all of them of the Tui Breweries Staff Training Centre..... But they move fast and with purpose, and are almost gone by the time I have leapt to the side of the track, collected my wits and focussed my camera.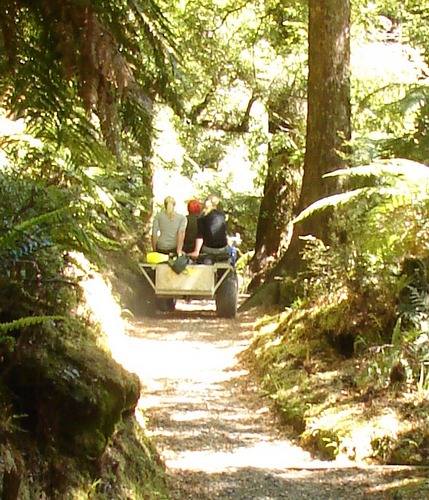 This area appears to have escaped the worst effects of the storm which devastated the Waikaremoana track a while back, but here and there, DoC chainsaws have been necessary to keep the track open. For such a wilderness experience as we have in New Zealand, as available and safe and accessible as it mostly is, I am constantly grateful.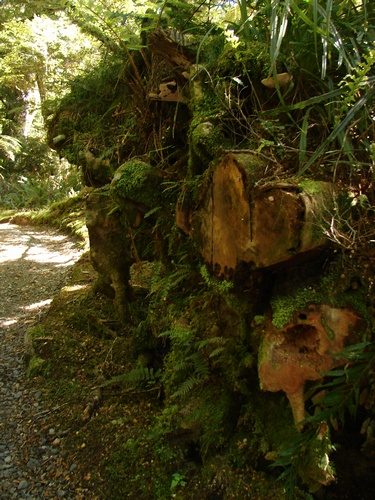 We head on up. The day outside is cobalt blue, and warm, and I am also thankful for the shade we have. Our Waikaremoana experience has made liars out of every weather forecaster I know. This is six days of perfect weather in succession that we have walked through.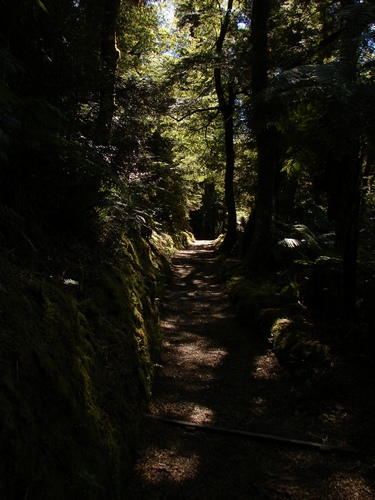 It's also a treat for Miranda not to be lugging a full pack around, which she has been conscientiously doing right around the lake to get her fitness levels up for Tongariro in a week or so. I am carrying the lifejackets stuffed into my big pack, but there's no weight to speak of.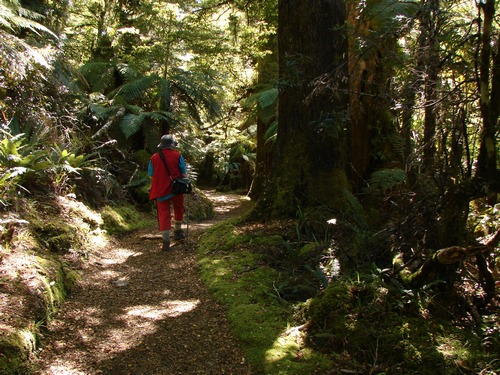 This area of forest hosts a fairly uncommon species of native mistletoe and we have been asked to keep an eye out for it as it is in flower about now. We find no mistletoe but plenty of evidence that it is the flowering season also for the New Zealand fuchsia, the biggest-growing fuchsia species in the world. These are growing most of the way up the hill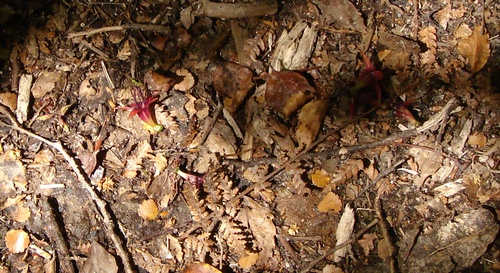 Fastened to a trunk beside the track, a nesting box or shelter of some kind. From the size of the entry hole, I'd hazard a guess at weta.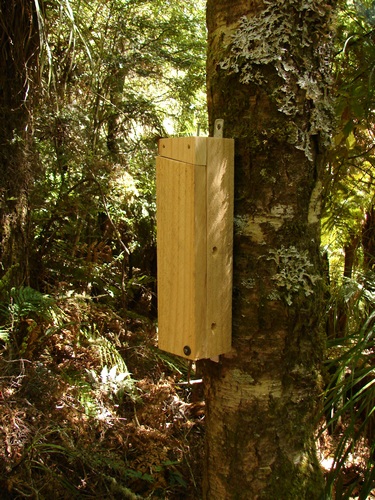 You can get to a place where you take for granted the tree ferns that line so many bush tracks, and it pays every now and again to stop and take conscious stock of them.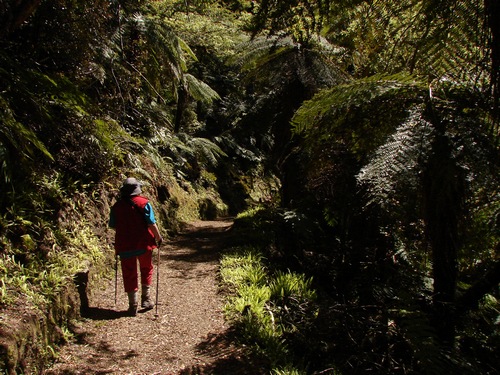 This is about the only spot on the track that a wheelchair might have trouble with. Sure it's up hill all the way but it's a track most of us could find our way up provided that we take our time.