28 July 2007
Sharp Bush Track
page 1
I'd planned a short version of the Fairy Falls Circuit for today, involving the Goodfellow Track, and, almost as an afterthought decided to toss this track in as a pre-morning tea warm up. It's a little over a kilometre all up, a gentle climb from Opanuku Rd up to Mountain Rd and back.

From Henderson, follow Henderson Valley Rd for about 6.5 km. It becomes Mountain Rd and shortly afterwards Opanuku Rd heads off to the left. Sharp Bush Track begins about 700m or so along Opanuku Rd. There's a small parking area right across the road on the left.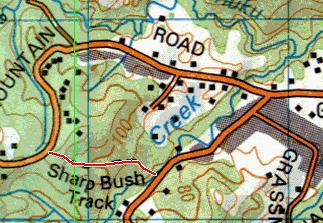 Alternatively you can start from the Mountain Rd end. I planned to do the relatively gentle uphill section first and relax on the relatively gentle downhill stretch home. Nothing is ever quite the way you envisage it, however.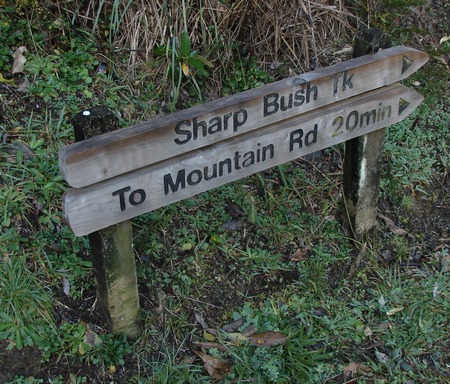 I crossed the road from the carpark and popped through the gap in the roadside guardrail. Immediately I was faced with a set of steep downhill steps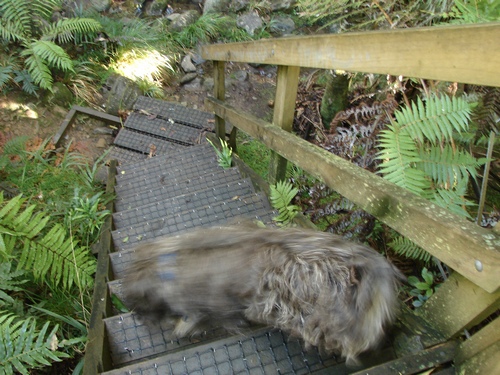 heading straight into a stream crossing.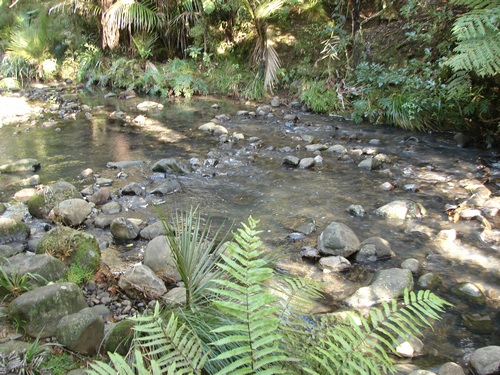 Despite recent rainy weather, the stream is no big deal, though I always feel uncomfortable balancing my 125 kg on small pointy stepping stones. Up the other side and the path is more an absence of vegetation than a formed route. The ARC notes refer to an old bulldozed road but it's not obvious.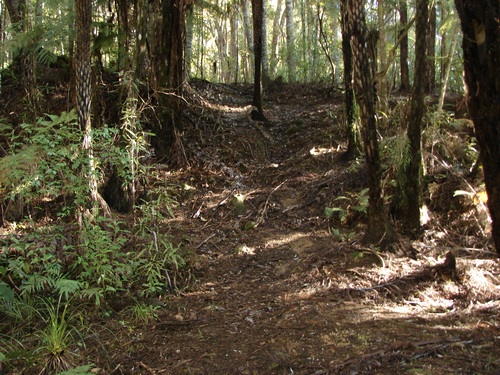 The canopy is exceptionally high - up to 20-25 metres, but it's light and airy beneath it.
Alseuosmia is plentiful, and Coprosma grandifolia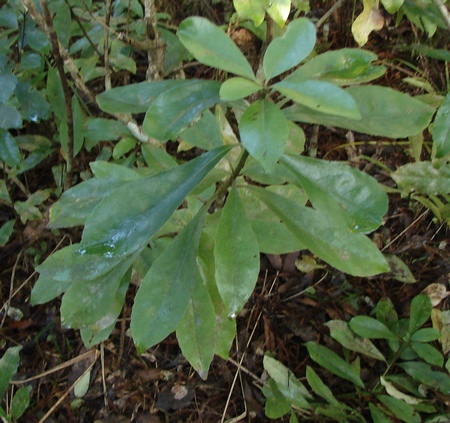 Tufted shrubby maire is also common.
A shaft of light picks out a twig of mapau and highlights it against the shadows.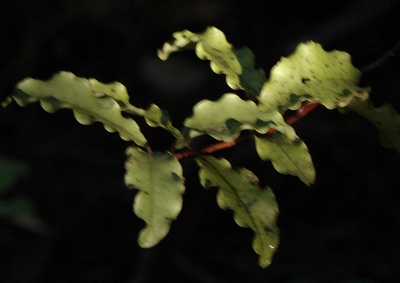 Tall Gahnia sedge is common in the more open sections of the track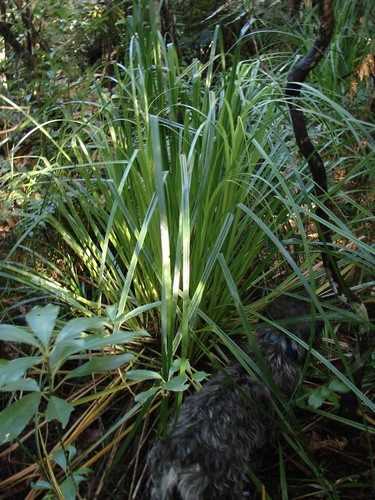 It's light and airy walking under tall trees. A young punga catches the eye beside the track.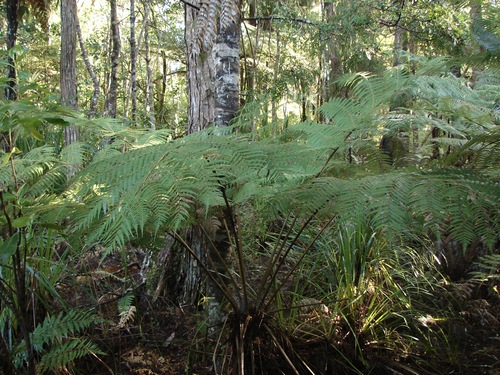 A young kauri, relatively insignificant against those further along.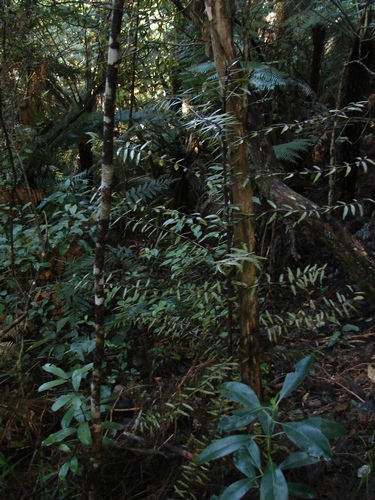 Some of the kanuka are very respectable trees. This plant can grow to more than 100 years old.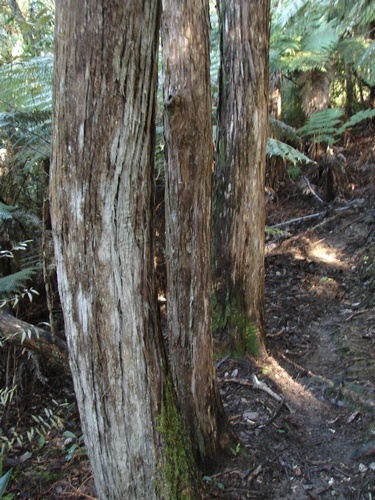 Alice heads off for a bit and I reel her in with a whistle.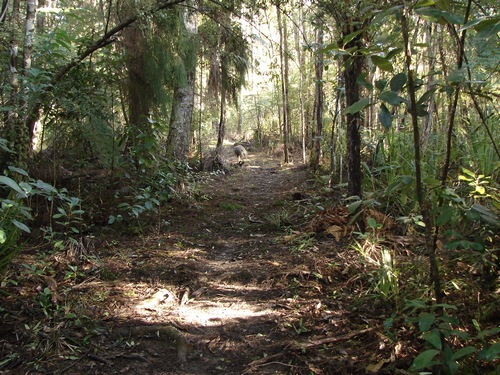 One of the features of this relatively early walk is the low morning sunlight angle which catches a number of brightly gleaming leaves against banks of shadow. Hangehange backed against fallen punga fronds.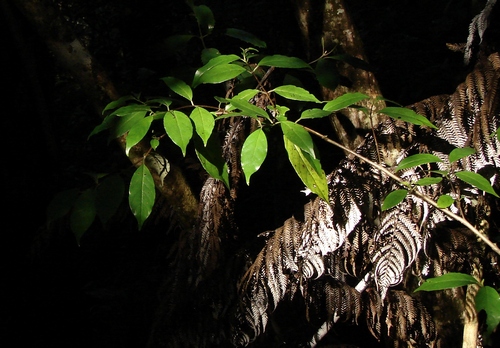 Coprosma grandifolia — the large-leaved coprosma. And how. I'be seen some of these leaves nearly 275 mm long.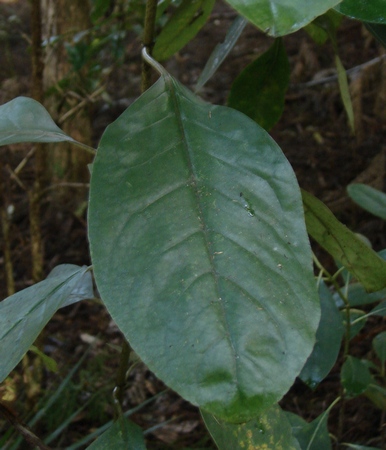 Near the other extreme is [either] Coprosma spathulata or C. arborea, probably the latter, both examples of the smaller-leaved varieties, though the leaves of the adult C arborea are several times larger.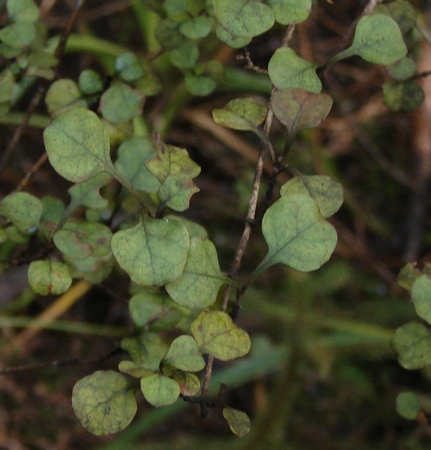 It often pays to cast the occasional glance upwards on a walk. The skyscape viewed through trees can be spectacular, and sometimes the just the sheer height of this "scrub" kanuka is impressive.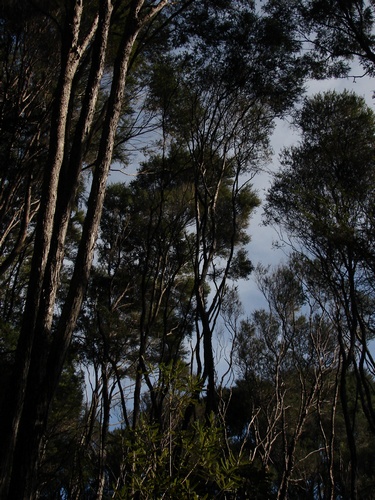 Time to watch our feet for a spell, as roots take over the track. There's still enough early morning moisture around to make these treacherous.