The "Excuse Me" Trail
Routeburn Track: The Divide to Howden Hut
Before I'd even got here, I was turning over in my head possible titles for the webpage report, and "Citronella Mon Amour" had suggested itself.
As we queued to board the bus at Te Anau we were enveloped in a warm and nose-tickling cloud of lemon-scented Citronella vapour from our fellow trampers, and again, as we waited at the Divide, we watched everyone applying it religiously. While we waited, two more buses stopped and disgorged dozens more Citronella-scented trampers, tourists and day trippers.
Maybe the scent of Citronella has attached itself subtly to the vegetation along the track. Be that as it may, on the whole trip I used no insect repellant and suffered minimally from sandflies. Compared to the Lewis hut on the Heaphy Track, or the Pleasamt Flat DoC campsite in the Haast, where you wiped them off in great handfuls.....
Anyway, I digress. We had planned an eight day expedition, from the Divide, down the Greenstone Track and the Mavora Walkway, and a couple of days before, Carol and Mike, fit and fresh from the Rees-Dart track, had walked in to the Greenstone Hut from the carpark with a food drop and walked out again, taking about 2hr 30 each way (DoC time 3 hours).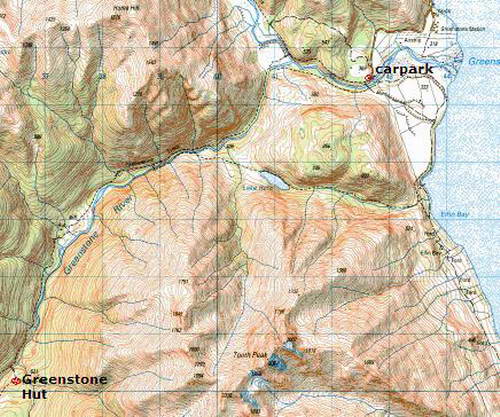 We met them at the carpark with an iced Woody for Mike and a g and t for Carol - there are some things the van does very well indeed - and we repaired to the Kinloch campground for dinner and overnight. Next day we parked their 4WD next to the ranger's caravan at Mavora Lakes and we all came round to Te Anau in the van.
We had arranged secure storage for the van at the Lakeside Campground, in Te Anau which is also the departure point for buses to the Divide. We spent the afternoon on showers, laundry and organising our gear.
A visit to the DoC office gave us our tickets for the Howden hut. Even though we had booked and paid for these months ago, we were stiull required to collect them in person, and if we were late stood to forfeit them with no refund. This, I presume, is so that the DoC officer can make sure we are adequately prepared for a trip into the mountains. "Have you," he said, "enough plastic bags to make sure all your rubbish can be packed out with you?" I damned near fell over, and it was all I could do to remain serious. Nothing about warm/waterproof clothing and footwear, first aid, maps, etc.
I suspect this guy is a close relation of the chap in policy-making who specified that wherever possible, short lengths of round wood from local fallen trees shall be cut and laid across the track in boggy areas.
A powered site that night meant we got all our rechargeable batteries filled, and our camera chips emptied onto cds on Mike's laptop. The Divide is some 70 km from Te Anau, and we booked our bus trip through Tracknet. (There are several companies running services to the Divide.)
Note: You need to prebook the Howden Hut some months before you want it - an absolute necessity for any hut on the Routeburn.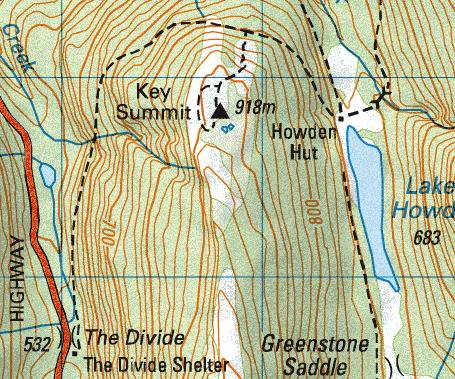 This is probably the only taste you'll get here of the Routeburn unless Miranda drops something on me I can't negotiate out of. It's crowded - booked months ahead, as I said, and at either end is loaded with day walkers. Not being the fastest guy uphill with a full pack, I was passed by, I reckon, at least 100 people on this leg, most of them headed for Key Summit and a return to the carpark.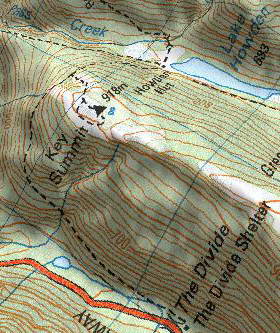 Maybe I'm just sensitive to Citronella. I'm not really partial to Earl Grey tea either.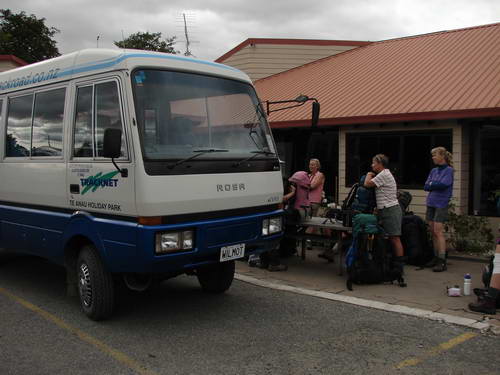 Here we are ready to start. To the left of pic is a representative tramper applying Citronella.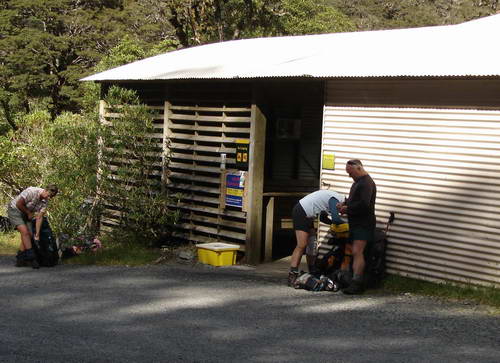 And here, by the way is an introduction to DoC time.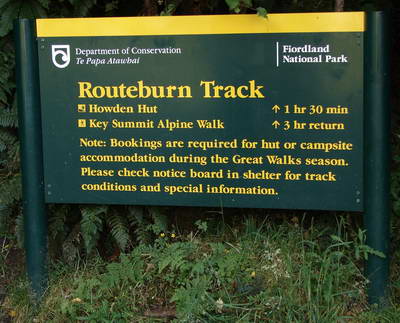 Fatman time, carrying a pack, to the Howden Hut is 2hr 35, including 20 min for lunch, and leaving out the Key Summit experience.
Over the next fortnight I will equal and even better DoC times on occasions, and at other times I will take more than twice as long.
DoC estimates are not a substitute for common sense. Know your own limits.