22 March 2008
Robinson Ridge Track
page 1
By the time you get to the start of this track you will already have put a kilometre or two behind you. I started at Cascade Carpark in Falls Rd, walked along Auckland City Walk, up the Upper Kauri Track, then left into Cascade Track and right into Robinson Ridge.
Alternatively you could come in from the opposite end of the Auckland City Walk, left up the Cascade Track and left into Robinson Ridge. Both assume you are walking this track uphill. You could also swing off the Montana Trail near Simla along the old Fenceline Track, then left into Robinson Ridge and downhill to Cascade Track etc.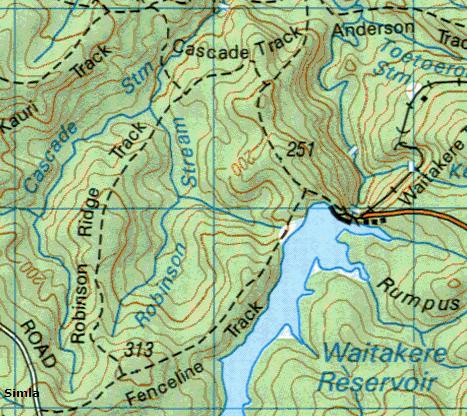 It's a steepish climb but provided you walk it in dry weather it shouldn't be impossibly difficult in and of itself. Much of the surface, on this and on the Cascade Track, is clay and somewhat scoured, so wet weather is a different matter.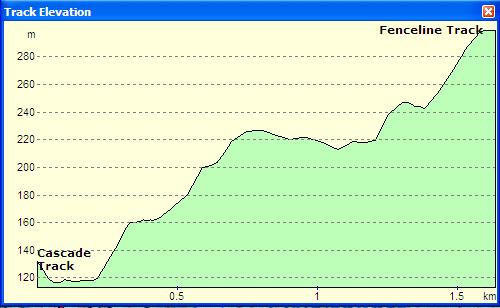 Fatman time for the entire loop was a little under five hours allowing for photographs and time out for lunch. (Given I have recently walked the Montana Trail in under 4 hours.) The toughest part of the walk was the step by step by step by step series of descending contractions as I walked down Cascade Track at the end of the walk. If your balance is not good or your ankle and knee stabiliser muscles out of practice, steep, downhill steps will show this up very quickly.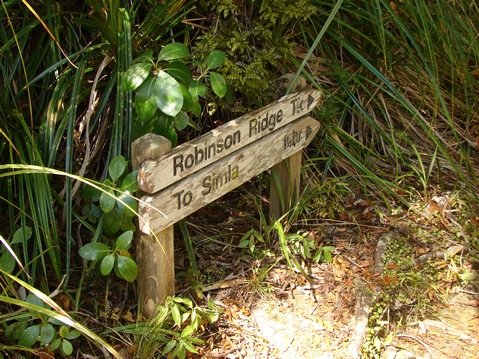 We start right down in the Cascade valley where the bird song is loudest and strongest. the first little while is fairly straight forward and more or less level, heading gently down to a tributary of the Cascade Stream.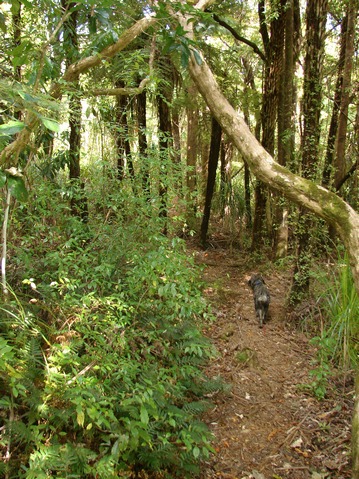 It's fairly open bush, but the birdsong is something to die for down here. I'd reckon, in my experience, one of the richest areas in the Waitaks that I've walked through.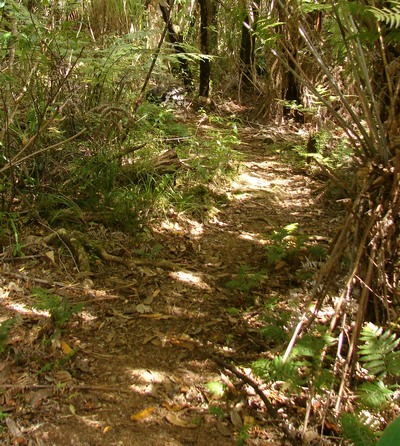 It's been a dry summer and the track verge plants are witness. In some areas, especially with a bit of a mahoe canopy, you rustle as you walk.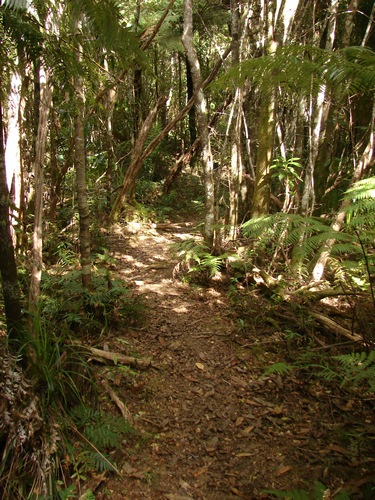 A lot of this demonstrates the race for the limited amount of light in the valleys. The spindly saplings have concentrated on one thing only: height as much of it and as fast as possible.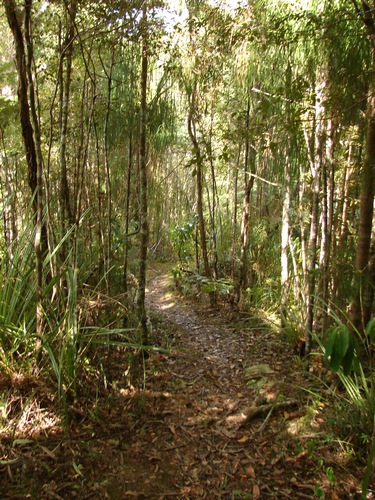 A rata and a rimu involved in foreplay....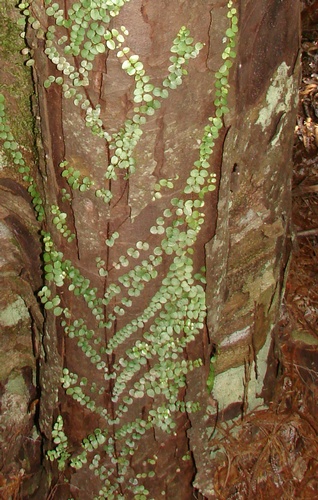 I'm not sure what this is, a feeding station, a poison bait station for climbing things, or part of something bigger.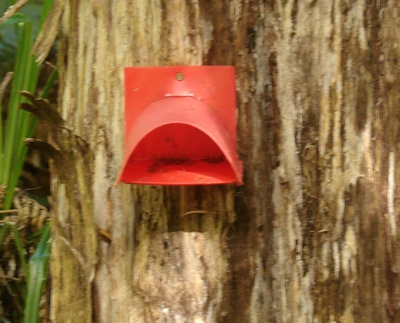 We begin a short but fairly steep descent to the stream, with steps cut into the side of the bank towards the bottom. Just across the stream is a wonderful level shady spot for a picnic lunch on a hot, hot day. I know this because there are two adults, and a couple of children lunching there, and a grumpy spaniel who tells Alice to bugger off. From where they are the spot is absolutely tops, and if they hadn't been there I'd have stopped myself.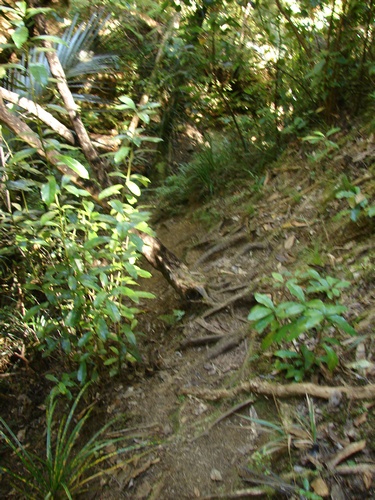 As we climb out of the streambed, we begin to see some of the characteristic vegetation of the dry, exposed ridge. Needle leaf mingimingi is one, here seen in berry. Do not believe the books that tell you this berry is edible. Well, maybe edible, but definitely not palatable. It is powdery/floury, dry and tasteless and most of it is seed.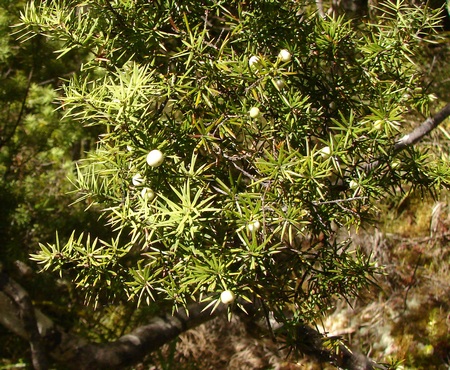 The track is simple in dry weather, but the deep vee scoured in the centre and the clay surface tell us that this track is likely to be tricky after rain.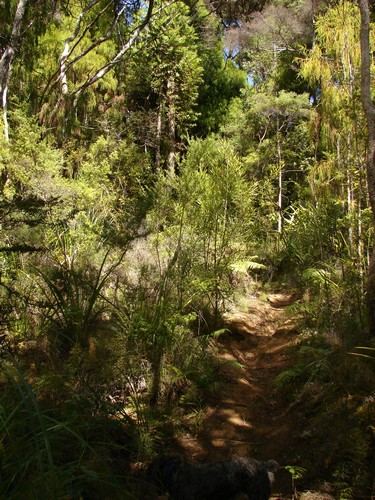 For a spell, the track levels off some.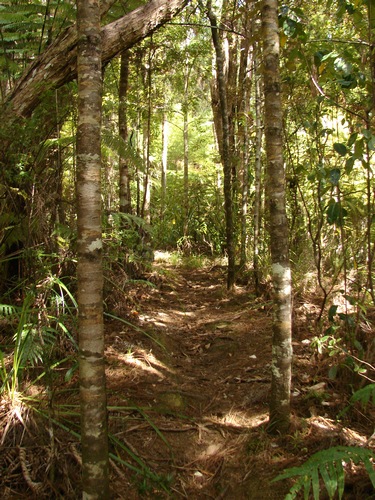 A few young kauri rickers appear. The Home track has these as a feature along its major ridge. A young maire is in good shape.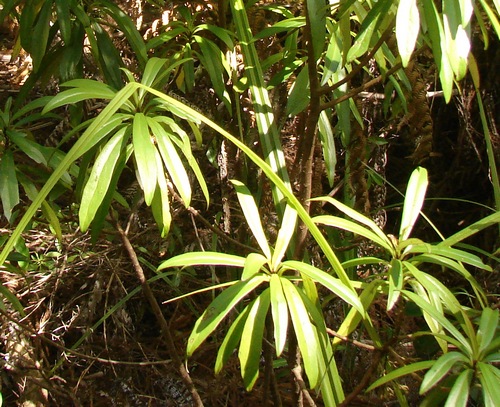 Yes. It would be definitely intesting to see this in heavy rain. This is major scouring.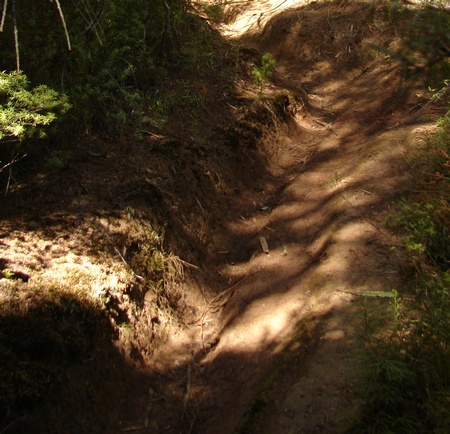 Corokia buddleoides, named by Alan Cunningham for a distinguished forbear, is always a handsome plant. If ever a species wore hair oil, these might fit the description. The leaves have a matt/glossy sheen that always looks tidy with clear boundaries.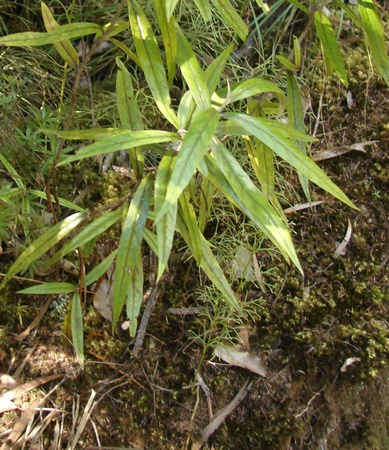 Now and again, the shadows emerge from the background and take a role in the walk in their own right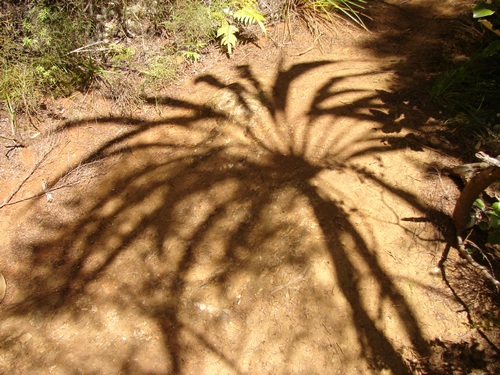 We are really in dry territory here. The lycopodium is a whipcord variety, there are seedling tree daisies, and lichens of a kind that are usually signals for hard doing.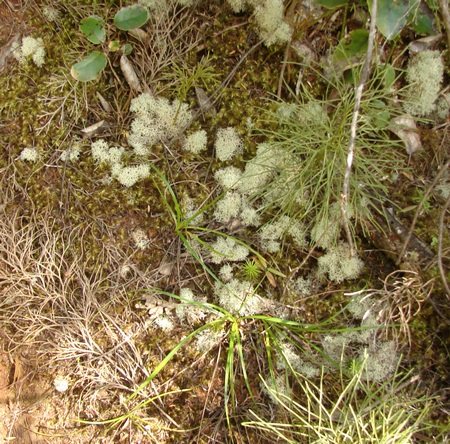 Adam Buddle (1662 - 1715) was an English cleric and botanist. Born at Deeping St James, a small village near Peterborough, he was educated at Cambridge University and eventually ordained into the Church of England, obtaining a living at North Fambridge, near Maldon, Essex, in 1703. His life between graduation and ordination remains obscure; he lived at Hadleigh, Suffolk, and established a reputation as an authority on bryophytes. He compiled a new English Flora, completed in 1708, but it was never published; the original manuscript is preserved at the Natural History Museum, London. Appointed Reader at the Gray's Inn chapel, Buddle died there in 1715 and was buried at St. Andrew's, Holborn. Buddle was commemorated by Linnaeus, who named the genus Buddleia in his honour.
The historical contribution of the Anglican Church to the annals of botany has been huge. How many clerics today have the time to devote to such pursuits, or even the inclination.
Corokia is an interesting genus in that it keeps being shifted from one family to another, with not much unambiguous claim to any