7 July 2007
Ridge Rd Track
page 1
Last week it simply bucketed down all over Auckland. Most of yesterday was continuous rain. I was starting to feel a bit stir crazy after most of a week indoors and in need of a stretch. My only previous experience of this track was as the gravel bit that interrupted the Cutty Grass Track.
Gravel! Just the story on a day after a week's rain.
Actually, that bit on the Cutty Grass track was all the gravel there was to be had. However, it is a wide track, easily accessible for a quadbike, gently sloping for the most part, and not too badly distorted by washout. On a day after heavy rain, your sticks will be essential in places to maintain your footing, but there is, as they say, very little vice in the track.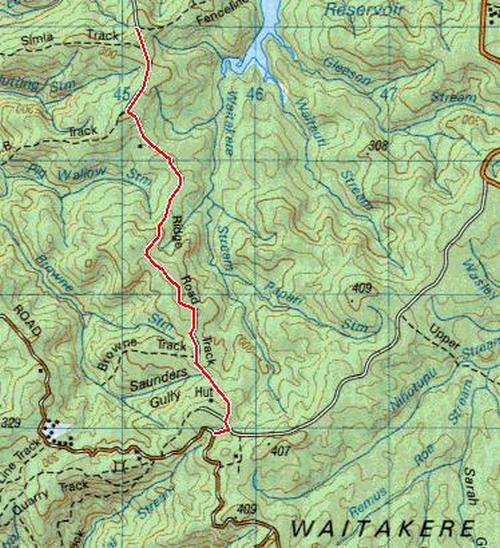 From Anawhata Rd it is largely downhill forever, gently downhill, but a factor to be taken into account on the way back.

Simla is the high point on the Montana Heritage Trail. Ridge Rd becomes Long Rd and makes its way north to the Bethells road, or you can turn off to the Falls Rd Carpark along a number of tracks.
We (Alice and I) arrived at the Anawhata end just before 10. Miranda is obliged to be in cellphone range at present. There's a small carpark on either side of the road. (If you're considering the Cutty Grass track, you could well think about starting here as the last few hundred metres from the Ridge Rd turnoff to the Cutty Grass Carpark is freshly bulldozed clay and extremely muddy and slippery.)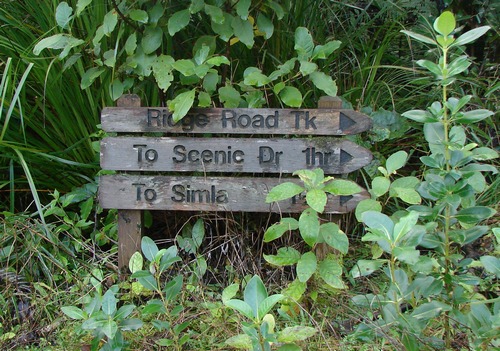 Gate too big? Posts inserted too close together. No matter, we'll bend the gate a bit so it fits.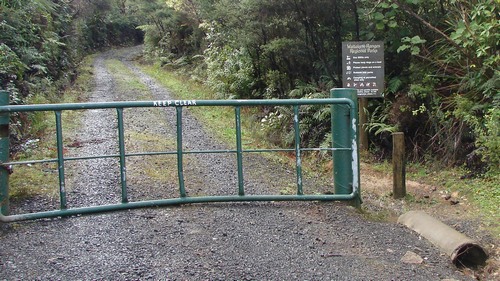 Up the hill about 100m and around the corner...

Another 100m and hang a right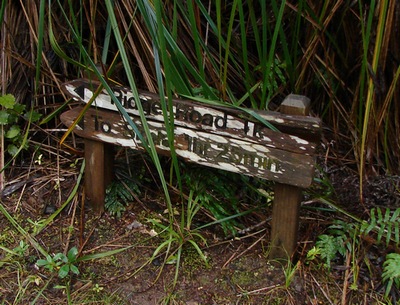 and here's the last gravel we'll see until we arrive back here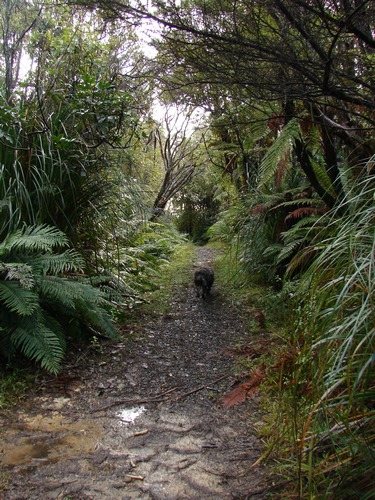 What is immediately obvious is that this track hosts a considerable variety of plant species - though mahoe, a staple, is almost completely absent, and I do not see a kawakawa all day.
Here's a hangehange already showing signs of flower buds, well before time. A crazy season this one.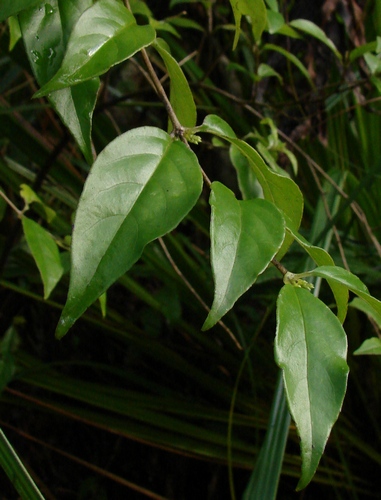 A juvenile mingimingi (Leucopogon fasciculatus)
Bottom left is a Coprosma grandifolia (raureku, though I've never heard anybody, Maori or pakeha use the name when talking about it) and just above to the right, a karamu (Coprosma robusta). Karamu is in many ways similar to C. lucida, but generally needs a bit more light, so is more often found in roadside hedges or on the outskirts of a patch of bush. It is also generally scruffier in appearance than C. lucida.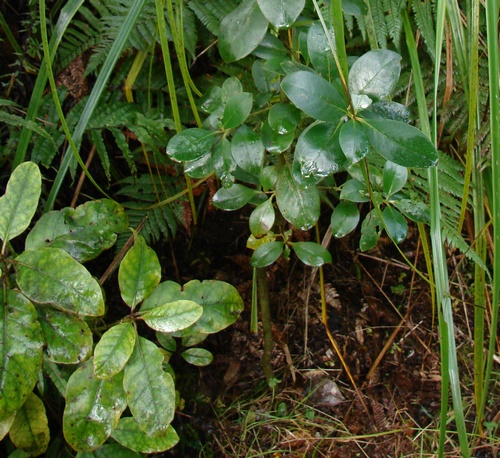 Come to think of it, another plant group almost completely absent along here is small-leaved coprosmas - C. rhamnoides, C. areolata and so on.
Here is a young tawari (Ixerba brexioides). They're not hugely common but in this part of the Waitaks they are a fairly regular feature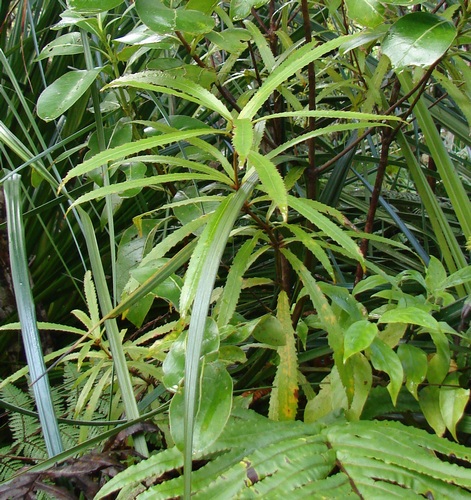 and here is heketara, a relative of the rangiora whose leaf shape it mimics in miniature, though it's efficacy as bush toilet paper I would not rely on. Rangiora is missing along here also.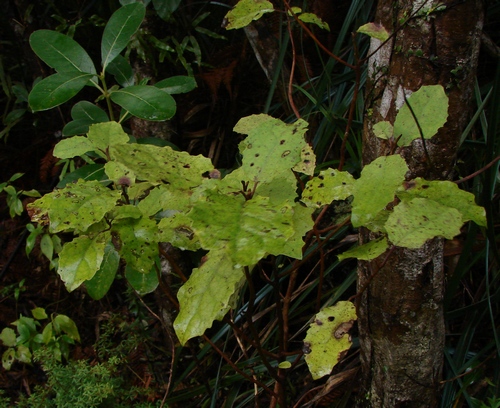 Not nearly as acommodating....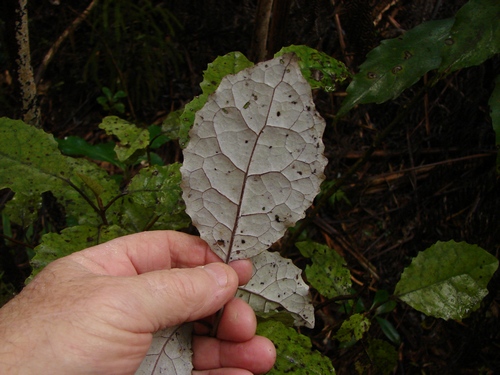 A fence arrives on each side of the path, but no sign of a gate.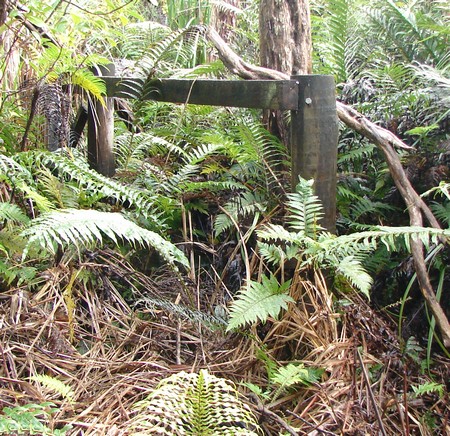 Young rewarewa are common and further along, adult rewarewa leaves make up, with kanuka, a major part of the decomposing leaf litter along the track. You can't always reliably identify a canopy tree against the sky, but the leaf litter has a lot to say.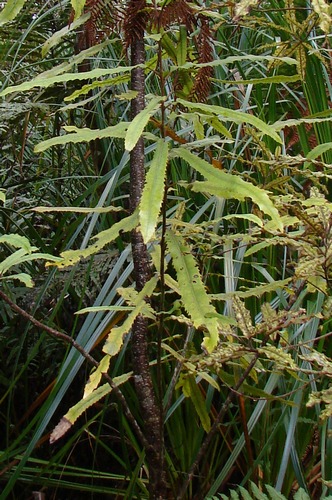 Quintinia serrata, (tawheowheo) the feature tree on the nearby Cutty Grass track, occurs here too, but much less obviously.
I decided on a whim to follow up such an interesting sounding name. Quintinia was named by Alphonse Louis Pierre Pyrame de Candolle for the French botanist and gardener, Jean de la Quintinie.
The genus was described by de Candolle in 1830, and Alan Cunningham described Q. serrata some nine years later. Now, Quintinia is a genus restricted in the wild to about six species in New Guinea, Australia and New Zealand, and in 1830 de Candolle was a year out of his law degree in Geneva, and a year away from taking over his father's chair in botany at the same university. (Promotion was sometimes swift in those days.) I should like, purely out of curiosity, to establish the link between de Candolle and the plant material used for the initial genus description.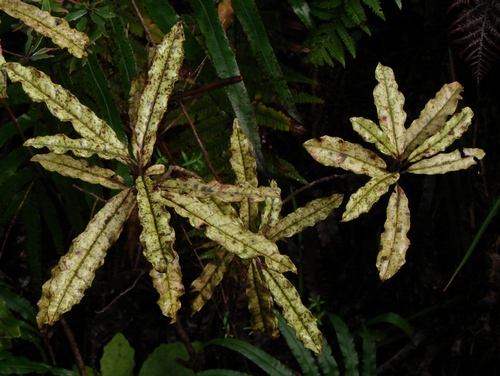 ---
Although trained as a lawyer, a visit to the gardens of Italy in 1656 while serving as tutor to the son of Jean Tombonneau produced in La Quintinie an interest in horticulture which he pursued upon his return to France. His genius was readily recognized by a series of wealthy employers, including the Prince de Condé at Chantilly and Colbert at Sceaux. He also worked alongside Le Notre in creating the jardin potager for Fouquet at Vaux-le-Vicomte, and when the envious Louis XIV put Fouquet in jail and seized Vaux for himself, La Quintinie was sent with Le Notre to Versailles. After first taking charge of the old fruit and vegetable gardens there he designed and oversaw the construction of the new Potager du Roi between 1677 and 1683. It survives very much intact to this day. La Quintinie traveled to Italy and England to study the state of horticulture in those countries. In England he visited Evelyn and reputedly refused an offer from Charles II to take charge of the royal gardens there. La Quintinie was particularly famous for producing fruits and vegetables out of season. He conducted numerous experiments toward this end and did much to perfect the art of forcing.
from http://www.wku.edu/~smithch/chronob/CAND1806.htm
"Although not quite the revolutionary thinker his father Augustin was, Alphonse de Candolle yet exhibited a level of industry and logical acuity that led to his ascending to the top rank of nineteenth century botanists as well. Candolle succeeded his father as chair of botany and director of the botanical garden at Geneva, but retired from both positions in his mid-forties to devote himself to research full-time. He devoted some of his energy to doing basic descriptive botany (including carrying on his father's work on the Prodromus, and mounting his own project, the Monographiae phanerogamarum), but he also became deeply interested in phytogeographic studies. His 1855 treatise Géographie Botanique Raisonnée, despite its pre-Darwinian creationist orientation, featured much close analysis regarding the environmental causes of plant distribution, especially variations in temperature regimes, and is a key early title. Candolle would later come to embrace Darwinism (even translating into French Wallace's Contributions to the Theory of Natural Selection), and the concept of evolution would inform two of his late works: Histoire des Sciences..., a commentary-like history of science, and Origine des Plantes Cultivées, an important early title in crop geography and the history of domestication. Candolle, like his father, was much involved in various forms of public service (he was responsible, for example, for introducing the use of postage stamps into Switzerland). Candolle's son Casimir was also a prominent botanist, as was his son."