28 January 2007
Pipeline Track
When we walked the Pipeline Road Track, public access ceased as we neared the water supply lake. The road continued towards Nihotupu Dam Road, but, for the public, the Pipeline Track headed off to the right and around, circling back to join the Nihotupu Dam Road.
Today, we have arrived here from Scenic Drive via the Incline Track and the Nihotupu Dam Road.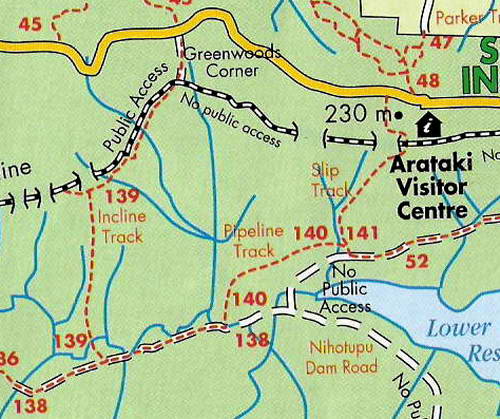 We had stopped for lunch at the junction of Nihotupu Dam Road and the Pipeline Track. Alice is by no means certain we've rested enough.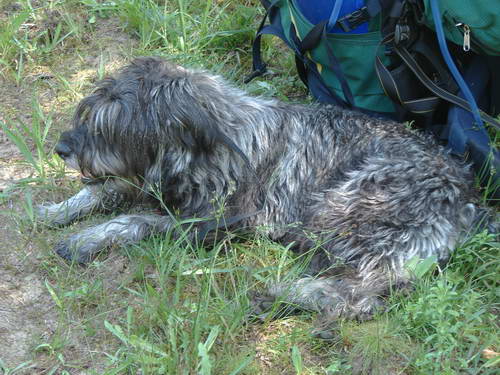 However, discipline urges us on. We have a job to do, even if it's not as dangerous as the one facing Captain Kirk and his crew.
Just behind Alice is a koromiko in full bloom, and I pause for a moment to see if I can capture it. Almost.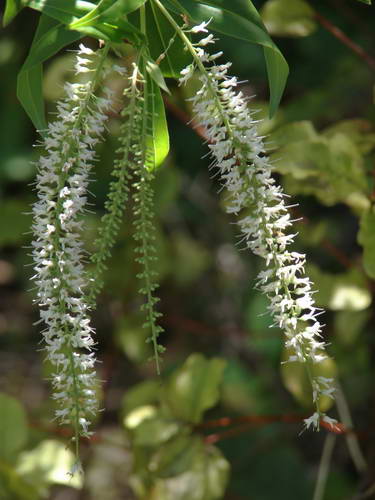 The track beckons, more or less open and grassy and set up for vehicle access to start with.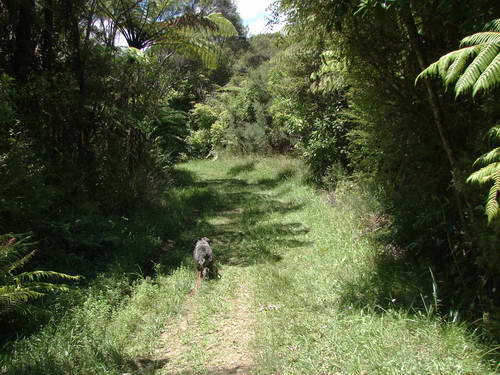 Here's the bridge across the Nihotupu Stream. It's a long one.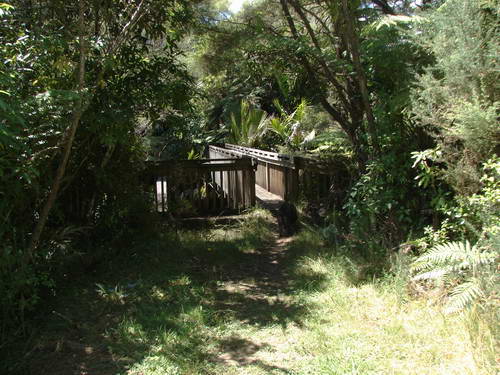 Legend has it that in the good old days, there was no bridge and one crossed the stream by way of the pipeline itself. However, it does look as though there has been a vehicle bridge here at one time.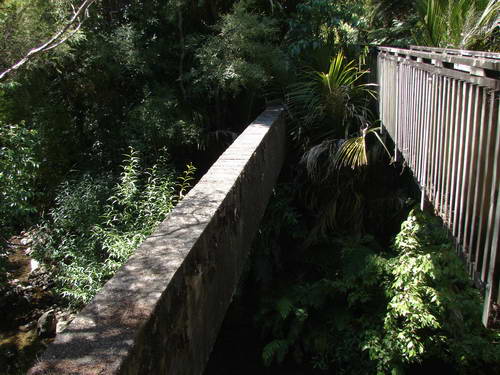 I'd have to say there aren't too many bridges, especially footbridges that take a dogleg partway across.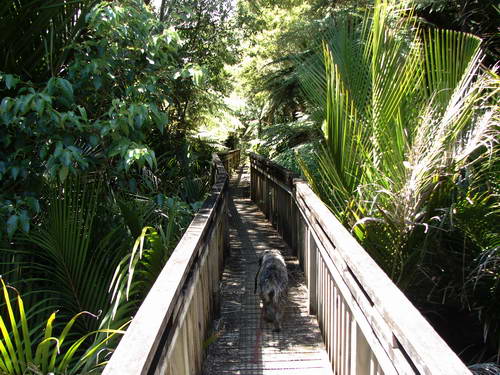 The track degenerates quickly on the other side. Even after a reasonable dry period, there are still frequent boggy areas that need to be skirted around. It's wide and open walking but nothing to be excited about.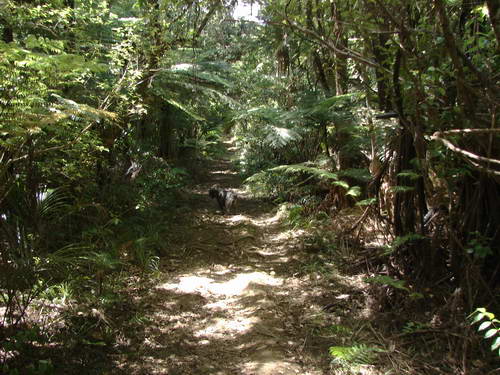 There's something a little brittle about the local bush, more dead litter than living plants.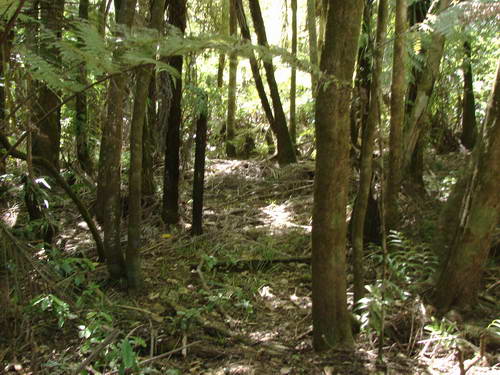 Here and there a sunny spot opens up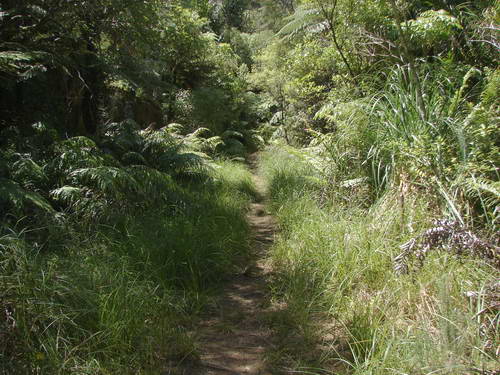 but mostly we're in dapple shade, on a clay track with an erosion ditch down the middle and frequent muddy patches.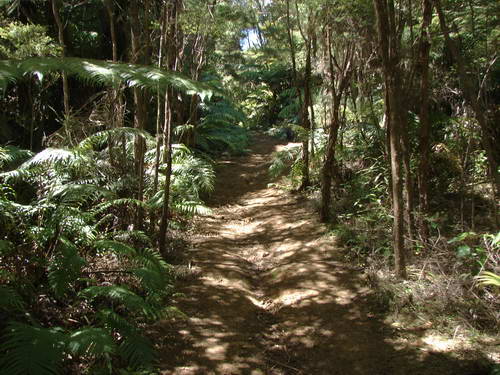 We're also starting to climb for a bit, a nice stretch, and the bush is getting somewhat more lush.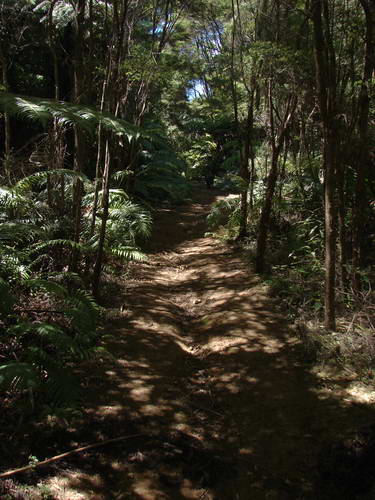 .
And down again.
I'd had in my mind that I faced a significant climb not too far ahead, and in those circumstances, losing height you've just gained is a downer, quite literally.
We continue, but the feel of the rough and partially dry,partially boggy track under my feet is not pleasant - like touching someone with clammy skin.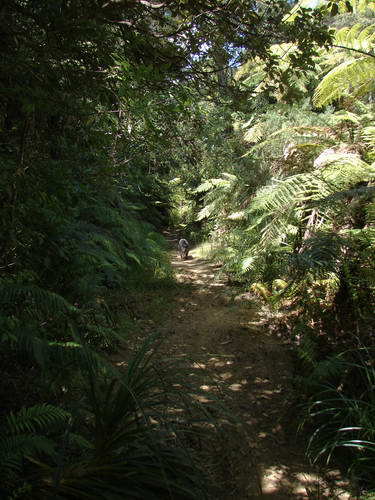 Off to the side in the bush are the remains of an old piece of pipe about a metre across and a huge structure that looks as though it was designed to prevent the passage of debris into the water supply. There are two huge concrete towers, with massive vertical stringers of wood probably about 4-5 metres in length and a few centimetres apart. I can't get a clear photo as it's mostly obscured by vegetation. The track itself crosses a buried pipeline about a metre across which empties into a gully just in front of this structure.
Just past this is a stream crossing which tests me to my limits. It's not the crossing itself, it's making my way down and then up the steepish banks from one large rock to the next one down and up steps that are wide apart and worn and sloping.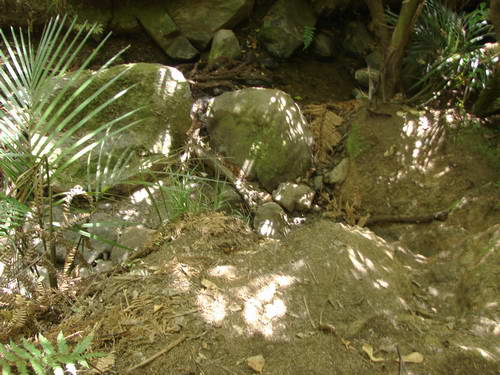 From the other side, when I eventually get there, I can see the remains of an old bridge. Might be nice to see a new one just here sometime in the future.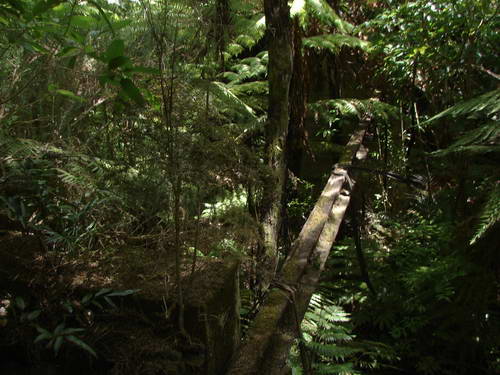 Even the major concrete work is already in place.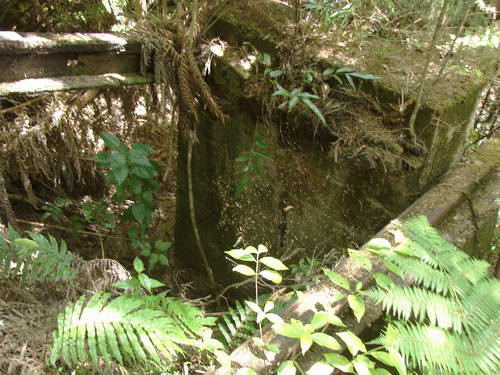 With that hiccough behind us, we're back pretty much to the track as before.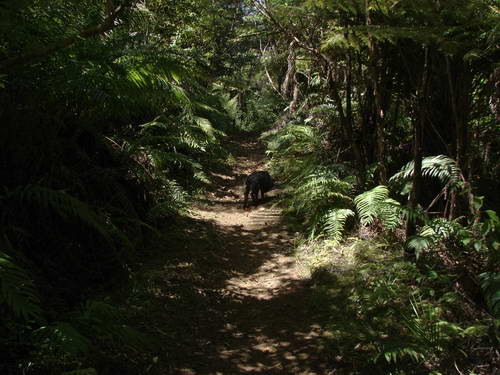 and that's the end of the track we can see up ahead.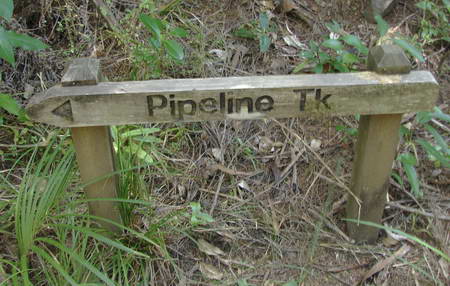 Actually, it's not, strictly speaking. The Pipeline Track continues for about 100 metres or so to the right to meet the Pipeline Road. Alice rather likes the idea. But we're on our way up the hill, so this is all you get of the last bit.