6 December 2006
Pipeline Road
page 2
They are beautiful....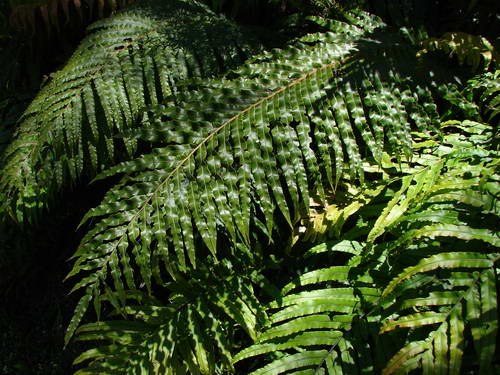 I think this next pic captures for me the essence of the Pipeline Road: the beauty of the fern against a background of gorse. The coloration on the young fronds is to protect them from strong sunlight until they are older and tougher.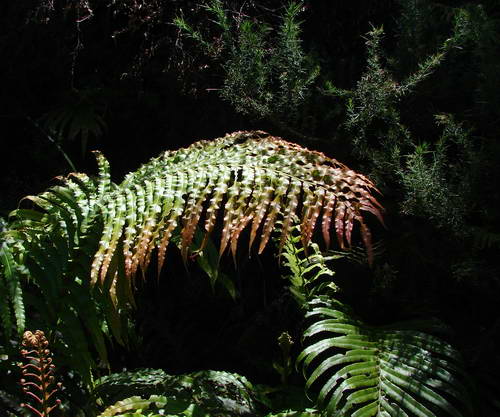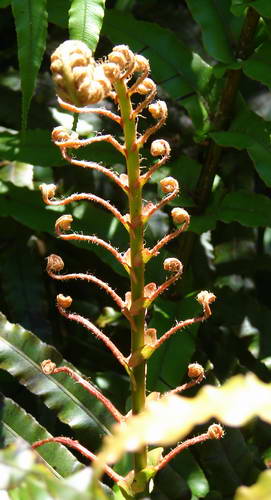 We keep going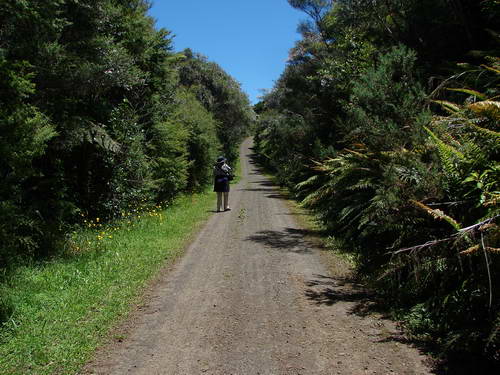 In the grass by the side of the road are some small delicate lilac-coloured flowers that I should recognise but I don't. Later I will spot some cream versions of the same flower.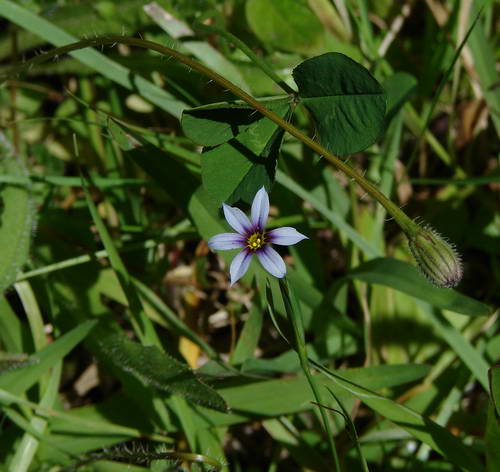 The road is now beginning to assert itself with a series of somewhat more dramatic rises and falls. I am even more grateful for my poles on a somewhat more slippery surface than before.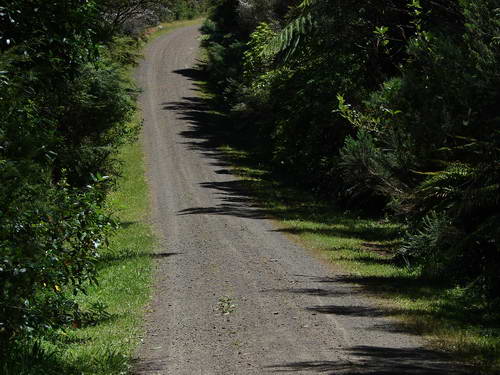 As the road descends, putaputaweta begins to appear and becomes a feature of the roadside vegetation, as does bush lawyer.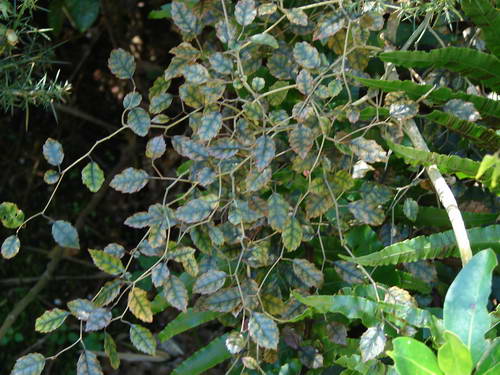 Gorse as always here is not far away.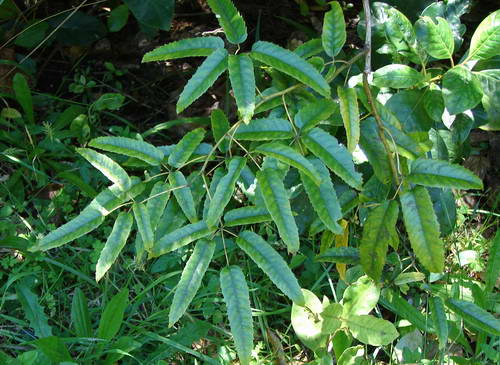 Near a small culvert a mass of ferns provides a foundation for purple foxgloves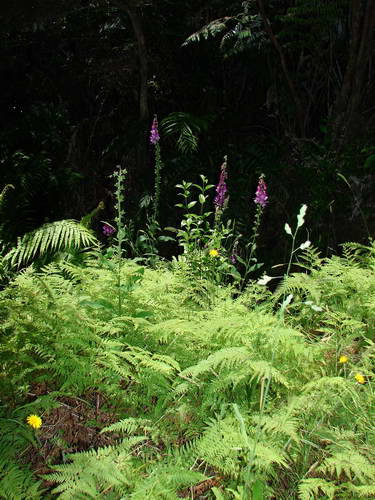 We are nearly at the end of the track
Looking like something out of "Dune", a huge section of pipeline rises out of the ground for about 100 metres before returning underground.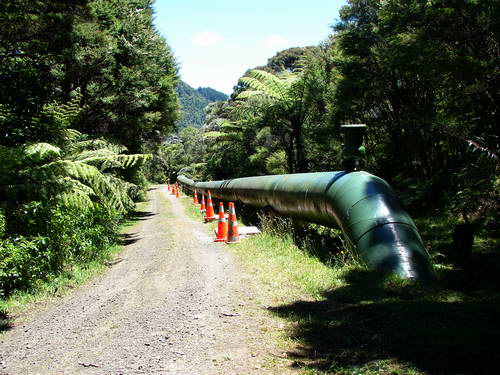 Miranda goes after some daisies.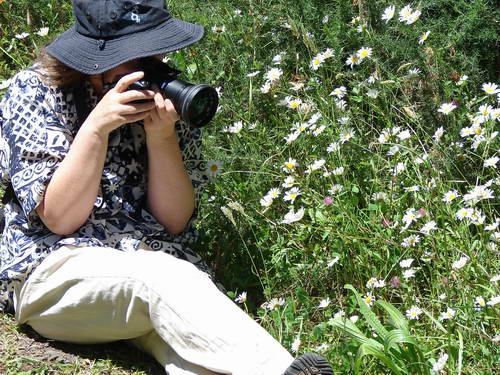 Straight ahead, the gravel road continues, but dogs are forbidden from here on. To the right, the Pipeline Track begins.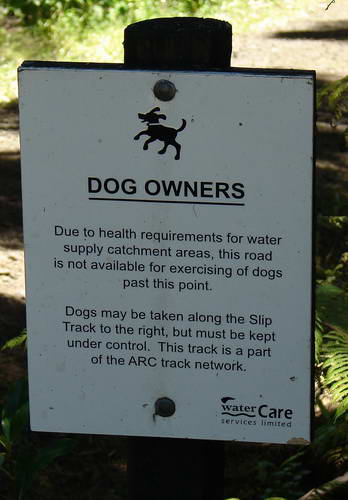 The Slip Track, as far as I can gather, heads off to the right a little further on, along the Pipeline Track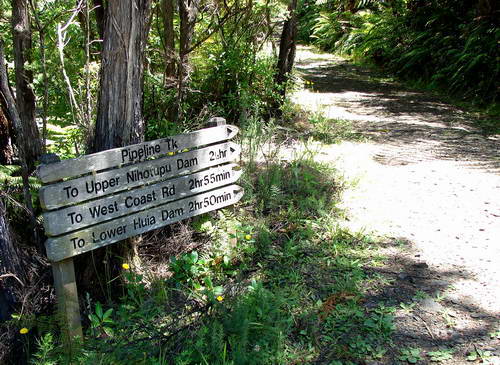 This one looks considerably more inviting than the one we have just walked.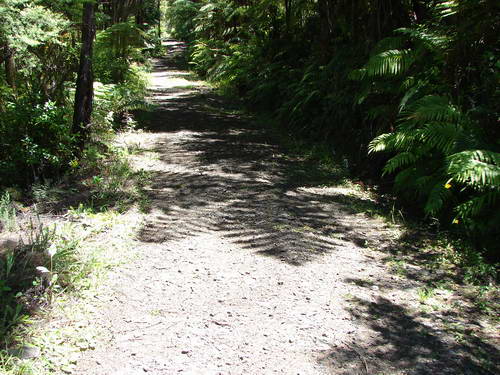 Across the road, a sign tells us we are half an hour from the Huia Rd.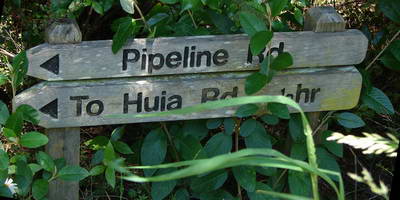 We check the time. It has taken more than an hour to get down but we were dawdling and taking pictures. It takes us 40 minutes to get back up, fatman time.
The Waitakeres are home to an interesting juvenile form of mingimingi, with much larger leaves than the adult form. I spot one on the side of the road when I pause for breath part way up a hill.
Gee, that looks even steeper than the last one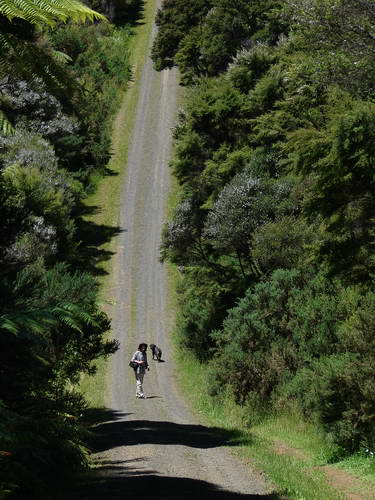 I mentioned a cream form of the lilac flower shown earlier. Here it is: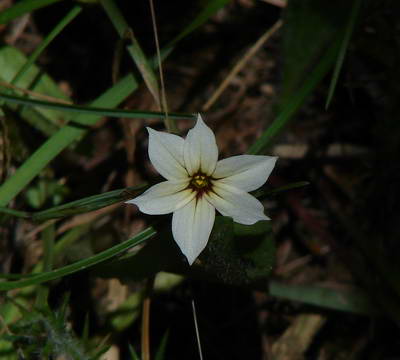 I think that fork to the left heads up toward Exhibition Drive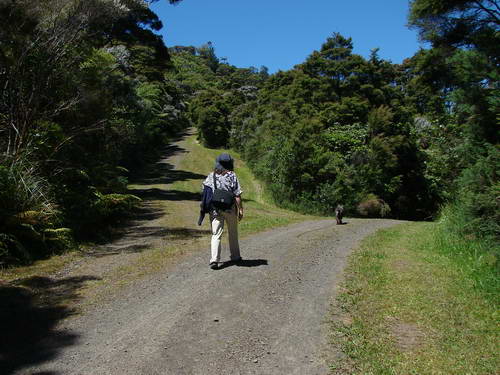 Almost back at the van. We grab the end of Alice's lead, to prevent any wild surges onto the Huia Rd, but she is fairly quiet by now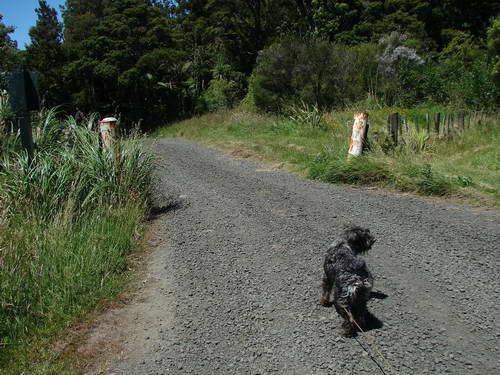 We make our way past the locked road gate, remove boots, stretch feet gratefully, and head on down to Kakamatua Beach. See you there.