19 October 2007
Panto Track
page 1
I haven't a clue where the name originates: perhaps somebody out there can help. It runs from the Huia Rd, just east of the Cornwallis turnoff, up a long ridge, to join the Parau Track. Get this straight, because there's no surviving track sign at the start. There's also a scattering of smashed window glass on the gravel in the parking area. Too common around Auckland, unfortunately.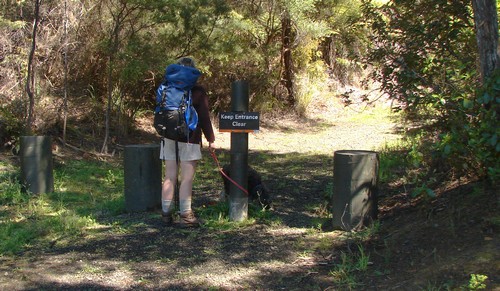 It has been a road of sorts in its time, at least the first part of it, and it narrows into a more traditional tramping track for the latter part of the trip.
If you have a couple of cars at your disposal, you can organise a variety of combination tracks to go with it, but we just walked in and back out again.
It's pleasant walking, medium difficulty, with some slippery patches, but a track that anybody might aspire to, and there are a number of wonderful views to be had of the Manukau on the way up. Most of all, it provides several quite different vegetation areas en route to the top.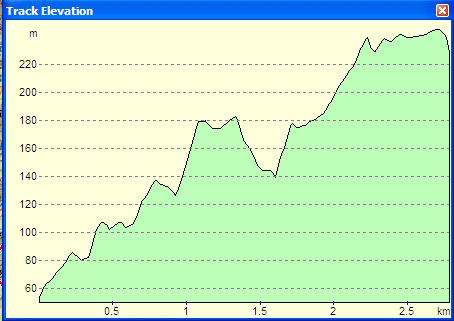 We head off up the track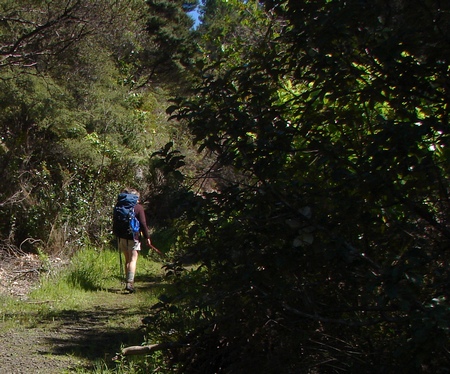 To begin with, it's weed alley,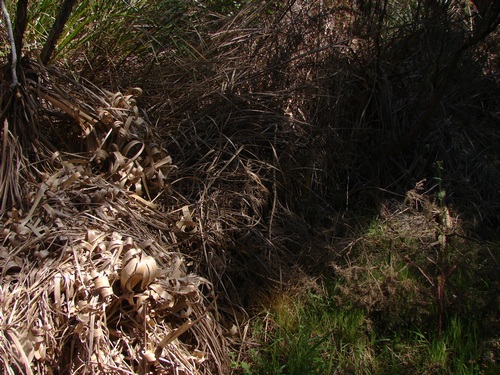 which is not necessarily bad, at least in the small details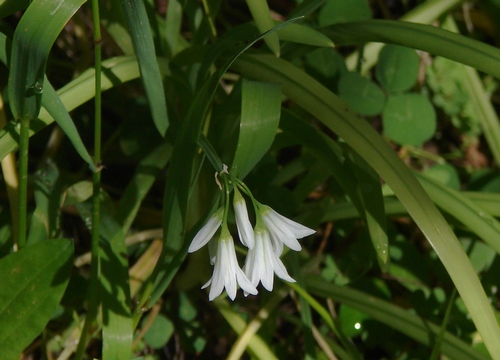 Overall, the track gets a lot of water, which is usually good for some fine displays of palm leaf fern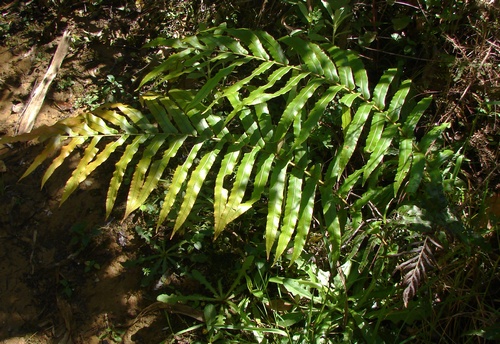 but there's a lot of scruff,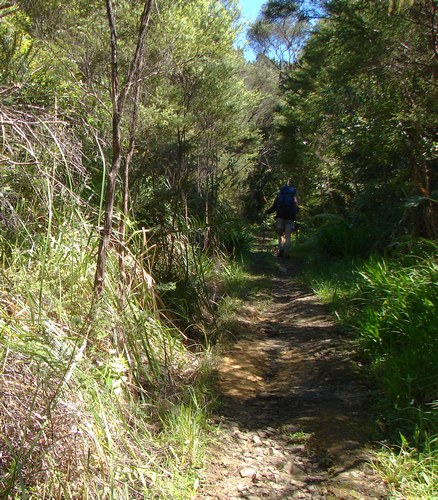 a lot of gorse, and a lot of other wasteland weeds to start with.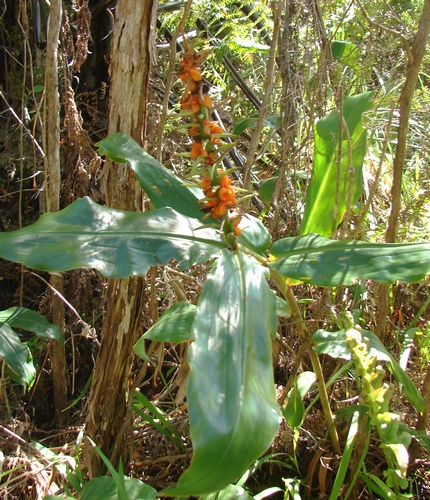 Even as we walk, however, the change is beginning to happen. Coprosma grandifolia and karamu begin to assert themselves - that marbled leaf I still find attractive, though I suspect it means hardship of some kind.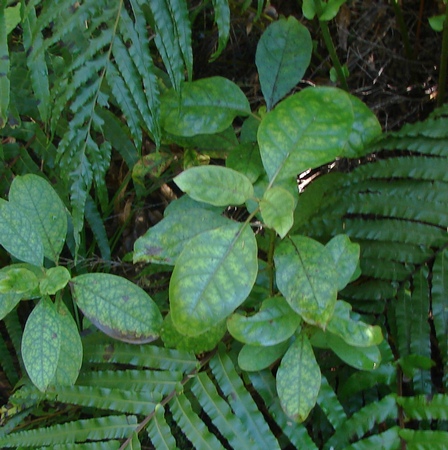 The ferns are starting to get lusher and there's somebody getting impatient if I read the body language correctly over my specs.
(In the end, Miranda solves this by moving ahead and doubling back, moving ahead and doubling back, which serves the training purpose which is primary for her just now. She has her sights on the Tongariro crossing which has a time limit on it if one is to catch the bus at the other end.)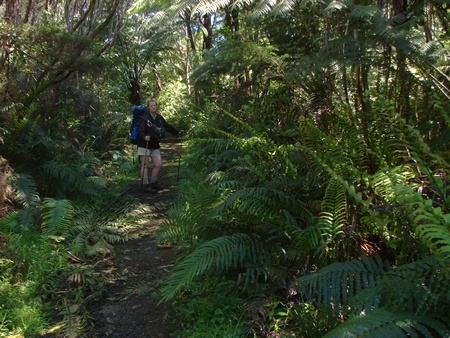 I have to differentiate between training and reportage. I prefer to do my training on familar tracks, where I can stride out without being afraid I shall miss some frail treasure of the bush, where I can just power along head down, and stretch my body a little.
And let's be fair, we need to have some of this in place before the big tramps which often see us walking up to and over 15 km a day, with a large pack. Even at a fatman stroll, fitness starts to become a factor after 8-12 km.
Today, I'm enjoying things like the play of light and shade on the dark green of a Schefflera.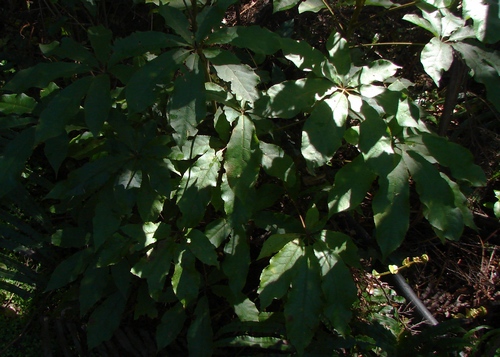 We carry on up the track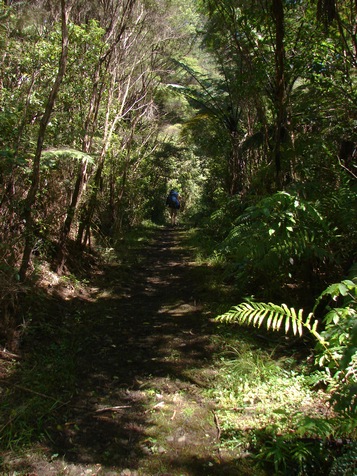 and just ahead is the juntion with Farley track, and an indication of what lies ahead here and there.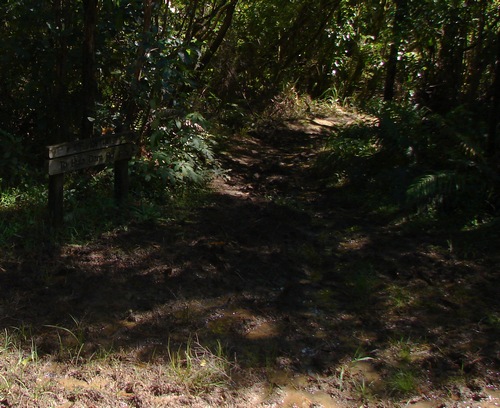 We bear around to the right, picking our way around a large swampy patch which Alison Dench and Lee-Anne Parore refer to lightly as a clearing in the pines.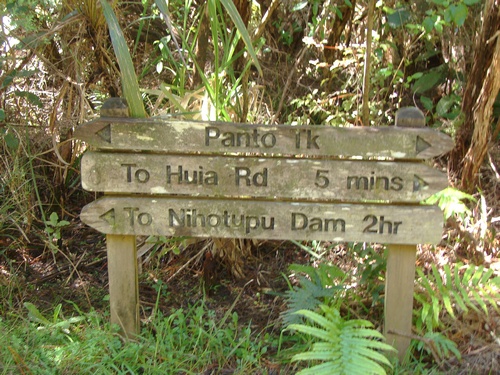 Once we pass this, it's not too bad. A good deal of the original heavy duty gravel is still present, which is helpful, though soles of the feet can be a touch bruised after too much of it and ankles can protest a little.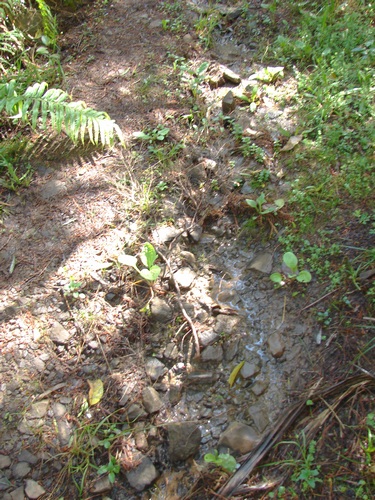 Here's a young fern frond just unveiling itself.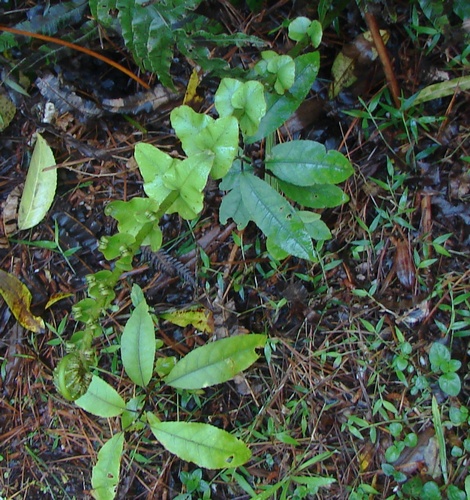 ---
WALKING THE WAITAKERE RANGES by Alison Dench and Lee-Anne Parore, New Holland Publishers (NZ) Ltd, 2004 A worthwhile reference book which grades tracks by difficulty, organises the various individual tracks into useful loops, and provides a good deal of background information.