Lophomyrtus obcordata
(Raoul) Burret loc. cit. 490. Myrtaceae
Rohutu
Derivation: Lopho = bundles, bunches; obcordata refers to the leaf shape.
Originally the species grouped in Lophomyrtus were part of the genus Myrtus (which includes the English myrtle), but, since 1941, the New Zealand species have been placed in a separate genus, Lophomyrtus. There is still lingering debate on this matter.
In fact the species with which we are here principally concerned, L. obcordata, (rohutu) began it's botanical existence in 1844 as a member of the genus, Eugenia, before being transferred to Myrtus some 8 years later..
In general rohutu is not nearly as common as ramarama, (L.bullata) but I have so far found no evidence of ramarama in the Woodhill Forest reserve.
Rohutu is by no means common at Woodhill either. I have found a couple of healthy specimens at the Old Lookout, and one other adjoining the path a few hundred metres past the Old Lookout. There are plenty of juveniles, however, along the Nature Conservancy track beyond the Old Lookout.
At first glance, you might easily take it for one of the small and round-leaved coprosmas, muehlenbeckia, or a korokio, all of which are plentiful in the area. In fact, in it's juvenile form its growth habit is very easily mistaken for one of these. The clue is this. None of the others has obcordate leaves, whereas these are quite distinct in rohutu, especially in the juveniles.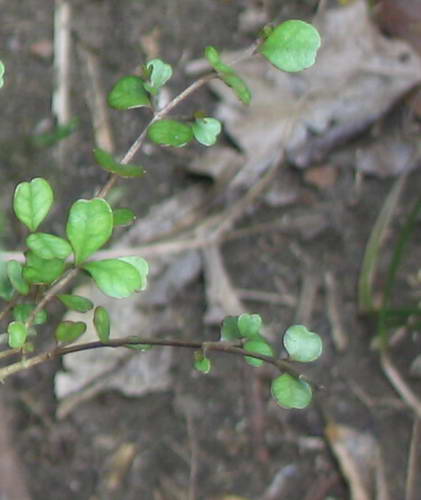 27 October 2005, Woodhill Forest Reserve, Woodhill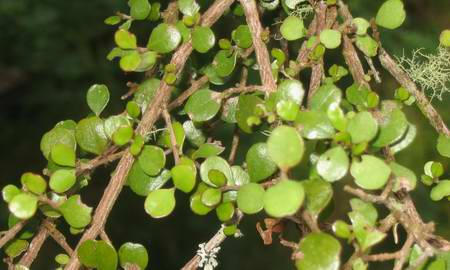 12 September 2005 Woodhill Forest Reserve, Woodhill
The bark is quite distinctive, rich brown and quite stringy.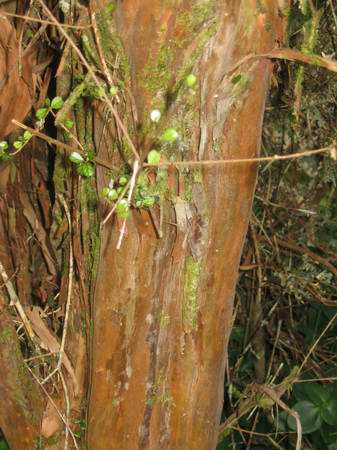 12 September 2005 Woodhill Forest Reserve, Woodhill
The flower is typical of this family - feijoa, guava, pohutukawa, rata, etc.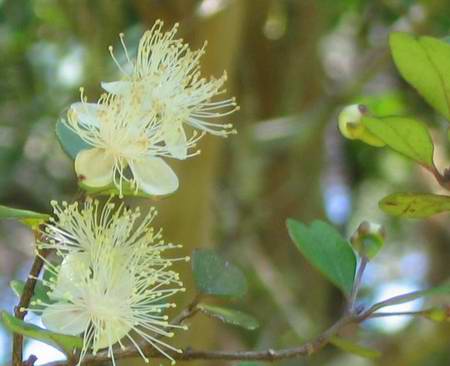 1 December 2005 Woodhill Forest Reserve, Woodhill
New Zealand Flora Reference
Family: Myrtaceae
Genus: Lophomyrtus
Species: Lophomyrtus obcordata