Geniostoma ligustrifolium
A. Cunn. Loganiaceae
Hangehange
Derivation: Genio=hairy, stoma=mouth - the corolla has a hairy throat; ligustrifolium=with leaves like a privet
Only one of the 25 odd species of Geniostoma is found in New Zealand.
It's another member of the tribe of shrubby trees that line the edges of walking paths and the fringes of regenerating bush, along with the bigger-leafed Coprosmas and mapau, korokio and kawakawa.
Here are the flowers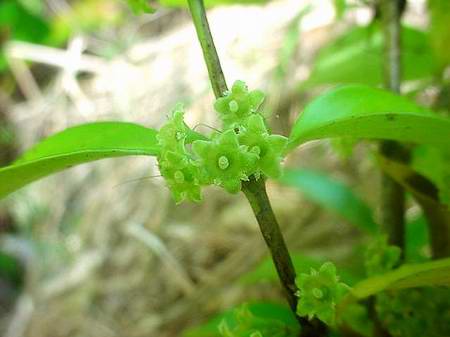 and here is a plant growing beside the track in Woodhill forest.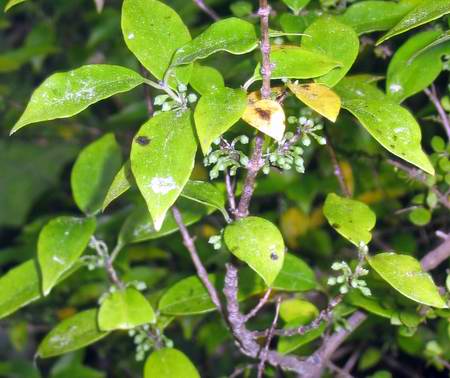 12 September 2005 Woodhill Forest Reserve, Woodhill.
The leaves in the predominantly sandy Woodhill Forest Reserve tend to be somewhat more leathery than for example, in lusher conditions such as the Waitakeres and Wairakau Stream track at Whangaroa Harbour, where they are often much softer and much larger. In fact, being as common as it is, differences in growth can be a useful pointer to local conditions.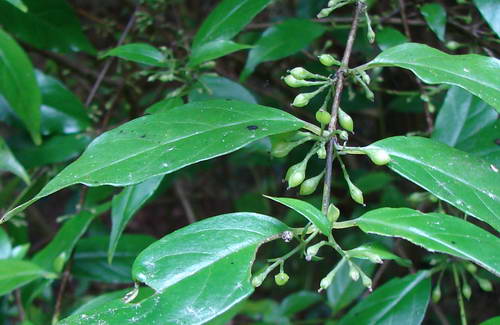 21 October 2006 Omeru Reserve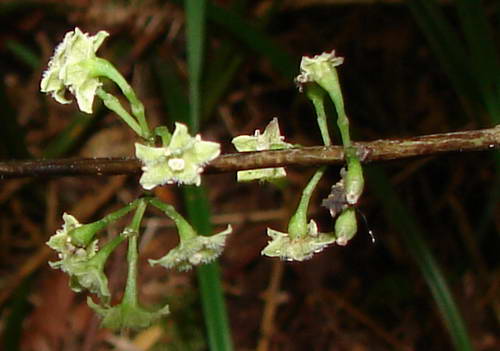 21 October 2006 Omeru Reserve
New Zealand Flora References
Family: Loganiaceae
Genus: Geniostoma
Species: Geniostoma ligustrifolium