Dodonaea viscosa
Jacquin Enum. syst. Pl. carib. 1760, 19.
(Sapindaceae)
Akeake
Derivation: Named after Rembert Dodoens, a Belgian botanist. He was born in Malines in 1517 and studied medicine at Louvain. He died in Leyden in 1585. He is regarded as the first great Belgian (Flemish) botanist

Viscosa = sticky
This is another one of those plants that are likely to be encountered in civic landscaped areas more frequently than they occur in the wild.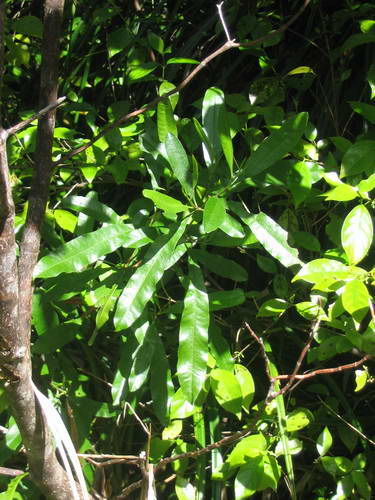 17 September 2006 Montana Heritage Trail
Besides its green form, there is a deep red-brown leaved form, D viscosa 'Purpurea', located originally along the banks of the Wairau River in Marlborough.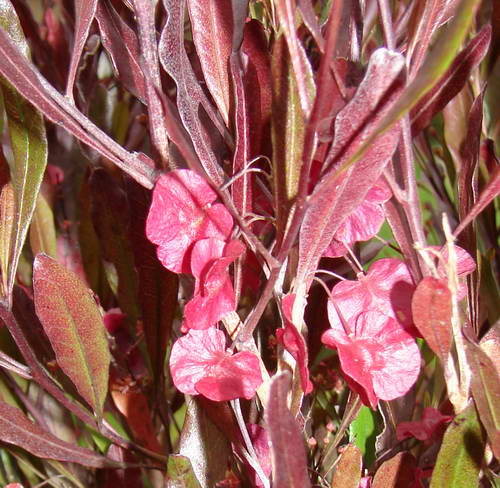 19 October 2006 Helensville Walkway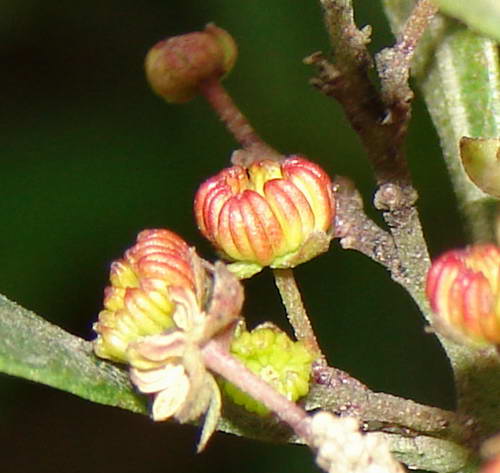 19 October 2006 Helensville Walkway
Both of the above are considerably magnified. I am enjoying my new camera.
In Tahiti, Panama and Peru, where it also found, there is a long history of use to diminish fever, but it does not seem to have been part of Maori medical tradition.
Akeake is common in coastal and lowland scrub and forest throughout the North Island and as far south as Greymouth and Banks Peninsula in the South Island. It grows from sea level up to 550 metres wherever severe frost is not a problem. It has a strong fibrous root system which makes it useful in coastal conditions as a soil stabiliser. It withstands strong winds, salt spray and dry conditions, but needs a well drained soil.
Its name means "for ever and ever", a reference to the extreme hardness of its timber. Its heart wood (from the centre of the trunk) is black with streaks of white and is very dense and heavy. The wood was traditionally used for paddles, weapons, digging sticks and spade blades. The twigs can be used to make a number of dyes - pale green, yellow green, and bright gold.
See also the following article
New Zealand Flora Information
Family Sapindaceae
Genus Dodonaea
Species Dodonaea viscosa