Corokia cotoneaster
Raoul in Ann. Sci. nat. Sér. 3, 2, 1844, 120, and Choix 1846, 22, t. 20.
(Argophyllaceae)*
Korokio, Wire Netting Bush
Derivation:; Corokia = from the Maori; cotoneaster = like the genus Cotoneaster
Another controversial genus. Wikipedia places it in the family Saxifragaceae, in one article, and in Argophyllaceae in another. Salmon (The Native Trees of New Zealand, 1980), and Poole & Adams (Trees and Shrubs of New Zealand, 1964 ), go with Cornaceae. Wilson and Galloway (Small Leaved Shrubs of New Zealand, 1993 ), more recently, refer it to Escalloniaceae, as does a subsequent article in the NZ Flora dealing with the family Escalloniaceae. My preference is for Argophyllaceae, not because I know best but because I have found that by and large the most up-to-date information in New Zealand is available via the NZ Plant Conservation Network.

In a note in the NZ Flora article on Escalloniacea occurs the following:

Corokia Cunn. was treated by Allan (1961) in Cornaceae. Eyde, R.H., American J, Bot. 53: 833-847 concluded that Corokia is certainly not a member of the Cornaceae. It is placed here in Escalloniaceae although its affinities remain uncertain.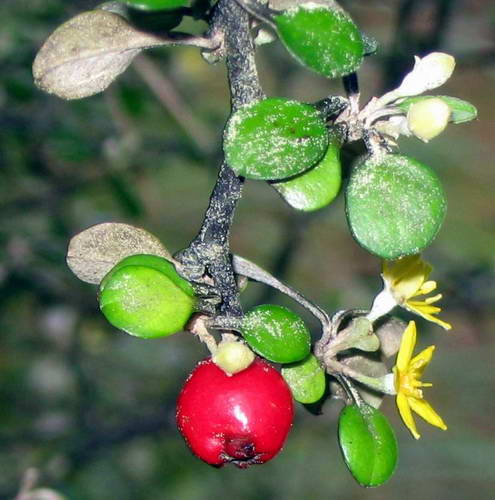 11 October 2005 Woodhill Forest Reserve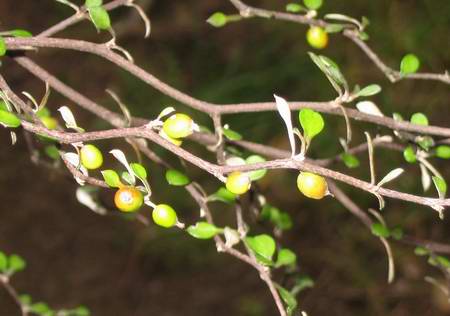 yellow berries on corokia -
11 October 2005 Woodhill Forest Reserve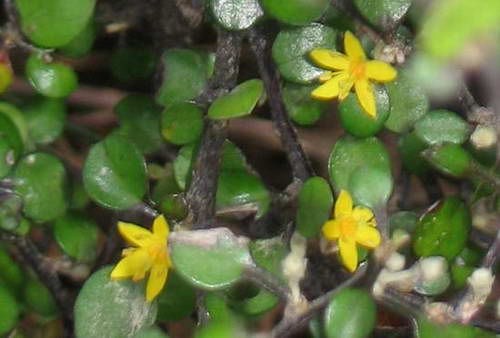 11 October 2005 Woodhill Forest Reserve
Hybridised corokia (C. x cheesemaniii) are a prominent feature of civic landscaping projects.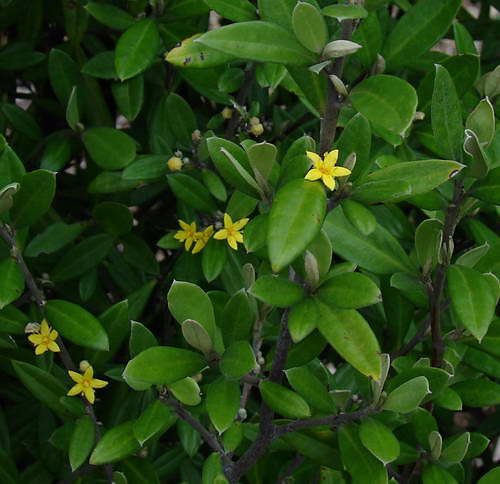 19 October 2006 Helensville Riverside Walkway
New Zealand Flora Information
Family Cornaceae, Escalloniaceae, Argophyllaceae
Genus Corokia
Species Corokia cotoneaster
Corokia, a genus of shrubs of New Zealand, eastern Australia, and certain Pacific islands, was first placed in Rhamnaceae, later in Cornaceae, and most recently next to Argophyllum, subfamily Escallonioideae, in Engler's monograph of the Saxifragaceae. Most manuals still list Corokia under Cornaceae from which it is readily excluded by several characters, including pluricellular T-shaped trichomes, ligulate petals, vascular bundles running longitudinally through the center of the inferior gynoecium, histology and germination of the woody endocarp, and a conspicuous subepidermal layer of tannin-containing cells. Corokia collenettei, endemic to the isolated island Rapa, retains the most primitive floral characters of the genus. Anatomical comparison of Corokia flowers with flowers of Argophyllum shows similarities that probably indicate affinity, but the relation of these two genera to others in Engler's subfamily Escallonioideae is unclear. Engler's inclusion of Berenice and Carpodetus with Corokia and Argophyllum in a tribe Argophylleae seems especially artificial.