25 February 2007
Don't Try This At Home
The Mavora Walkway
Let's get something clear right away. The Mavora Walkway is not a walkway in any way that you commonly understand this term. A walkway is up there with "perambulator friendly", with wide, benched tracks, easy grades, bridges with handrails, and so forth. This is not a walkway.
It begins at the Greenstone hut, and ends at the Mavora Lakes Campground via Taipo, Boundary and Carey huts. If you do it the other way you are faced with scanning the horizon for tiny orange poles while looking directly into the sun.
Neither is it "river valley walking" in the sense that the St James can be so described, or even the Greenstone. Much of it is through beech forest, or alpine/sub-alpine bog on the lower slopes of the valley across a series of ridges. There are a couple of river crossings that, while they are within the capability of the elderly and stout, are a little more challenging than anything I've encountered before, and could be daunting after serious rain.
The route through the forest is frequently pole to pole stuff. The only path formation appears to be that worn by trampers themselves or cattle, and even this track is frequently barred by fallen trees necessitating detours.
All of this is not a function of DoC neglect, as some of the comments in the Greenstone hut visitors book might suggest. Where fallen trees are not easy to detour around, someone has been in with a chainsaw. Matt, the McKellar based ranger, had been through a day or two before to remark the track.
When I talked to DoC Glenorchy about the route afterwards, the ranger I spoke to asked about how easy it was to pick up the route from the poles and triangles, and when I said it had been a new adventure every couple of hundred metres, she beamed with approval. Matt had been told "not to make it too easy". The DoC profile of the typical Mavora walker is one who gets pissed off if he is presented with orange markers every few metres.
So, make sure you have a small pair of binoculars in your pack for locating poles if presbyopia is a problem, and totally and completely disregard the DoC time estimates. Because you'll kick yourselves if you miss out on this one. It really is lovely country. Just do the preparation first. And take your hiking poles.
DoC Time: 4 hours DoC from Greenstone to Taipo translated into 7 hours fatman time, and 3 hours DoC from Boundary to Taipo was 6hr 30 fatman time. Even Carol and Mike who walked the last leg of the Greenstone half an hour under DoC time, and breezed through Steele Creek, took 5hrs 30 on the Taipo to Boundary leg. The last two legs along a 4WD track beside the lake are straightforward, with one large hill, but I managed in pretty close to DoC time.
So there you have it... (1) Don't miss it, and (2) You have been warned.
Transport: Mavora is not served by the transport companies that service Caples/Routeburn/Greenstone/Rees-Dart etc. Mavora Lakes Campground is a long way from anywhere - Mossburn is the nearest town. We arranged to leave Mike and Carol's 4WD parked next to the ranger's caravan at Mavora Lakes, and set off for Te Anau to park the van and then bussed to the Divide to start our journey.
Alternatively, for a shorter tour, you could leave transport at the Mavora end and head round to the Greenstone carpark south of Kinloch to begin your trek. But you will need two vehicles.
-o0o-
Day 4 of our walk from the Divide we just hung out around the Greenstone hut awaiting Mike and Carole. With everybody gone we took the opportunity for a thorough wash, and a cold water laundry. The day was bluetop and hot.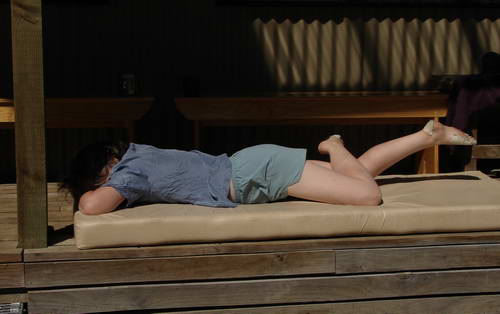 After yesterday's longish haul this was pure bliss, surrounded by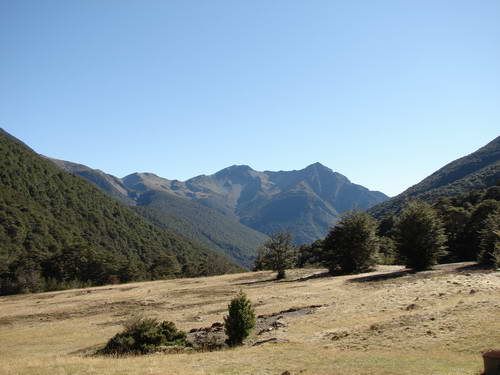 and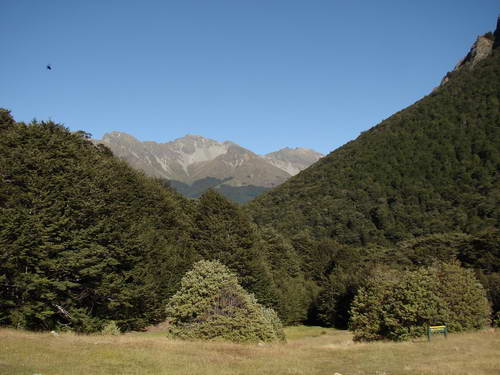 Note the sandfly on the lens above.
Mike and Carol arrived early afternoon, and we reorganised food packs and gear for the next day. Later, more people arrived including a family with a couple of wonderful small girls who had walked all the way up from McKellar, who didn't moan or whinge or say they were bored, and who played a mean game of cards. Mike gets involved.... It's a good job there wasn't money on it.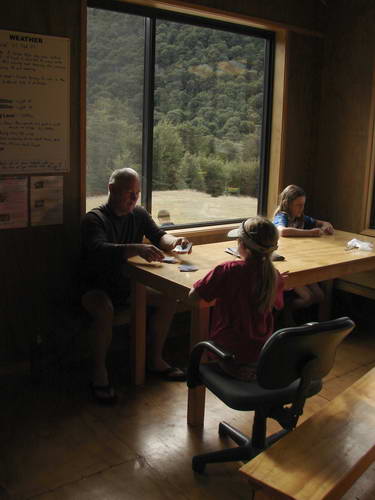 published with permission
Miranda and I headed out late afternoon for a quick look at the start of tomorrow's trek. It was encouraging.
However, Miranda appears to have a migraine brewing which is not responding well to usual medication. By morning it appears to have eased off somewhat, but it's been an uncomfortable night.