5 May 2007
Maungaroa Ridge Track
page 1
Maungaroa translates literally as "long mountain". Maungaroa itself is a small peak a few minutes beyond this track, but effectively it is the ridge that names it.
This is another of the host of wonderful walking and tramping tracks accessible from the Glen Esk carpark at Piha. It's also, like the Marguerite Track, available only from other tracks. You have to put in some spadework — or should that be legwork — beforehand and afterwards. I walked it as part of a loop involving Piha Valley Track, McKenzie Track, Maungaroa Ridge Track, Maungaroa Outlook Track and Glen Esk Rd. You could also access it from the Anawhata Rd via Pole Line Track.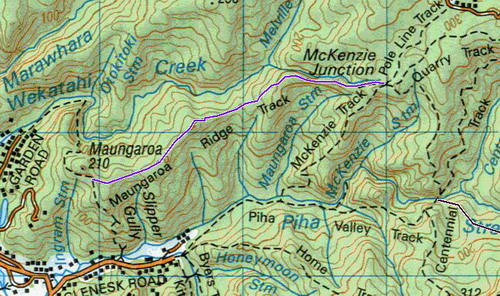 While this track is a delightful experience, and one that any of the elderly and stout might enjoy, the Mckenzie Track on the way up is a little more demanding, and the Maungaroa Outlook track on the way down to Glen Esk Rd is quite demanding, with several steepish areas that require your attention to every step, and sometimes for several steps ahead.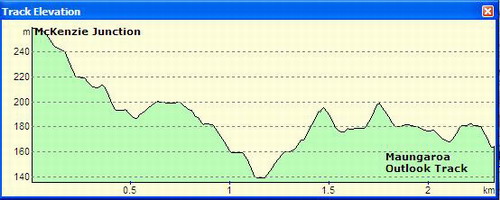 From McKenzie Junction there's a long downhill stretch, followed by a series of uphill and downhill sections, with the uphill generally sharpish and short and the downhill generally longer and gentler. For most of its distance the track is generously wide, as though it were originally a road of some description. Parts of the "road", though, are fairly badly washed out, and require a certain amount of agility and care, particularly if it has been raining recently.
Fatman time for the loop including ten minutes coffee break at McKenzie Junction was about 3hr 45. Funnily enough, I made it to McKenzie Junction, uphill, in just over ARC time, but took much longer than the advertised 1hr 15 to get back downhill via this track to Glen Esk Rd. Fatman time for this track alone was 1 hr 11, against the advertised 45 minutes, but the advertised 30 minutes down Maungaroa Outlook Track took just over an hour.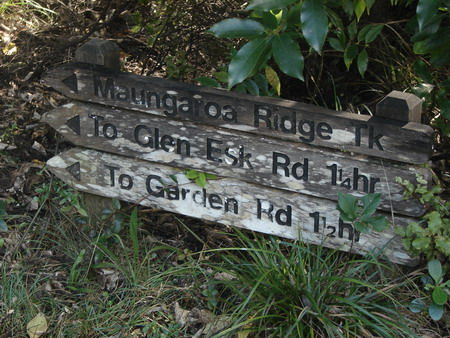 I intend to check out the route down to Garden Rd to see whether an Anawhata Rd - Pole Line - Maungaroa Ridge - Maungaroa Outlook - Garden Rd route might be gentler for us old fatties. I felt good afterwards, but there were one or two spots where my experience came in handy and kept me out of trouble.
What does "experience" mean in Waitakere terms?

When might it be safe to take on the Cascade Track or the Lower Kauri Track, both labelled by the ARC, "For experienced trampers only!"
Check out this shopping list...

To resume,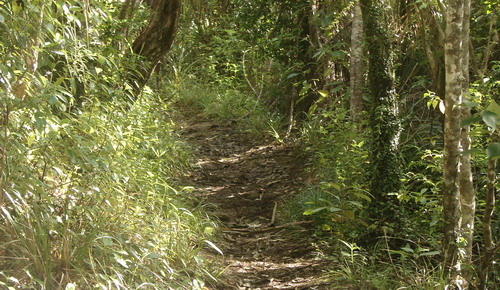 Along the top of the ridge the bush is fairly open, but quite lush.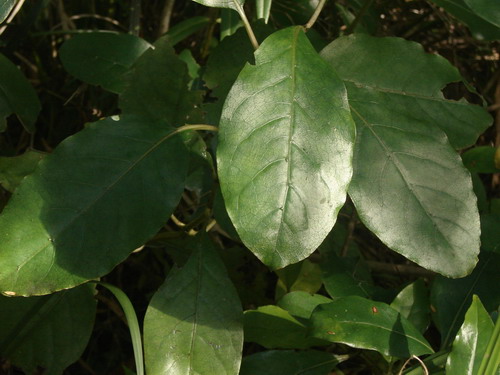 Here is a Coprosma grandifolia (kanono) and I have included a pic I took on Piha Valley Track earlier in the day of the tree in flower.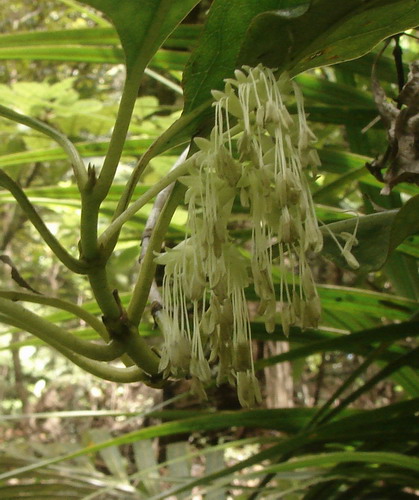 Most of the small coprosmas up here are either C. spathulata or C. arborea — I am still unable to separate young specimens of these with certainty — but here and there are bushes of C. rhamnoides, with tiny round leaves.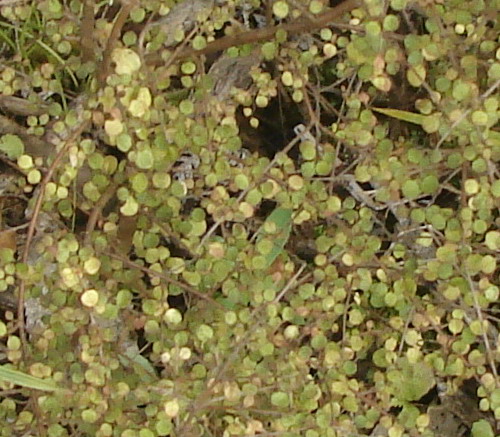 Young rewarewa (Knightia excelsa) are shooting up beside the track, along with the ubiquitous hangehange (Geniostoma ligustrifolium).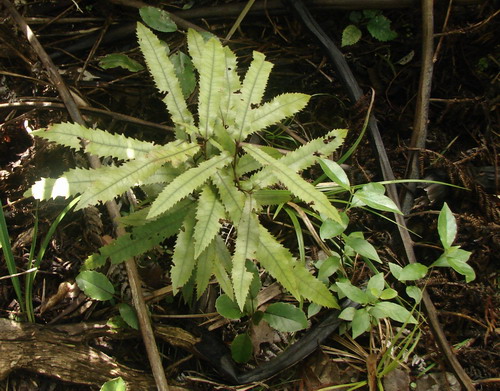 Up here Metrosideros diffusa with its slightly larger and more spreading leaves tends to replace the tiny traceries of Metrosideros perforata which is the more commonly found on the lower tracks. Also common up here is M. fulgens with its bright orange red flowers, many of them beginning to appear as winter draws near.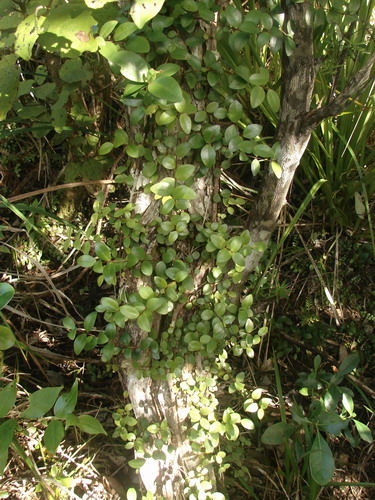 Here's M. fulgens in flower: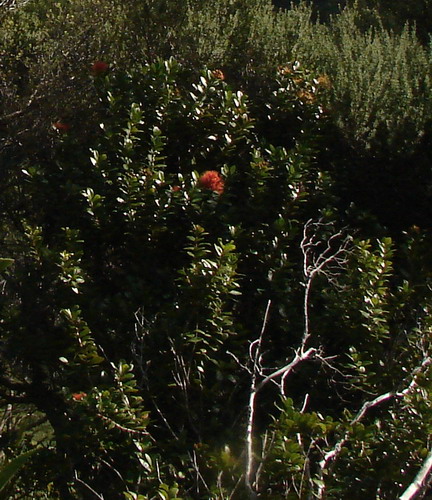 The track is quite enchanting through here with it's free play of light and shade and its lush growth.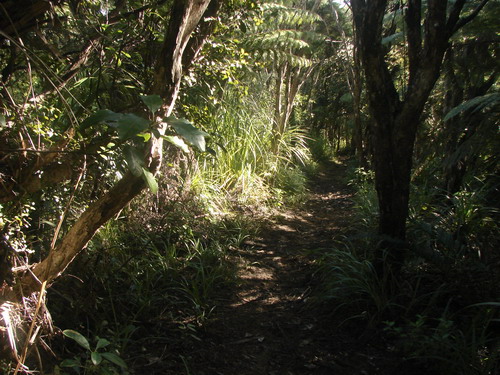 Perhaps more important is its gentle downhill passage, coming on top of a short coffee and lunch break.
Even in paradise there must have been the occasional weed.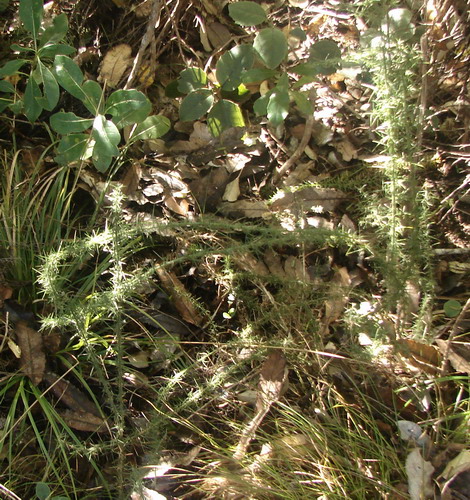 I am more concerned, though by the asparagus fern that appears to be making a home on the Maungaroa Outlook Track further along. This is the weed that has choked areas of bush on Waiheke. Over to the left the view down the valley to Piha is spectacular. Have I climbed all the way up from down there?