1 February 2007
Marguerite Track
page 1
Our walk today was another loop from Glen Esk carpark at Piha. Dan and I walked up via Home Track and Marguerite Track, then home via Lucy Cranwell, Kauri Grove, Connect and Kitekite. We weren't hurrying - I was carrying a 19kg pack - and our total time for the trip was 9 hours, including a bit over an hour for lunch.
If you plot the track on a map, the length is about 1.6 km. The ARC notes presumably allow for twists and turns of which there are many, and give it as 2.4km. This section of the track took us 2 hr 20 min against an official estimated time of 1 hr 30 min.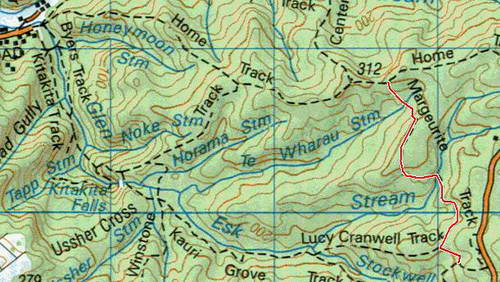 The Marguerite Track joins the Home Track to Kauri Grove Track and the Lucy Cranwell Track. It's a strenuous track. I might even say a densely experiential (!) track, and quite beautiful in the vegetation and scenery it has to offer, but demanding my close attention. Had I been by myself there were a couple of places I might have jibbed at, but I managed them with Dan's assistance.
Recommendation: Do not attempt this one by yourself without some experience under your belt and a reasonable degree of agility and fitness. Nobody has been along this one with planks and nails to make steps or bridges or shore up the track. But if you want a beautiful track, you have a readymade reason for getting fitter and more agile.
I often wonder at the origins of track names. If you're reading this and have some information about Marguerite I'd love you to contact me.
The Home Track was a long uphill slog on an OK path with occasional easier bits. On Marguerite I'd have to say that I was simply not conscious of whether we were going uphill or down, it changed so often, and was never one way or the other long enough to characterise the track.

We started about 1:15 after a leisurely lunch. My first impression is of the lushness of the track.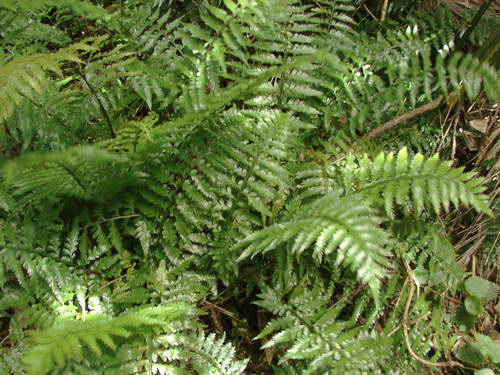 The track initially is narrowish but with lots of light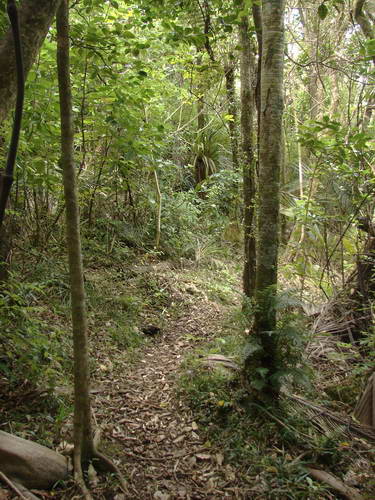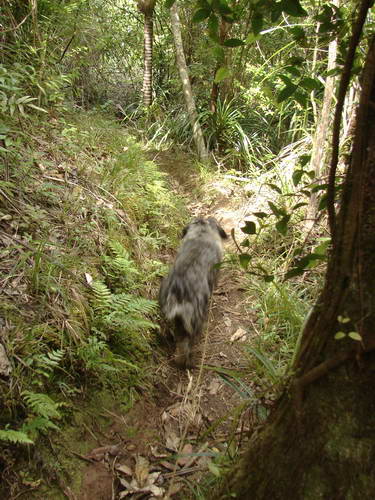 My attention is caught by what looks like a Carmichaelia on the side of the path. Following a recent signal victory for the clumpers, it's almost certainly C. australis, but it seems altogether much softer and lusher and grassier than other specimens I have spotted on my way up the hill.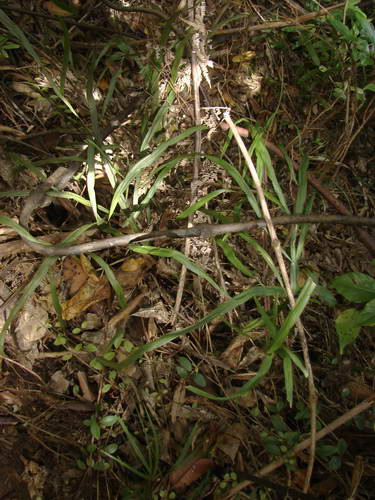 This is one track that will give your ankles a good workout - it's a boots track, not for walking sandals. Lots of stepping up and down and over, lots of tree roots to negotiate. And another one in the "nature's nudes" series.....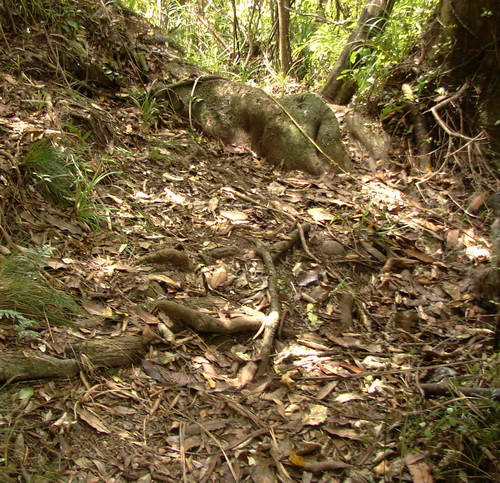 My best guess at the next one is that it is a kiwikiwi, or Creek Fern, (Blechnum fluviatile).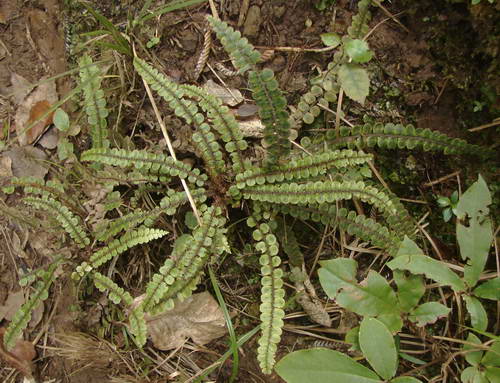 Much of the track sits into the side of some pretty steep hill country, almost like sheep tracks along the side of a ridge and not much wider.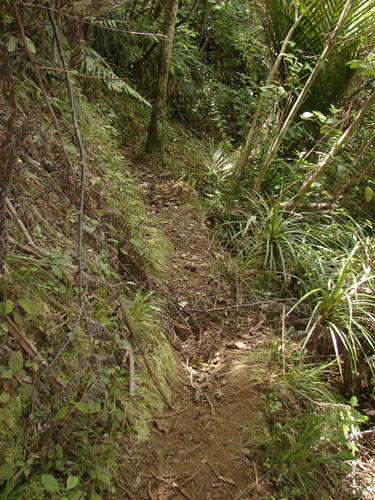 Off to the side of the track is a big old tawa, its leaves catching the light and recalling the huge one that sits over the creek at the base of the Fairy Falls. I know it's daylight, but rippling is the word that keeps surfacing to describe what happens to light that reaches this tree.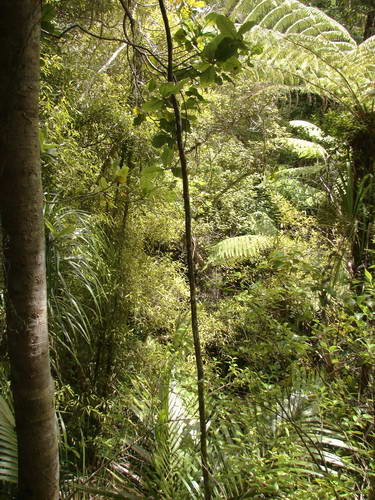 With the ground falling away as fast as it is, we are often just a metre or two from the top of a tree that would normally be some distance above us. Here's a nikau.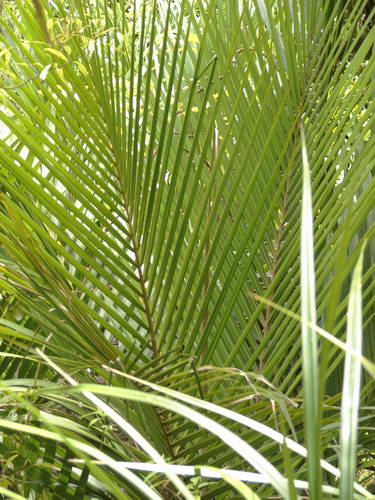 Once again, off to the side a juvenile lancewood (horoeka, Pseudopanax crassifolium) is silhouetted against a background of tawa and punga.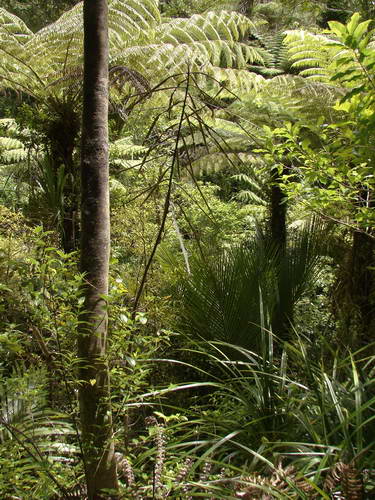 Where the slope eases off a little, the path becomes wider, but still muddy and uneven for the most part.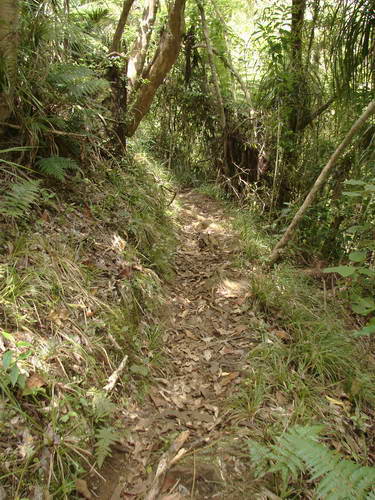 Alice is interested in something wafting up to her from this small streamlet. Dan reckons there are kiwi in the bush up here, so I haul her in a little, distract her attention with a dried liver treat and we continue.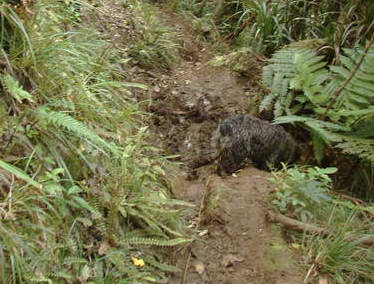 And speaking of small streamlets, they can get quite big enough at times to carve out considerable gullies, and make large gentlemen hug the inside of the path.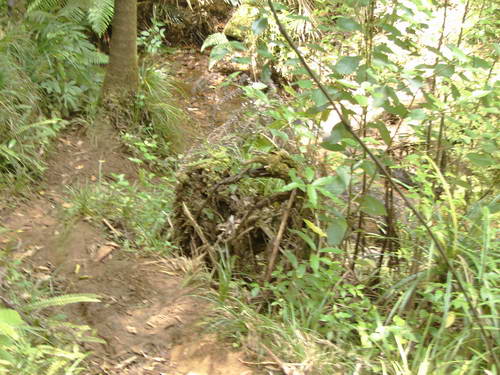 ---
27 species of Carmichaelia were determined to be variants of C. australis determined by climate and soil, and hence to be resumed under C. australis. It was acknowledged that Carmichaelia australis was a species in transition.