7 January 2007
Kitekite and Byers Tracks - Piha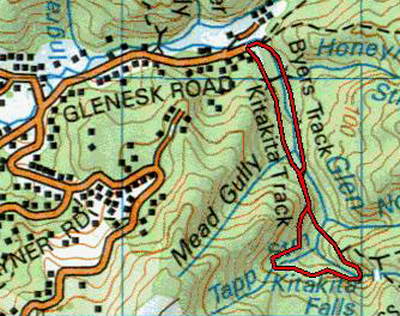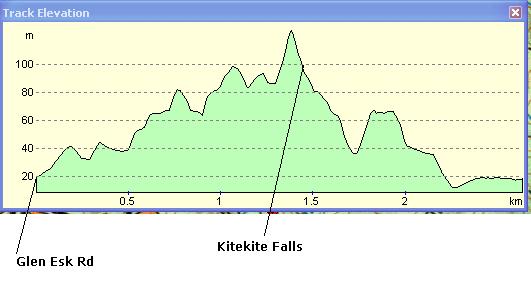 memory-map graphic
The profile looks somewhat more extreme than I recall it while walking.
The track, at least as far as the lookout over the falls is what is described as perambulator friendly - though the last climb before the lookout might leave you puffing a little. It begins at the end of Glenesk Rd where there is a first class carpark, public picnic area and toilet block. It follows the stream for perhaps 15 minutes, then a right hand fork loops up, still on an impeccable track, to a high point overlooking the Falls, then descends by a steepish track and series of steps to a large pool at the bottom of the falls which looks to be a favourite for family groups.
The track crosses here and returns to Glen Esk Rd on the other side of the stream, and this side is NOT perambulator friendly. By contrast, it is narrow, hugging the side of the cliffs below the falls, and uneven in surface. It passes the junction with the Connect track and continues down a long series of (well-made) steps to cross the stream and rejoin the perambulator friendly bit at the previously mentioned fork. A few hundred metres towards Glen Esk Rd, a bridge crosses the stream to the beginning of the Byers Walk, which is basically flat dry sand through young nikau and regenerating bush, a pleasant stroll, emerging at the picnic ground at the end of Glen Esk Rd.
Fatman time including time out for photos and afternoon (thermos) tea and fruitcake is a little over two hours. (We were also carrying fully loaded large packs as part of our South Island training programme. If you stepped out you could almost certainly manage it in one hour, especially if you returned the way you came.
I've combined the trip with the Byers Track because they join, they parallel each other over part of the distance and it's a shame to traverse the same section of track twice if there's an equally interesting alternative.

The car park was crowded - the track is obviously popular. We loaded up, and looking rather like those intrepid explorers, Ponsonby and Carruthers, set off into the shadows.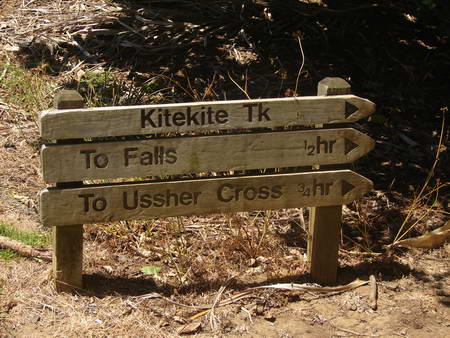 I note my topo map has it spelled Kitakita. Might be something to follow up later.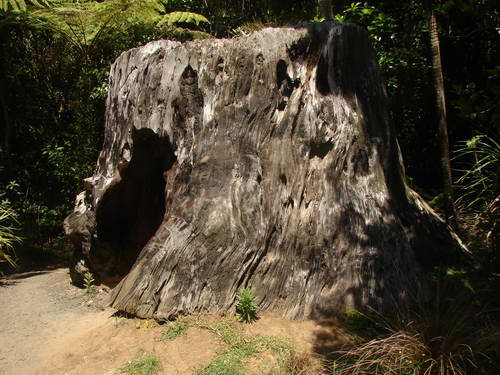 Right near the beginning is a giant kauri stump some 3m or more in diameter.
Miranda is having difficulty getting her camera bag sitting comfortably with the big pack and stops to adjust it. She encounters a large group of Christian young people who have been on a week's retreat at Piha, and they are glad to lend a hand. One of them stays on to chat with us and share some light.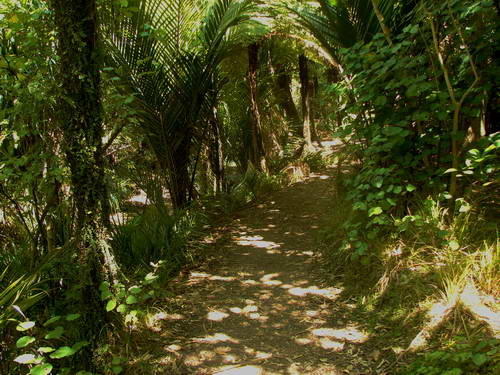 Speaking of light, I am already encountering some of the problems that will plague today's photos. Along the track, for the most part, it is cool and shady, with patches of light making their way through. Outside, it is brilliantly bluedome, and the light is intense. Digitals do not on the whole cope well with such conditions and wherever light makes its way through the canopy that part of the photo tends to be blown out. Later i remember a tip about reducing the contrast settings on the camera.
(You can patch up to some extent in a photoeditor, but I have some 300 or more photos at the end of the day and this is not an art exhibition.)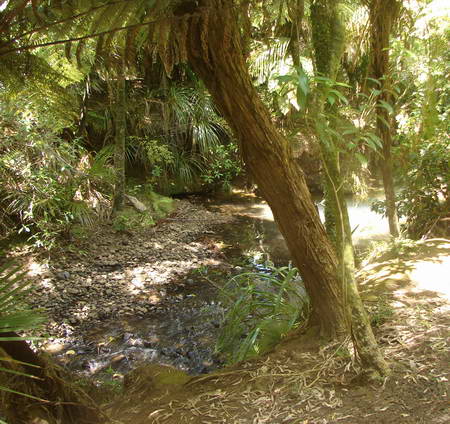 We continue beside the stream. This is the worst possible setup for patches of intense light, but pleasant to walk beside. It may be my imagination, but in pine forest, a muggy day is a muggy day. In bush it is instantly cooler and more refreshing, no matter how humid the day outside. It has its own microclimate.
I am already fascinated by the variety of plant species here. Miranda and her new-found evangelical friend move on ahead with Alice...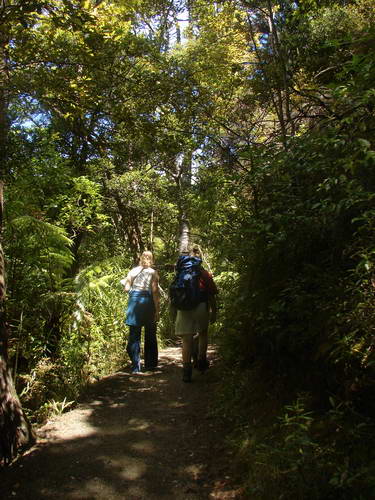 while I drop back and, quite literally, focus on the plant life. It is extremely rich and varied compared with many other bush areas I have walked. That narrow leafed vine is a Parsonsia or kaihua. It is one native that thrives under the pine forest canopy at Woodhill.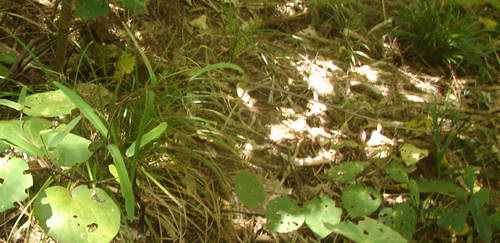 I'm just getting started learning about ferns. Shining Spleenwort, (Asplenium oblongifolium), which I sorted yesterday at Rimmers, is here in abundance,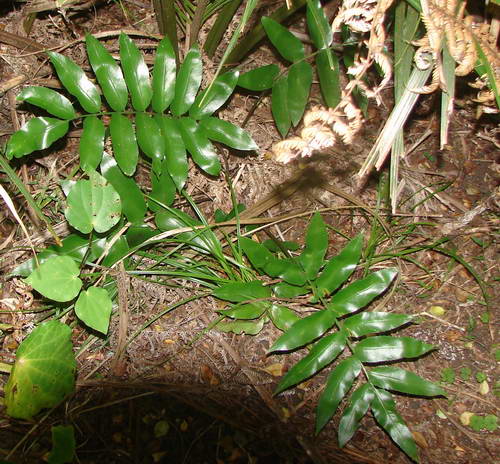 and Kiokio (Blechnum novae-zelandiae) is also featuring strongly.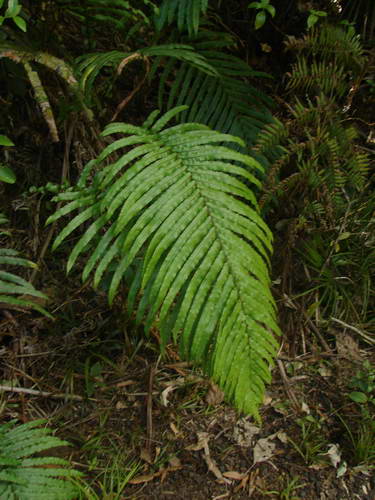 Some say that prostitution is the oldest profession. I think taxonomy has the better right to the title, being established in Genesis 2:19-20, before Eve was even created, and it's still an unfinished job. Certainly, this is the case in respect of the ferns.
(One very good reason for using Maori names for plants is that they do not change every few years.)
Come to think of it, there's no specific mention of plants - or fish or insects come to that - in this excerpt from Genesis, just cattle, birds and beasts of the field.
And as Eve had not even been created at the time, one has to wonder whether there's an implied spiritual message here for lady taxonomist wannabes ...
No. Let's not get into that right now.
Still, it's amazing where the presence of a bunch of evangelical Christian students can lead one's unconscious thinking processes.
We pass a bridge leading across to the Byers track. In fact we passed another such bridge a little way back. We continue on, and pass a fork, the left prong of which takes you across the stream and up the true right side of the valley.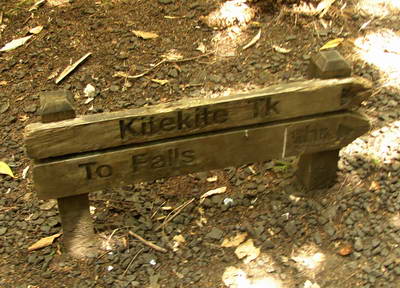 The right prong, which is the perambulator friendly one begins a moderately steep climb up the other side of the valley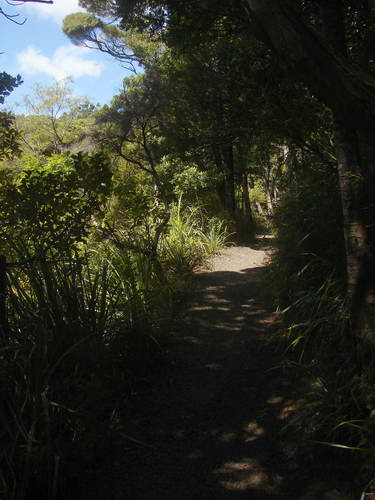 There are open spots along the way that give you an impressive view of the Piha area landscape.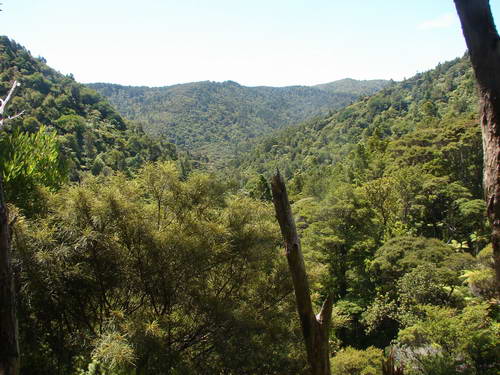 After a bit of puff, I get to a lookout point with a table and seat and room to park your perambulator, and find Miranda waiting there in case I had karked it part way up the hill. This will be a path I can manage on my mobility scooter, if I survive long enough to own one, and I make a mental note.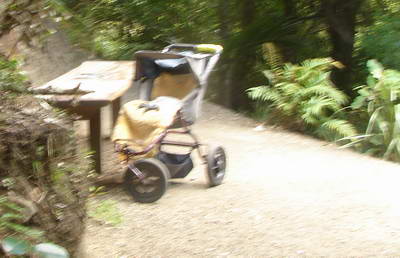 We head downhill for a change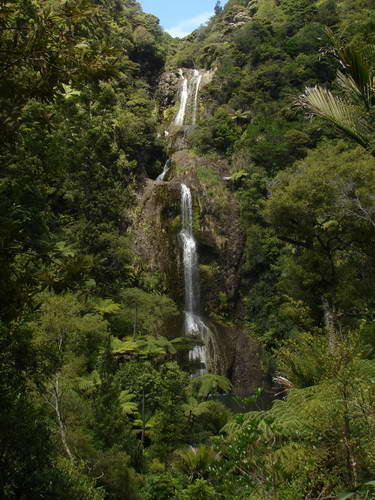 Genesis 2: 19 And out of the ground the LORD God formed every beast of the field, and every fowl of the air; and brought them unto Adam to see what he would call them: and whatsoever Adam called every living creature, that was the name thereof.
20 And Adam gave names to all cattle, and to the fowl of the air, and to every beast of the field