1 February 2007
Kauri Grove Track
(partial)
The Kauri Grove Track runs from the Piha Rd down past Lucy Cranwell Track Junction, past Ussher Cross, to the Connect Tract, which it joins just above the Kitekite Falls. This account picks it up at the point where it meets the Lucy Cranwell Track, and takes it down to the Connect Track.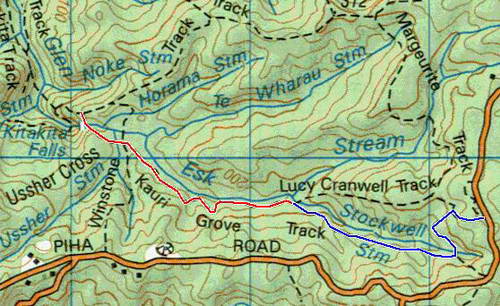 At this stage of the day, we have been walking since 9.30 am, and even Alice has adopted a policy of walking through muddy bits rather than picking her way around them.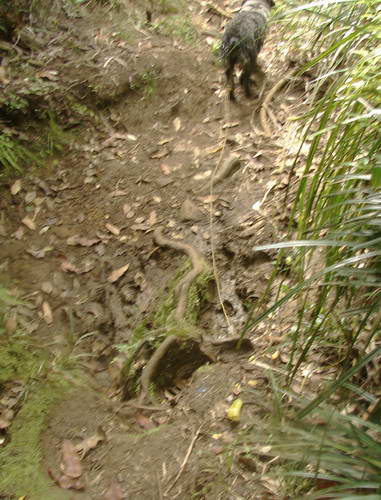 After the Lucy Cranwell descent, the track is gentle rise and fall. We are pleased to have another section of the walk behind us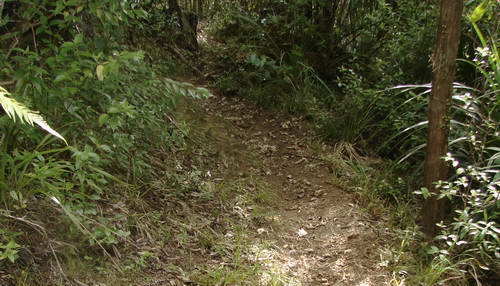 I stop to take a closer look at a spent koromiko flower
Off to the side is a young rimu. I'm not sure exactly where the association originates, but these trees say "cathedral" to me. I'd probably do better to concentrate on ducking that low branch up ahead than indulging flights of fancy.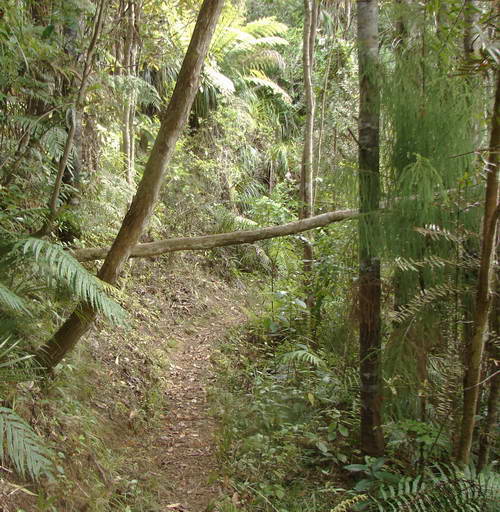 This dark and shrivelled looking frond looks at first glance as if it were infected with a disease of some sort, but is in fact the fertile or spore-bearing frond of the kiokio.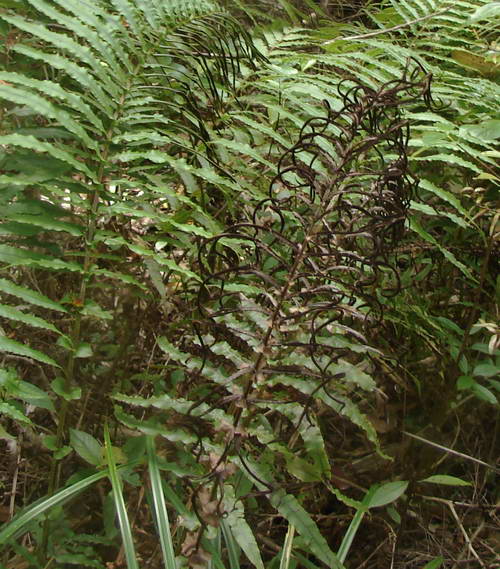 The small side streams along the path are not bridged, and I can decide to moan about the mud or be cheerful about the fact I don't have to wade through over the tops of my boots. These choices are increasingly important as the end of the day draws near. Made badly they can be really energy sapping.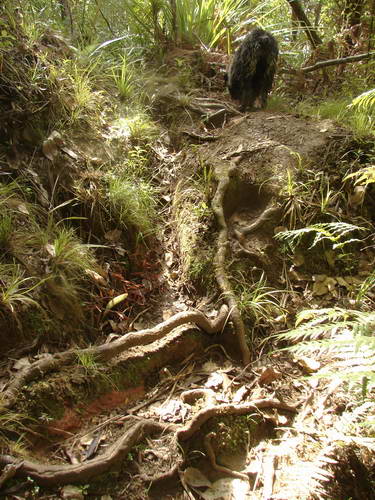 I lie. Can civilisation now be far off?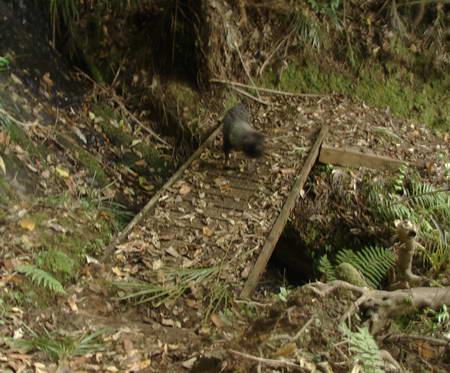 Just to the left here, where the slanted solid-rock wall carries a small stream, somebody has carved out a couple of large notches as if to fit a couple of large stringers of some sort. No other evidence of what they were part of, however.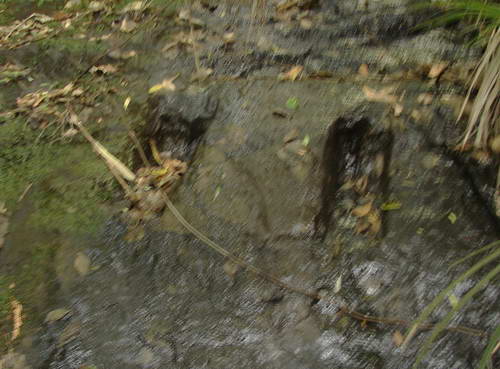 We carry on. The sound of running water is with us all the way along here, and the track is therefore about as full of soft bits as you might expect.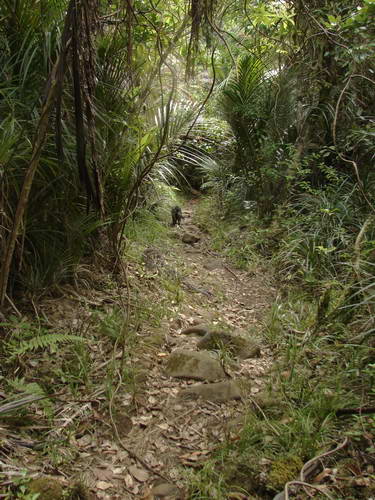 The vegetation along the bank is luxuriant.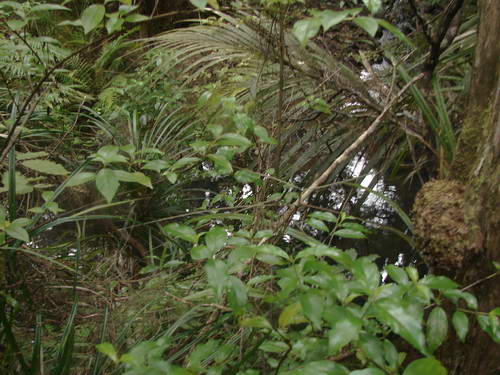 Alice is in and out of the creek constantly. There seems to be wealth of smells here that are either brand new or much more intense.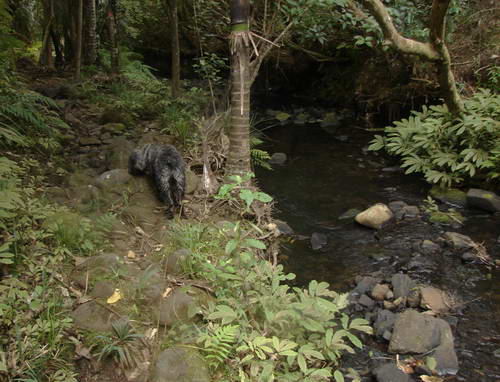 We head up away from the creek for a little. Ar this point we mainly have a kanuka canopy with punga underneath where it is moist enough.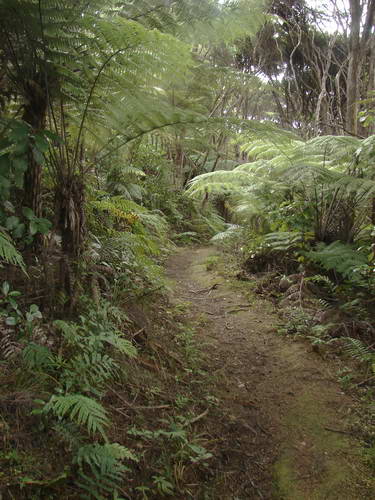 Hello... Someone needs to get in here with a chainsaw, I think. Among a number of plants I can do without in the bush is Hakea.
Despite the Maori sounding name, it's nothing to do with New Zealand at all. It's an Australian weed tree named after Baron Christian Ludwig von Hake, an 18th century patron of botany, and potentially quite invasive of areas of scrubby bush.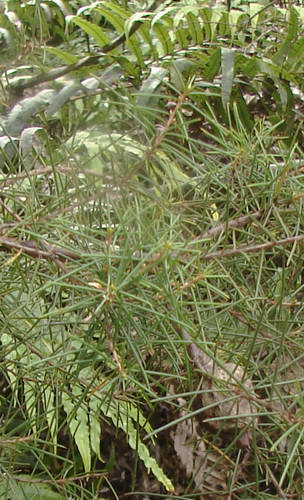 We arrive at Ussher Cross, where the Winstone track and the Kauri Grove Track cross each other. Not in the same territory as Kings Cross, or even Banbury Cross, but another landmark reached and we're looking forward to that cold beer in the van.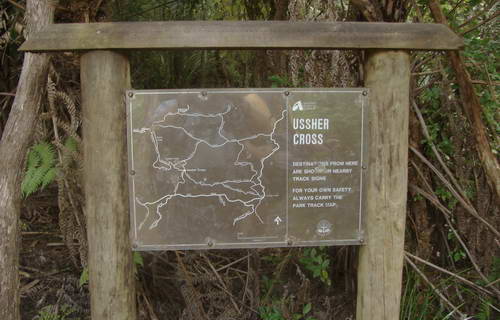 We continue, and the track, now considerably more relaxed, heads back down towards the Esk Stream and the Kitekite Falls.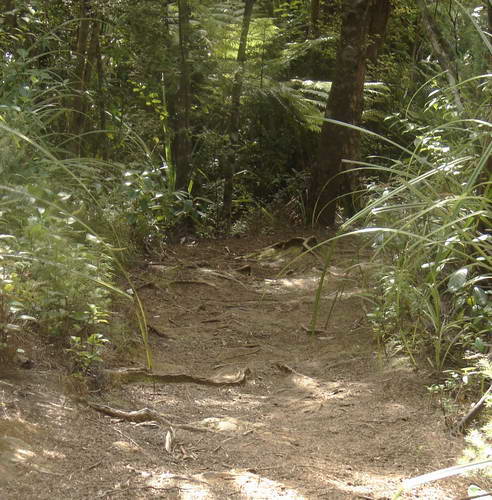 This fern I'm trying to identify. It looks a little like a tangle fern, one of the Gleichenias, but much more lush. If you can help here - or anywhere else - do contact us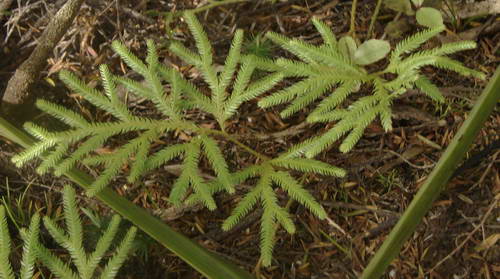 Here's another that I'm having trouble pinning down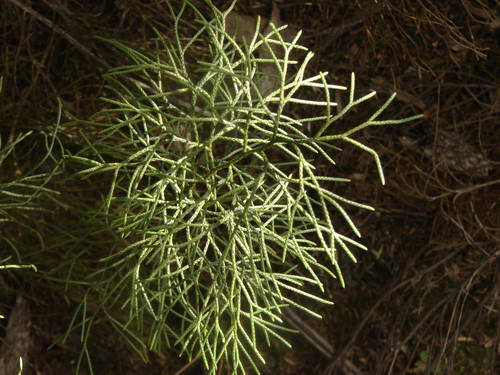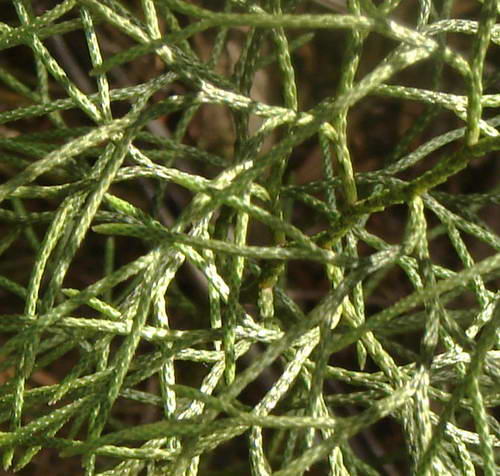 Alice wants to know what's taking me so long.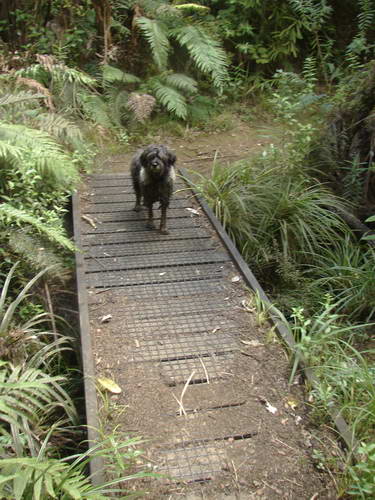 We're down by the Esk once again and Alice takes the opportunity to cool her feet and catch a drink.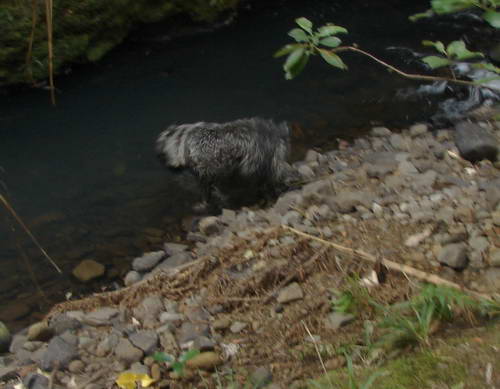 There's a big deep pool where the stream hangs a hard right, and our path takes us right around and above it.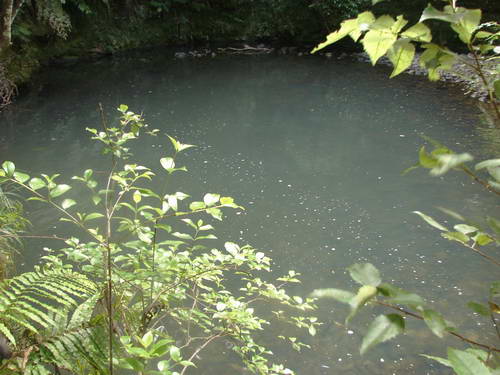 Just ahead is the Esk crossing - fairly straight forward, apart from that damp patch covered in moss where my boot is going to land. At my size I don't have the option of a long stride or a sudden change of direction, so I take a moment or two to plan the move. In the event, no big deal. The moss is not as slippery as I thought it might be.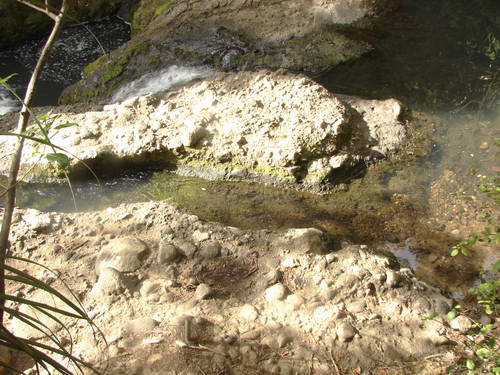 Just downstream are the falls.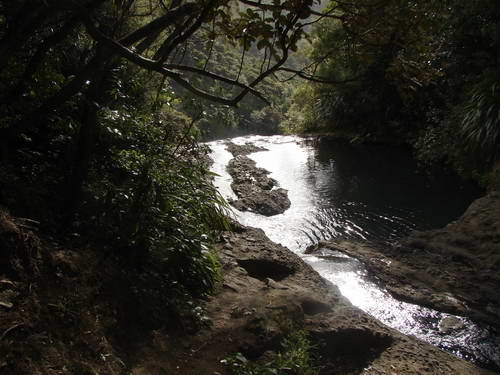 Back to known territory.