17 Jan uary 2005

Karekare to Les Ward Shelter, Pararaha Valley

in which we discover that a breathtaking view is what becomes visible outside of a 1.5m semicircle in front of you when you stop to take a breath
This trip was Dan's idea.
Being a veteran of strolls along the brick-hard Muriwai sand, I rather liked the notion of a saunter down the west coast to a pleasant picnic spot and a casual return in the afternoon sun, the screaming of gulls, rolling of surf, play of clouds and all of that sensory stuff that Dan writes about so intimately.
To give it all a bit more purpose, a bit more teeth as it were, I took a pack loaded to the gunwales with approximately the same weight I will be carrying on the Heaphy next month.
What I hadn't realised was that nearly all of the beach section was on soft sand and 18 kg, added to my starting weight of around 120 kg loaded my calf muscles up considerably more than I expected. They are still reminding me of this oversight some days later.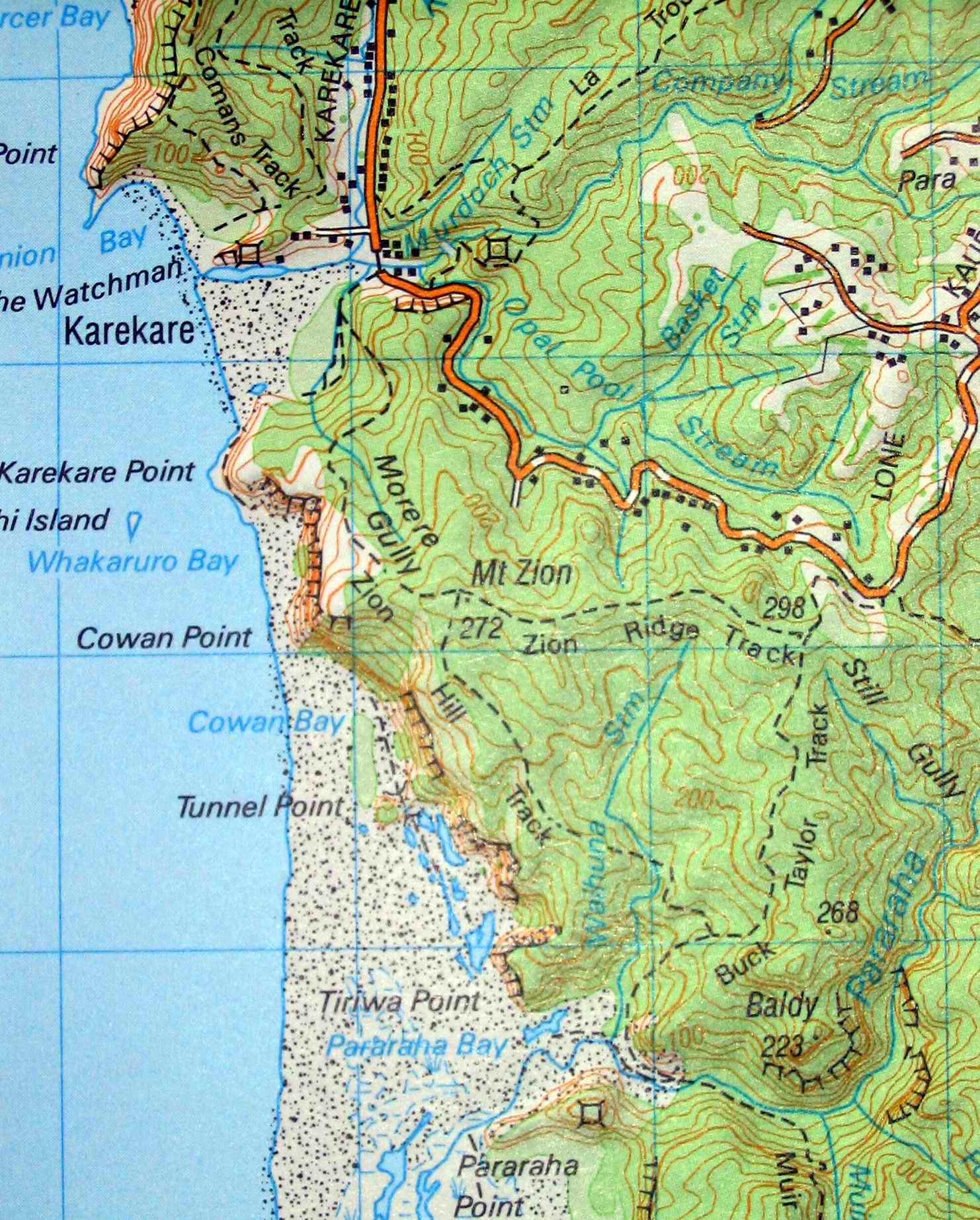 When Miranda and I walked the Whatipu-Pararaha track some 22 years ago, we came down this valley onto the beach, and we walked across pasture. In the distance you can see the huge dune that now blocks direct access to the sea and backs the water up for some distance up the valley.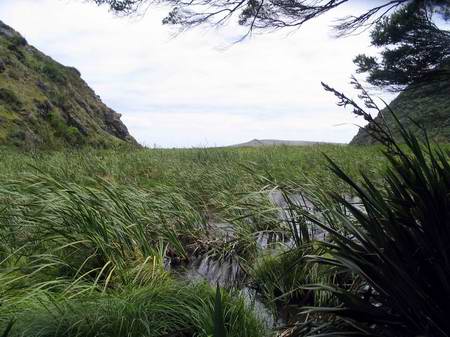 I took no photos at all on the trip south. My attention was concentrated on walking and wondering whether the demands on my protesting calf muscles were all just a little too much. About an hour in, my second wind arrived, the soft sand ended, and I cheered up considerably.
The shelter was a little way up the valley, at the junction with Muirs Track, and at about an hour and 45 minutes into the walk I was just thinking a pause would be nice when there it was in front of us. I lowered the pack and removed my soaking shirt, hanging it over the track sign to dry a little before we headed back.
Lunch.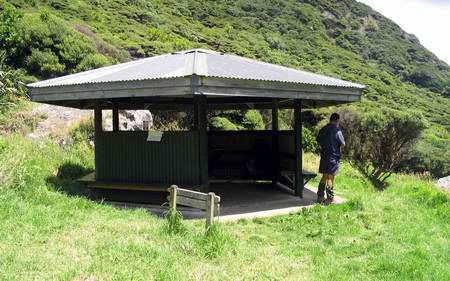 First things first. I produce a small gas stove and get the billy boiling. Dan's hand emerges from his pack wrapped around a loaf of dark rye bread, and some tomatoes and cheese follow in short order. I produce muesli biscuits, apple juice, and some biltong.
While waiting for a cuppa, I lower about a litre of water. I have drunk half a litre on the way down the beach and I will do the same on the way back. I still weigh a good couple of kilos less when I get back than I did when I started out this morning.
We head out for an explore of the immediate area.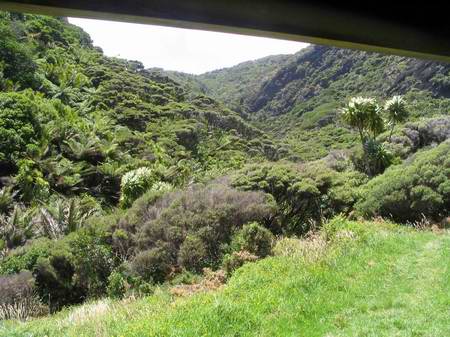 From here, the track hangs a right towards Whatipu. The toilet is straight ahead, and if you follow the creek, an hour's scramble gets you up to an old kauri dam. I passed on it this time. The DOC signage is excellent throughout the Waitakeres.
The kauri were felled and maneuvered towards the stream bed, the dam built up a lake of water behind it, and when it was tripped, the water picked up the kauri logs and took them down to the coast, in theory at least. Many logs never made it.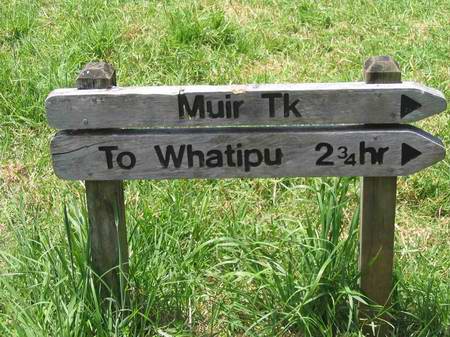 There's a campsite hard by the shelter, but you need a DOC permit. The stream water is OK to drink, but boil it first. Opossum are endemic in the Waitakeres and rain carries giardia from their faeces into all of the water courses.
Investigation into ways of limiting or hopefully getting rid of opossum has been proceeding for years and some signs of a breakthrough using chemical sterilisation are evident. The 1080 poison baits currently used are opposed by many environmentalists who maintain they affect native birdlife as well.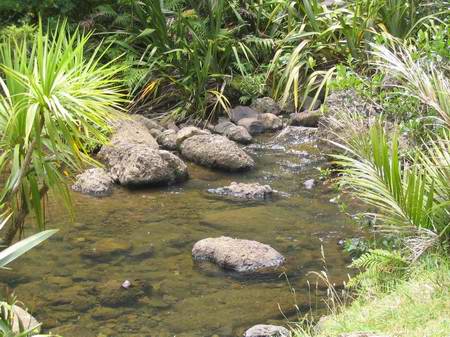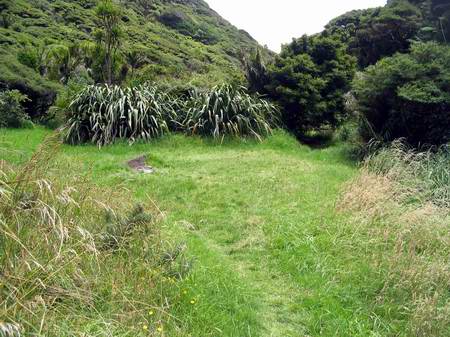 The Waitakere Ranges are a geological nightmare. The basic sedimentary rocks have been thrown around in every which direction by violent volcanic action over the centuries. While it looks as though it should be a rock climbers paradise, most of the layered conglomerate is far too rotten to climb safely.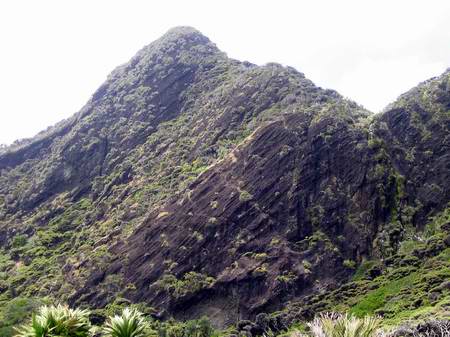 While we are at the shelter, two other groups arrive. Time for us to be starting back. I keep the camera in my pocket. It will provide me with a number of breathtaking opportunities on the way back.