Tramping for the Elderly and Stout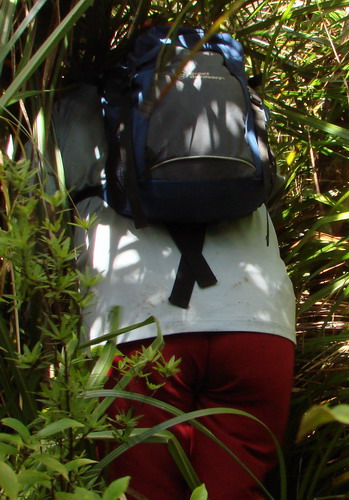 The trouble with bad habits is that they are mutually reinforcing. And, just as a bank won't lend you money unless you are too rich to need it, exercise is a pastime only for those who are already slender and physically fit. It just isn't so much fun when you have a marked tendency to wheeze and throw up, and a cannonball of a belly sloshing around inside the baggy garments.
Christopher Hitchens
I am 65, I weigh 120-130 kg — around 19 - 20 stone for those like me who still think imperially — and have two metal hips as a result of the osteoarthritis that crippled my fifties.
When I began walking, I started with a 300m expedition to the corner and back on level ground. Six months later, I walked the Heaphy Track over 6 days, 82 km, carrying an 18kg pack. I've since walked the St James, the Greenstone and Mavora Lakes Tracks, the Waikaremoana and Waikareiti Lake Tracks, and much of the Waitakeres, including a couple of tracks marked "Experienced Trampers Only", and some that should have been.
It can be done, and I make no claim to special powers of discipline or character, I have no athletic background, or family tradition of tramping. I have become unfit and got fit again. I have lost weight and regained it and lost it. And so forth.
This is a collection of suggestions for the elderly and stout about how you might build up your fitness and competency levels for bushwalking. Specifically, I point to resources around Auckland, and certainly we are blessed in our local resources, but a little research in your local area will turn up a surprising number of possible routes. (The local council will normally have a parks or recreation department.)
It helps to set a goal like the Heaphy Track, or one of the other Great Walks. They will always be special occasions, even years afterwards, and more especially if you have a good photo record.
---
Medical Stuff
Before you set out on any programme involving exercise, speak to your GP first.
Walking can help reduce weight, lower blood pressure, increase energy, increase mental clarity, and even, if you're lucky, boost your sex drive, but it's not going to do any of these things if you die first.
Most tramping tracks do not have cellphone coverage and you could be waiting hours, or even days before someone else comes by.
Even if you carry an emergency beacon (EPIRB) it can take several hours for help to arrive once it's activated.
---
1. Aims and Objects
This is a site geared to bushwalking.
There are also wonderful walks available taking in beaches, city architecture, public and private gardens, museums and galleries, cafes, trains, people watching and so forth, and there's the legendary Hongi's Track which took in every pub between the Onehunga and Auckland waterfronts.
All of this brings up something quite fundamental.
It pays, in fact, it's just about essential, that your walking serves an interest.
For me, that's native vegetation which has been a hobby of mine since I was 7 years old. I still have the ancient copy of Laing and Blackwell that I won as a school prize, and I still use it.
As a secondary sort of goal I want to knock off every track in the Waitakeres, but there has to be something about those tracks that makes it worth while, and that's the plant-life, (as well as the cruisy endorphin buzz that kicks in once I get warmed up).
In the South Island, it's walking with the mountains that keeps me heading back. In England nearly forty years ago I became seriously homesick until I happened to pay a weekend visit to the Derby Fell District and all the homesickness disappeared in a matter of an hour or two. I was hill-sick as much as I was homesick. Around London there's a serious absence of decent hills.
This kind of thing is more of an internal and less easily-measured goal, a sense of arriving, of being at peace. I can often get this now just by lacing my tramping boots on.
Since digital photography made it possible to bring home several hundred pictures from a day out, that's been another interest. Miranda's photography is geared to the picture as shape and form and light. I am more focussed on a visual record, on information and content.
I can also build up a private herbarium that does not involve ripping off leaves, branches and flowers and so forth and I can identify strange plants without vandalising them.
Digital cameras are now increasingly common over a wide range of prices and features. I would recommend you consider a Sony H5 with its 3" LCD screen for the kind of closeup and low-light work that I'm interested in. Now that it's been superseded by the H9, you may find the H5 significantly discounted, or available through Trade Me. Macro and telephoto add-ons are available but the basic unit has excellent telephoto and macro capability. It's also, for what it offers, much, much lighter than most DSLRs, something you will love when it's been hanging off your neck all day. Make sure to get a UV filter, and a hood, as much for their protective function as anything else.
---
2. Areas to work on
There are three areas you will need to work on if you are to get maximum value from local tramping tracks and overnight trips:
1. Distance/time
2. Steepness
3 Weightbearing
If you are going to attempt the Great Walks, you need to know for your own safety that you can keep going, with breaks for food and rest, for up to 20km or 10 hours without too much distress.
You need to know that you are able to manage grades that are occasionally going to require you to pull yourself up by the tree roots at eye level, while you fit your boots into small steps in the hillside, or which may involve extended uphill treks of varying steepness. The first day on the Heaphy takes you steadily up 700m over 17km without a downhill or level stretch to be had.
You need to know that your knee and ankle joints especially are going to cope with pack loads of 15-20 kg over a variety of terrain, for up to 20 km, with the help of hiking poles to be sure. You cannot afford a twisted ankle or knee because your joint stabiliser muscles were not fit enough to cope. Remember that if you are on the large side, your clothes and sleeping bag, to say nothing of your food, are likely to weigh heavier than the average-sized tramper's.
The relative ability of muscles to move you around decreases the heavier you are. This is why kids clamber around in trees and most adults can't.
---
Time and Distance
The most I've walked in a day has been 20 km. On the Heaphy we met an Asian lass, a nurse from Westport, who had walked 38 km that day, with a full pack. She was by no means a rarity. But if we are realistic at the same time as being elderly and stout, we shall leave those exploits to others.
For starters, how much do you reckon you are taking in when you are belting along at 4-8 kph with your heart rate around 130.
On the day that I mentioned, the last 4 km or so were done on automatic. I wasn't fit enough, even after several days on the move gradually building up to it, and very little registered on my numbed consciousness.
The longest time that I've walked is about ten hours. Again, I was slightly underdone for the trip, and the last hour or two was just plod.
I tell myself that next year it's going to be different, but it won't be unless I specifically focus on that distance and that time, and make sure the training goes in. At 65, you're in "use it or lose it" territory.
(By the way, I differentiate between training/fitness walks, when I'm consciously pushing a little to get my heart rate up and keep it there, and walks for enjoyment when I'm taking the time to absorb the patterns of a rata vine working it's way up a punga, to stand beside a huge kauri tree and get a sense of the thousand years or more that it has been here, or to watch the crossed fronds of young nikau making their own moiré patterns. The fitter you get, the more these will overlap.)
Start your walking around your local streets. After a week or so you'll start to recognise the regulars, some with a dog, some not; some power- walking their way around, others "Nordic Walking" with hiking poles, some jogging, some just out for some exercise without making too much of a deal of it. If you're not used to it, start at around 15 minutes and add a few minutes every night, keeping your route as flat as you can for starters. When you get back, consciously stretch the muscles you have been using. Don't bounce them, just gently stretch each one and then relax it. Treat yourself to a shower. You'll need one anyway but make it something of a treat as well. You're starting to earn it.
Aim eventually for an hour's walk each day, varying your pace between walking for observation and walking for fitness. Weekends you can stretch out a little and vary the terrain. Gradually build in more hills, and take your weekend efforts to 3, 4, 5, or more hours.
My two favourite starting points in the Waitakeres are Cascade carpark at the end of Falls Rd, and Glen Esk Rd carpark at Piha. Each of these has relatively safe parking - yes, unfortunately, that is a factor - and is a starting point for an infinite network of possible loop tracks over all kinds of terrain.
Eventually you can build boots and pack and even poles into your daily routine and your weekends. You may think you look silly, but when word gets around that you're training for the Heaphy or the Routeburn or the Abel Tasman, you'll be envied. And you'll be surprised at how many of the regulars have stories about their own Great Walk to pass on.
As you approach Great Walk time, you can start to ease off on the hot water in the shower, until you're thoroughly comfortable with an icy cold splash bath such as you'll get in the mountain stream near the hut. But I digress.
This section is still under construction
Gentle walking tracks
(This is not a definitive list by any means.)
None of these requires special equipment beyond comfortable walking shoes and perhaps a small (Warehouse!) daypack to hold sandwiches, thermos and a jersey and/or raincoat. Miranda spent no more than $20 on a very comfortable and quite durable daypack. Designer brands can set you back hundreds of dollars, if you have that to spare. If you're cunning, find one that will accommodate a camelback water bladder for sipping on the (?) run.
You will have a problem, if you are at all stout, finding a daypack that will fasten round your waist, though they nearly all have waist straps. In the end I gave up looking, tied the waist straps out of the way, and let my shoulders do the work. With a daypack it's not such a big deal.
From Piha (Glen Esk Rd Carpark):
The first 30 minutes of the Piha Valley Track are relatively flat, through delightful bush, and near a stream. Walk in and walk back. Don't under-rate the return trip. It's amazing how much you don't see on the way in.
The same applies to the first 20 minutes or so along the Kitekite Track. If you're feeling venturesome, you can tackle the hill beyond, which is not too difficult, and there is a wonderful view of the three-tiered Kitekite Falls from the top, and a seat too. If you're feeling even more venturesome, you can head down the many flights of steps to the Falls themselves, and pant your way back up again afterwards. This is a favourite family spot in summer, and you'll nearly always find kids splashing about in the big pool and grownups lounging around picnics.
The Byers Track runs parallel with Kitekite Track on the other side of the river for a spell, then joins it via a footbridge.
-o0o-
Rimmers Rd, Helensville
Rimmers Rd runs from SH 16 just south of Helensville through the forest and nearly out to the coast. From the carpark, you can head either north or south up Coast Road, or walk the couple of hundred metres to the beach and walk up or down the coast.
Coast Rd was originally a logging road but is now mostly used by horses and cyclists. It runs parallel to the coast, nearly all flat, with pine forest on either side and a small buit interesting range of native ferns and vegetation. You can travel about 5km to the north, and about 15km to the south, finishing up at Muriwai, if you're so inclined.
The coast is, well, it's the coast. Dunes and black sand and gulls and crashing surf, and occasional macho SUVs and motocross bikes rocketing past or a couple of horses with their almost inevitable dogs. Depending on the weather, you might be wise to take a hat, sunblock and a water ration with you.
-o0o-
The Cascades
In 1925, the Auckland City Council stepped in to purchase land in the Cascades area of the Waitakeres when logging interests were about to mill the last remaining big kauri in the block The Auckland City Walk is named to commemorate this purchase. It's a loop walk starting and finishing at the carpark, taking anything from 45-90 minutes. It's a little more hilly than the previous two, but well within the limits of a beginner. Much of it is beside the Waitakere River through lush bush on a well-formed track. Start from the carpark at the end of Falls Rd.
-o0o-
Huia
I'm not so familiar with this area, but one expedition that I can recommend is the Kakamatua Beach Track. There's about 10 minutes max of level track to the estuary and then you can roam as much as you like along a lovely beach. For something a little steeper but still quite manageable, try Mt Donald McLean. There is a steepish gravel road most of the way up to a carpark, and a 15 minute or so walk to the top on a well-formed gravel track. Wonderful views.
-o0o-
Wharf Rd Reserve, Albany
---
What does "experienced" mean?
Being "experienced" does not consist of being able to walk faster, longer and steeper with a bigger pack than anybody else. In any case, it's lonely up front.
It does include knowing your own limits and capabilities. Once you know you can walk 12 or 15 km, once you know that you can walk for 6 or 8 hours, even on gentle territory, that's money in the bank. Flat gravel road can see you reaching 6kph or even more. Tramping tracks bring you closer to 2-3kph or even slower. Once you've figured out how to tell when you need a break, that's invaluable in pacing yourself.
Once you've tried a few steep bits, short ones to start with, you know what your knees and ankles are up for. Once you've strapped on a full 18 kg pack and tested it on gentle territory, you'll know what it feels like when your knees and ankles start to protest, you'll begin to recognise the signs when you are tired, and when they appear in tougher country you'll be prepared.
I can't emphasise enough the value of hiking poles, or at the very least, a stout stick. If I stand on the scales with my hands resting lightly on my poles, the scales show around 3kg less. That's weight my knees and ankles don't have to cope with. On uneven ground the stabilising function of the poles takes a huge load off the muscles that keep you balanced, and heading uphill they make so much difference you won't credit it until you try. It may take a week or two of practice to get your triceps and shoulder muscles tuned up, but absolutely worth it.
As part of your great walk prep, you will be carrying a full-sized pack around for a bit. Remember, though, this is a day trip in the Waitaks. You're not carrying a twelve pointer stag 30 km back to the ute.
"Experienced" means being able to recognise the signs of dehydration, hypothermia, tiredness, in yourself and others, and it means being prepared so that none of these is likely to occur - carrying enough food, water, warm clothes; and, especially if you're by yourself, leaving information about your planned trip and expected return time with someone who can take action if you fail to report in on time.
It means consulting weather reports and taking the trouble to familiarise yourself with local weather signals. It means carrying a plastic bag to cover your camera with if it pours down.
It means, especially for rougher tracks, equipping yourself with good socks, boots and sticks, perhaps a prophylactic knee bandage if you've had trouble before, and a comfortable day pack. It means choosing clothing that works. You will know that a trip to SaveMart or the Salvation Army will often produce silk or rayon shirts for very little outlay. Around Christchurch, you can sometimes find merino or thermal garments at bargain prices. You will know that denim, in fact most cotton, is a no-no. It soaks up sweat, becomes heavy and clammy.
(Cotton underwear is an exception to this rule if you wish to avoid jock itch or other fungal visitors.)
It means knowing the difference a little chapstick or sunblock or even zovirax can make when you're out in the open. It also means carrying a small supply of toilet paper for emergencies - and being able to recognise rangiora if you forget.
It means pacing yourself early on, so that you do not spend a significant section at the end of your tramp simply "walking to get there". There's little joy in that.
Let's face it, you are going to get something tired, simply in the course of pushing out your limits a little, getting fitter and stronger, as you prepare for your annual big one. But if you don't recognise that you are getting tired you will nearly always fall into the trap of trying to hurry, to get the walk over with, when the terrain isn't necessarily safe to do that.
If you are a touch cold as well as tired - that's just cold, not necessarily hypothermia - you are more likely to stumble or slip. A small thermos of hot coffee or soup, besides your water, or a long-sleeve polyprop vest repay the effort of carrying them many times over once you are walking for more than a couple of hours.
You will have a rough estimate of the time needed that will leave you an hour or so of daylight, especially on walks where the track is less well-defined or simply a poled route. Even so, you may decide the slight extra weight of an LED headlamp is worth it.
You will have a map of the area in your head before you start and preferably with you en route. You will have a rough idea of when you expect to be where. Don't rely on posted track times. ARC tracks are on the whole difficult to get lost on, but it can happen. In any case, it's fun working out from a map what the name is of that hill over there.
Being able to bush-bash on a compass route is useful, especially if you're into orienteering, but ideally us elderly and stout don't want to go there, and most of the Waitakere tracks can be enjoyed safely without this skill.