Day 3
Piha Rd to Huia - One dam thing after another

This day begins with an optional trip to the Upper Nihotupu Dam, included because I reckon it's worth it while we're in the area. A very gentle walk takes us from the Piha Rd down the service road to the dam, along the edge of the reservoir, for a there and back total of around 4.5 km

When the dam is full you get one kind of landscape.

When the drawoff has been considerable and the weather has been dry, the landscape is notably different.

Back in your car, drive back towards Piha for 2.5 kilometres, and on the left you will see another carpark, and the beginning of the Upper Huia Dam Track. This track, say the ARC notes, follows the route of the old tramway built to transport materials to the Upper Huia damsite. Work was completed here in 1929. From here it makes its way 4km downhill to the Upper Huia Dam.

This track is a hot contender for the title of wettest track in the Waitaks, along with the Ian Wells track just down the road. It's also one of the richest in tree roots to be stepped over.

I'm not always sure of the criteria that decide where these signs get placed.

Suffice it to say that at 68 and 125kg at the time, I had sufficient agility to manage, and that's not a great deal when it comes down to it. In wet weather, I'd likely give it a miss, but there's nothing especially dangerous about it.

There is one stream crossing that may take a little agility, but all in all, despite all of this, I enjoyed the track.

It's an extraordinarily wet track, not just underfoot, but reflected in the vegetation which gives me some of the more luxuriant ferns and mosses and lichens to be seen around the area. Here, rata (M. diffusa) and lichens mix it on a punga.

The canopy is for the most part tall rewarewa, but there is something of an Amazonian quality, a lushness to the vegetation that is quite striking..

As we get further down the filmy ferns become more and more of a feature. I can't separate the members of this genus easily, though there's a family likeness which is unmistakeable. Some of the fronds on these filmy ferns are around 400mm.

As we descend the grade becomes a little steeper and the noise of the stream is a constant companion. Creek Fern covers the banks along here.

Tree ferns also feature more as we get closer to the lake.

There's a spot or two along here where I'm wondering how they ever fitted a tramway in the available space, but it's been ninety years...

I mentioned one crossing that needed a little agility over the last metre or two of descent and out the other side. Here it is.

Just past here, the track begins to level out.

and young nikau begin to play a prominent part in the vegetation, with parataniwha rejoicing in the ample supply of water
We pass the remains of an old tramway bridge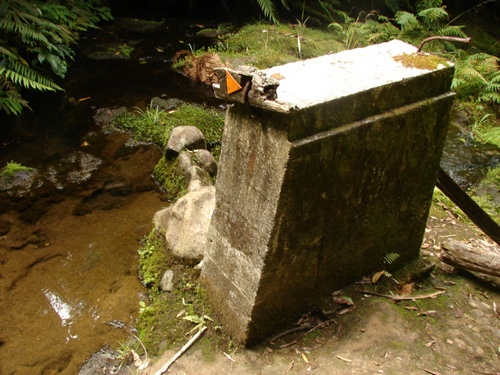 and before long we're making our way beside the reservoir lake, which at the time of the photo was uncharacteristically low.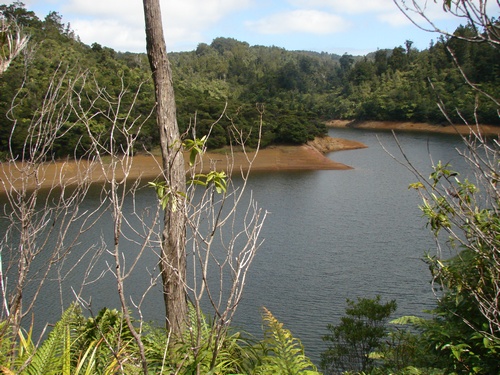 Just ahead is the dam. The track heads down toward the base, and part way down we hit a T junction, the right hand arm of which takes us across the dam to the beginning of the Nugget Track, or just to a good spot for a coffee break.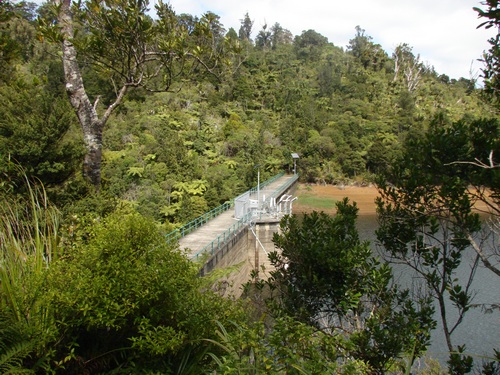 We continue down the hill and there may be time for a wander round and a closer look at the dam. From here we have about 6km of gravel service road, an easy and for the most part downhill stroll to Huia. Part way along we join Day1 of the Hillary Trail.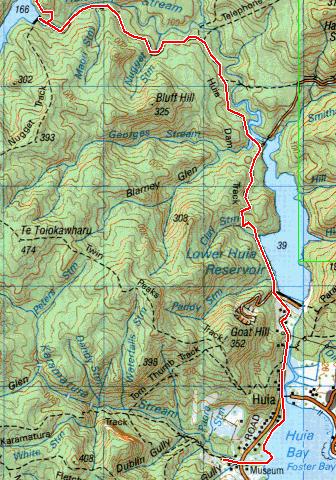 Make sure you have comfortable footwear. Several kilometres on gravel road can leave your feet aching a little at the end of the day.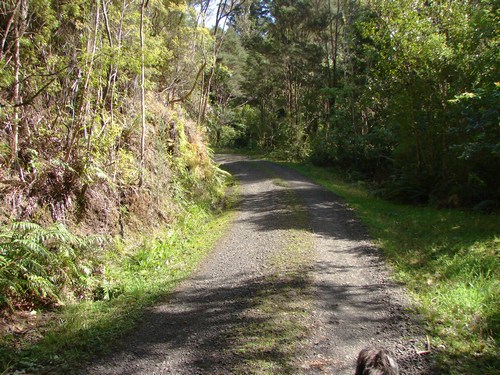 The bush is varied and interesting along the way.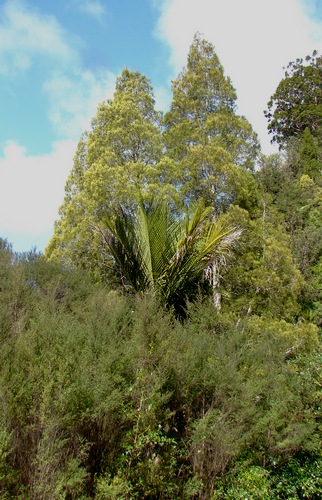 Part way along there's a tunnel with a curve, and a warning sign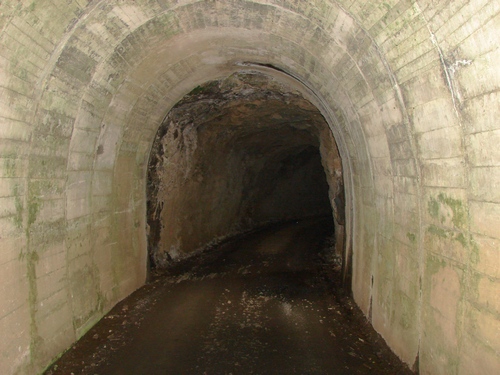 that seems somewhat fatuous, and probably determined by commandment #1 from our wonderful department of Occupational Safety and Health. "Thou shalt cover thine ass." If you're worried, hug the walls where the rocks have a shorter distance to fall.
If you're really worried, wait for ten minutes and count the number of rocks you hear fall. None ever while I've been waiting, and a minute will be plenty of time to see you through to the other side. You have been warned...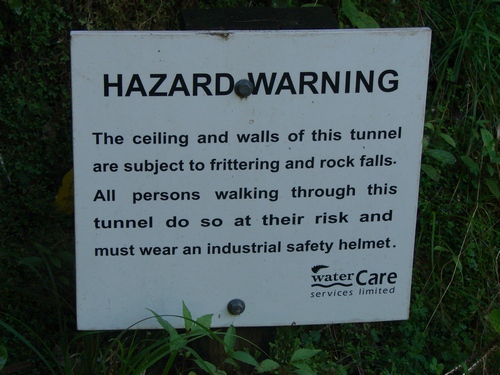 Further along there's a deep cutting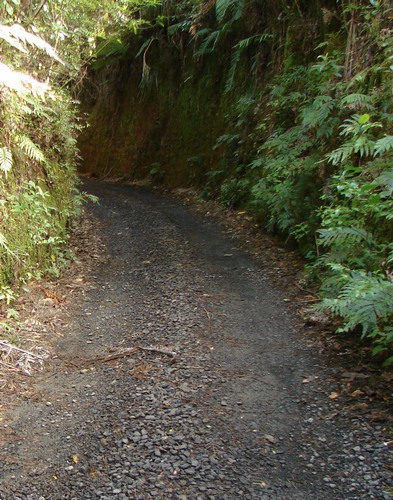 where you can see the tallest moss in the world, Dawsonia superba.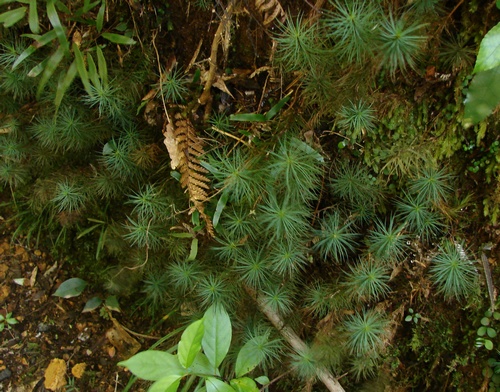 Just ahead is the Lower Huia Dam reservoir and the bridge you can see in the distance is now part of the Hillary Trail.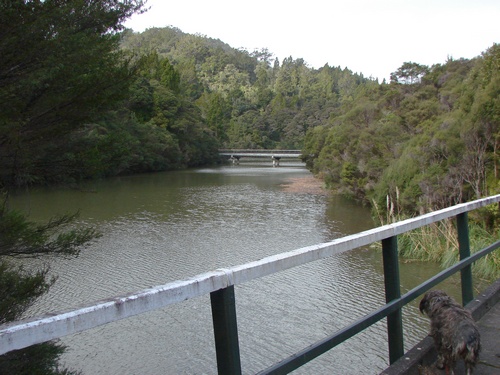 Just ahead of us, where we join the Hillary, is a stiffish climb across a ridge to the main Lower Huia reservoir, and then a gentle stroll to the lower dam.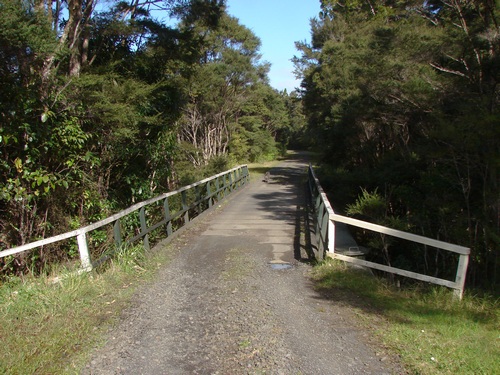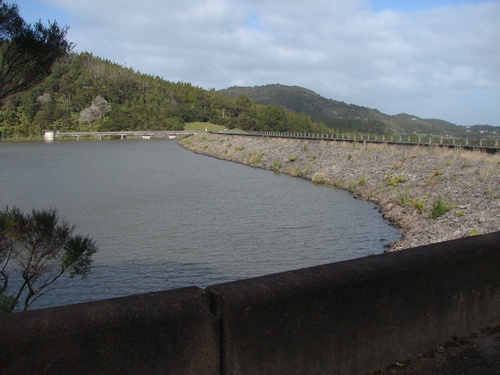 We head down the back of the dam. Near the bottom are public toilets, and a marvellous piece of micromanagement.
We stroll along the access road to the gate. This is closed each day around 3.30pm, according to warning signs, so it's best to park outside, just in case. The Hillary Trail carries on for a further couple of kilometres along the Manukau shoreline, as far as the Karamatura campground.
Whatipu Lodge & Campground Ltd
P O Box 60416
Titirangi
(09) 8118860
If you're looking for accommodation, the Whatipu Lodge is worth a look. Also, you'll be finishing up there tomorrow night and setting off from there the following morning.