Edwin Mitchelson Track
You're out at Muriwai, the beach is hot as hell and just as crowded, and you're starting to burn. What better than a drive up Waitea Rd (off Motutara) and into Edwin Michelson Rd where you'll find the downhill end of the Edwin Michelson Track, and you've got a gentle, shady climb up to Oaia Rd and a leisurely stroll back again, and you can include a short detour to the Lookout if you're in the mood.
For a short biography of Edwin Mitchelson, click here
2.2 km there and back according to the ARC track notes. 35 minutes is the official time, one way, which is probably generous. I have dawdled over photographs and still take only 80 minutes for the return journey.
This trip is more or less serendipitous. Miranda is attending a home birth in the street and phones to ask me would I print off and bring her down some forms relating to the birth. The path begins a few yards away. My boots and poles and camera bag are in the van.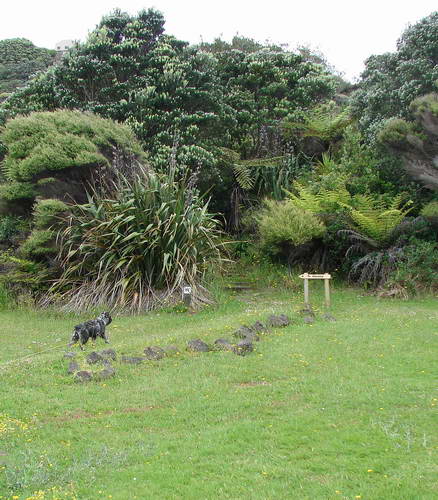 Poison baits have been laid for horses...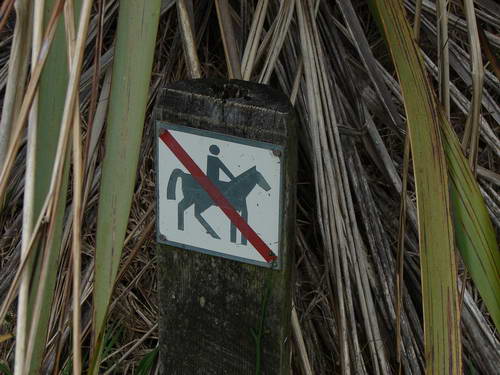 Not really. But there's probably room to ride one along here, especially after the junction with Lookout Track.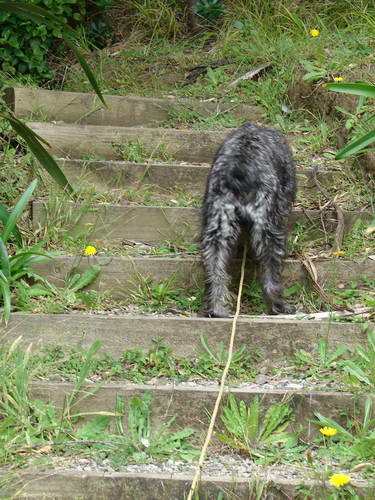 Alice heads up the steps.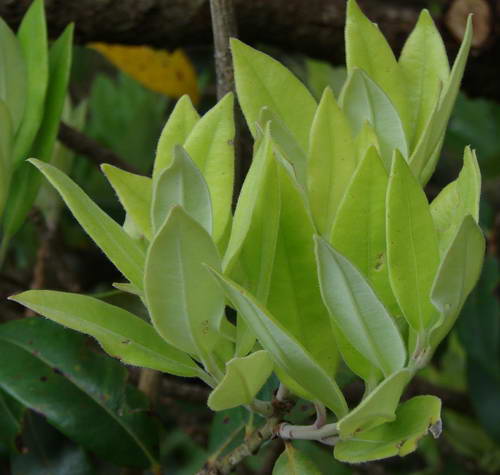 The pohutukawa near the bottom of the track is covered in fresh growth.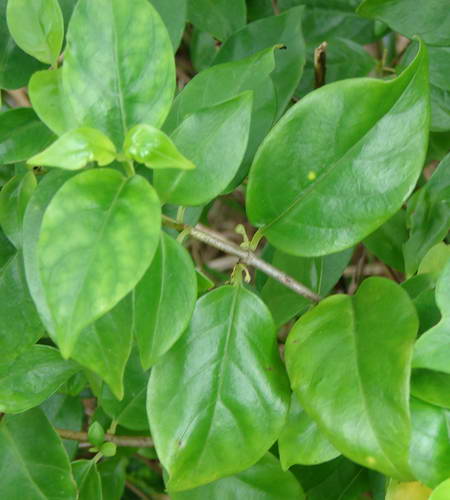 I am interested in the hangehange. There's a variation I haven't seen before with much rounder, fatter leaves than usual, with a small-leaved and a narrow-leaved form all within a metre or two, so habitat is unlikely to be a major factor.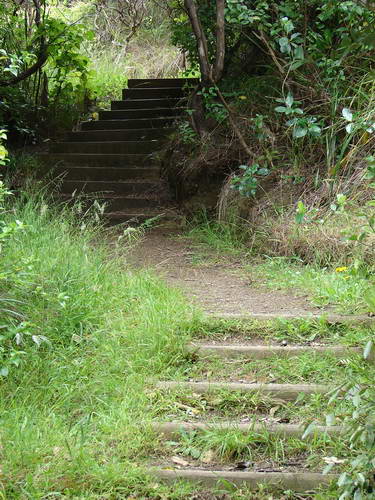 More steps. Again, I am impressed. The step design protocol at ARC is significantly more user-friendly than the DOC one.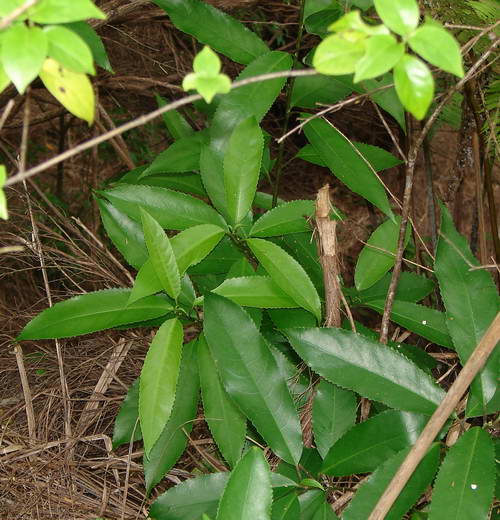 In a shady corner, a young mahoe is glowing with health, as is much of the vegetation along here. This close to the sea I'd have expected a somewhat tougher environment.
The robust red of a largish mapau is next along.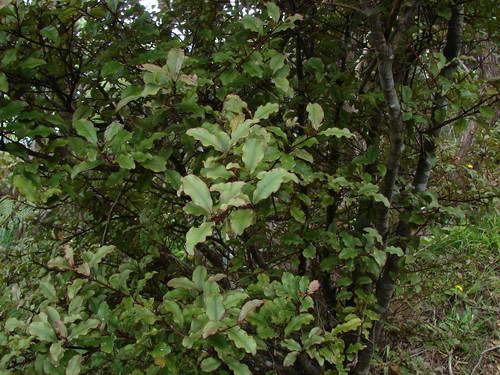 and at the other extreme, a small frond of maidenhair fern (Adiantum cunninghamii) lights up a piece of bank.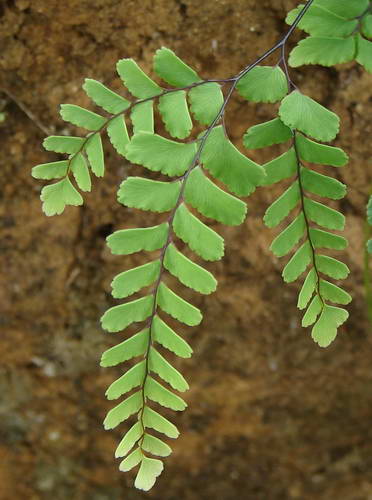 Just past here, a longish flight of steps heads downwards, while another track diverges uphill, obviously well used, but just as obviously unofficial.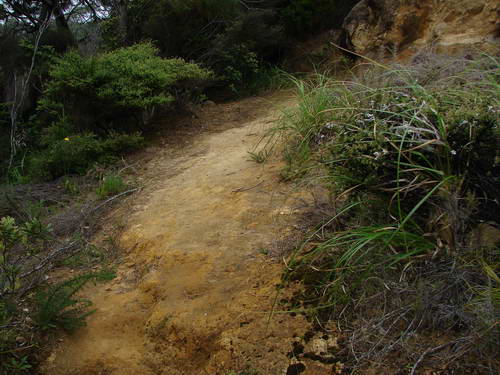 We head down more steps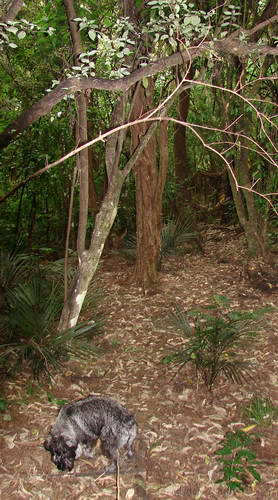 through fairly open forest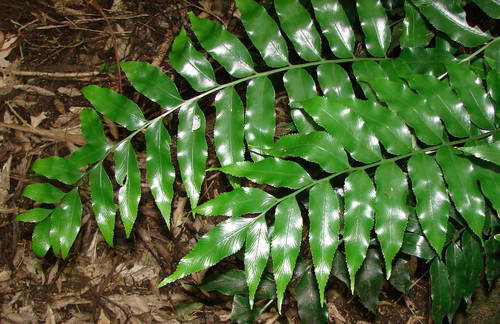 There is a good variety of ferns here. I am still learning about ferns so identifying them is a problem for the most part.
[Later addition: Asplenium oblongifolium; Shining Spleenwort, Huruhuruwhenua]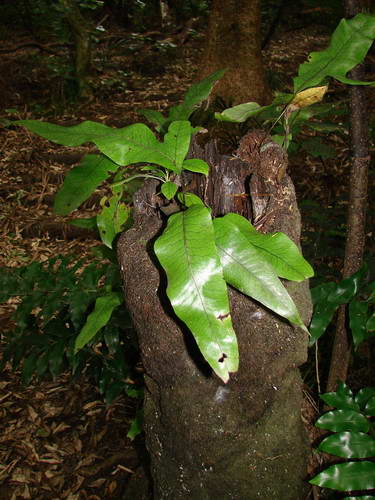 A hound's tongue fern finds a home in a stump and a we pass a small glade of young nikau.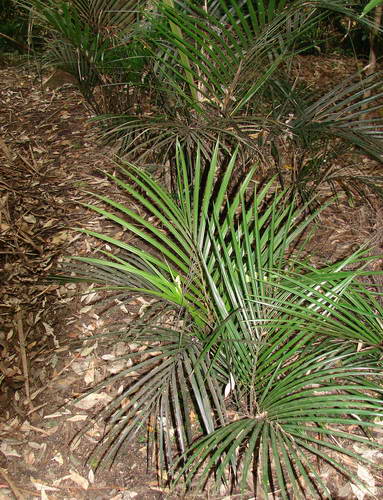 A young puriri is glossy and shining beside the path.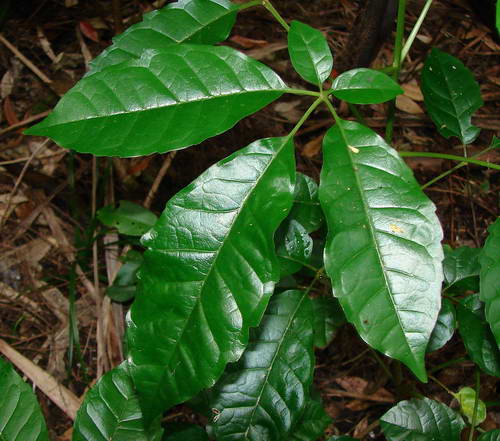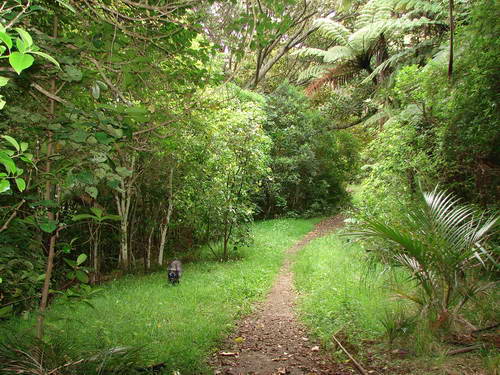 The path opens up as we arrive at the junction with the Lookout track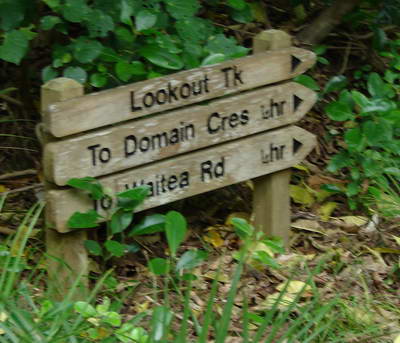 We continue straight ahead