25 January 2007, 7 April 2007
Cascade Track
page 1
This track is not for the elderly and stout, at least until you have established a reasonable degree of fitness and agility.
While much of the track is comfortable - if steep - walking, and very beautiful - the birdsong is to die for - the second section of the track contains a couple of very steep and slippery sections of about 50 metres or so that require some agility and in general you need to watch where you are putting your feet, and where the next handhold is.
When you are ready give yourselves plenty of time, and do not attempt to hurry — there is plenty worth looking at and listening to along here. The ARC signage suggests this is a 2 hour circuit from the Carpark. Allow at least 3-4 hours, including a lunch break.
Take your lunch and a thermos. At Robinson Ridge junction there's an exceptionally comfortable arrangement of tree roots for the larger posterior, and you'll be ready for a cuppa and a sandwich.
The Cascade Track is in two parts: The first is a part of the Montana Heritage Trail, and climbs quite steeply from the Auckland City Walk to the junction with the Fenceline Track; the second branches off at this point, behind a sign saying Experienced Trampers Only, and heads quite steeply downward to join the Robinson Ridge track, before crossing a couple of streams and heading sharply upward to join the Upper Kauri Track.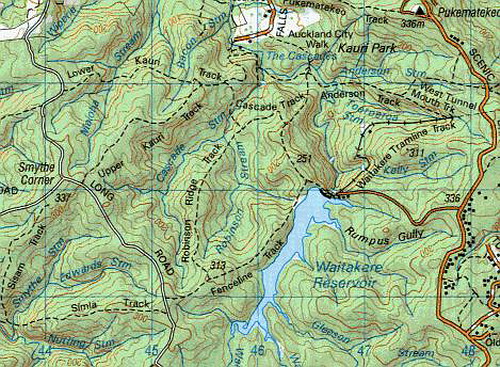 This topo segment does not show a second stream, but it is unquestionably there, as you will discover.
We deal on this page with that section of the Cascade Track that is part of the Montana Heritage Trail, i.e., between the Auckland City Walk and the start of the Fenceline track. In a little over 500m, the track rises about 160m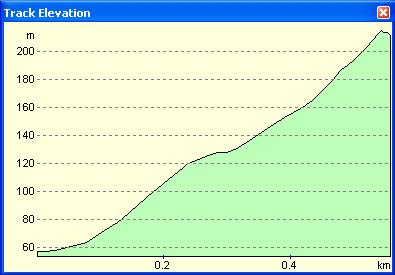 Start from the Cascades Carpark in Falls Rd and walk back up the road a hundred metres or so, where you will see one end of the Auckland City Walk. The Cascade Track begins about a kilometre along the Auckland City Walk, just past the junction with the Anderson Track.
As we turn left off the City Walk, there's a guy enjoying a sit on a bench beside the track and we chat for a minute or two. Alice is much better behaved this time. Within seconds, the track has narrowed and the bush is everywhere much closer.
To the right is the kakhi-olive of a patch of filmy ferns.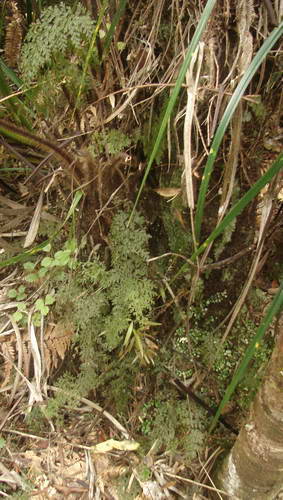 I take the camera in for a closer look, but the light is a bit low for good macro work.
OK. Here we go.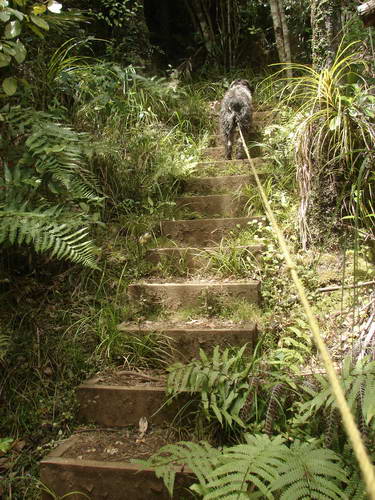 Alice still has energy to spare.
There's a bit of debris around an ancient fallen tree and somebody has thoughtfully provided a stair rail to help negotiate it.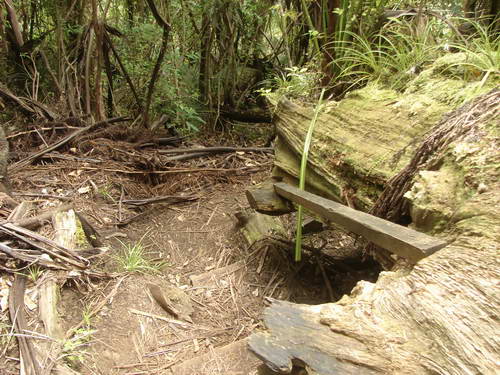 And on they go.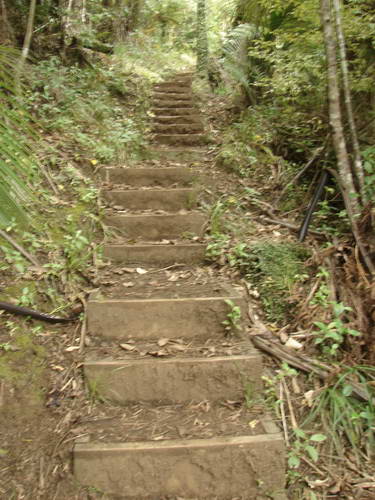 At the end of the first, so to speak, flight, there are a couple of benches and a Montana information panel drawing attention to the various uses that bush plants can be put to. I have often enjoyed a refreshing cup of kawakawa tea, and on a number of camping occasions, koromiko growing tips have stemmed what might have otherwise been a disastrous attack of the runs. (Dried koromiko leaf was sent to the troops in the desert during WWII in the absence of more regular but harder to come by medical supplies.) Kawakawa also makes a tangy and slightly peppery addition to a casserole.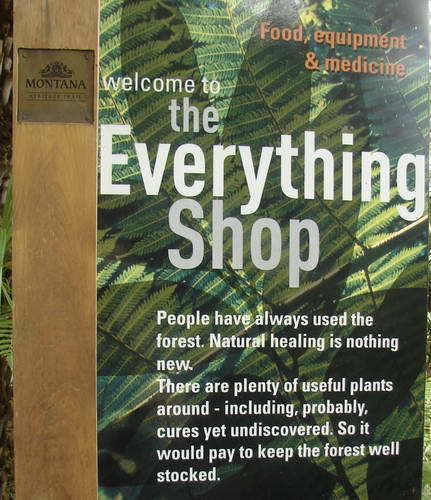 On we go.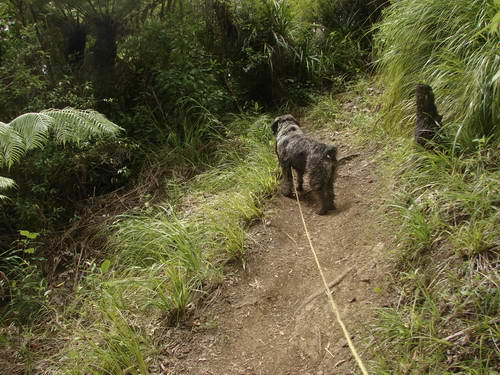 and up and up
and up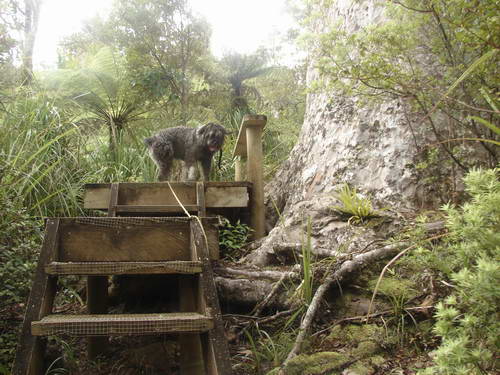 "Just be careful, Dave, they're a bit far apart...."
It's getting more and more common in cliche-speak to refer to anything remotely tall, massive and isolated as a "sentinel" — I've even heard the Sky Tower referred to in this fashion, for God's sake — but this is one tree that seems to fit the term, a watcher out across the ranges, and we can subside onto this bench and share duties for a bit if we want.
Though I suspect the surrounding vegetation has matured somewhat since the bench was put in.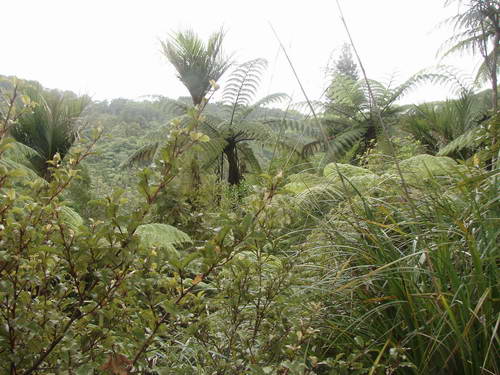 There's a bit of a levelling off for a short distance, in which an older boardwalk laid in sections takes over.
For a brief few metres I have an opportunity to see what I am walking through instead of watching where my feet go. To the left is a small mangemange, and beside it some Blechnum fraseri, the miniature tree fern, which is quite common just along here.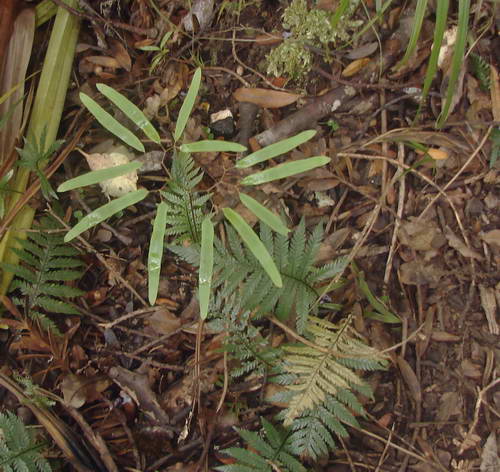 Soon enough it's back to watching where each foot goes.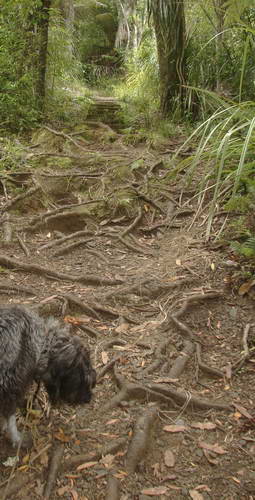 and the gradient begins to steepen once more.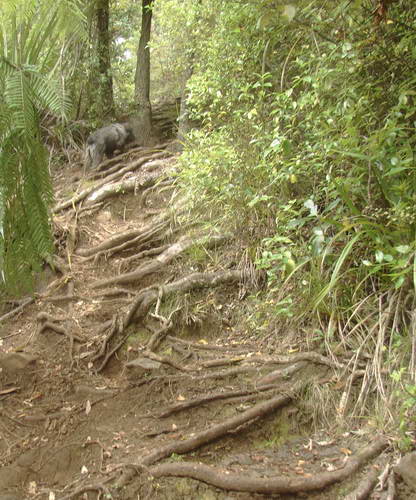 One of the things I am beginning to enjoy about this track is the surprise kauri giant that can suddenly pop up around a corner.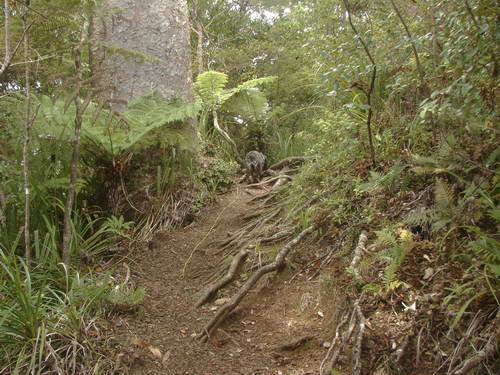 More kauri, more boardwalk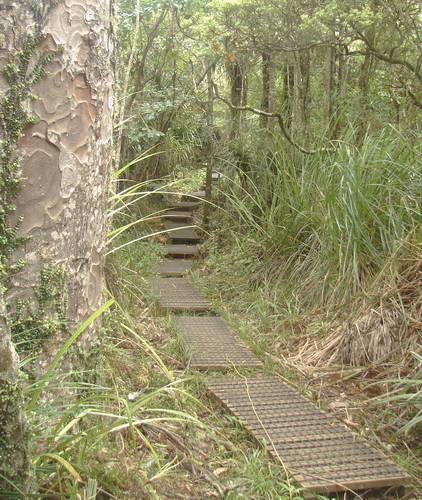 And it's back to rough again.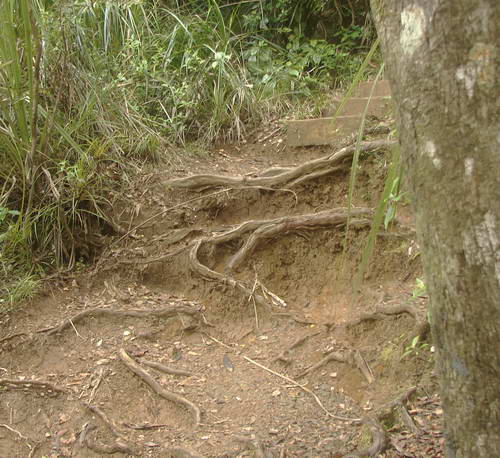 More steps. To tell you the truth, by now I'm not seeing a lot of the minor shrubbery at the side of the path. I have drunk and sweated about 2 litres of water and I'm trying to figure how I can waterproof the camera, which keeps getting dripped on.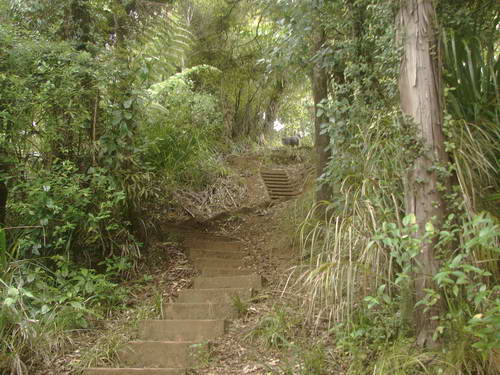 And steeper yet. These steps are somewhat treacherous as they've accumulated a lot of dry leaf matter and loose crumbs of gravel and clay and I have to take care to plant each foot so it's not about to shoot out from under. I'm carrying 123kg of me, plus boots and sticks and clothes, plus about 18kg of pack and camera. There's not a lot of room left for agility, though I have farewelled gratefully the 5 kg I've dropped over the last three weeks.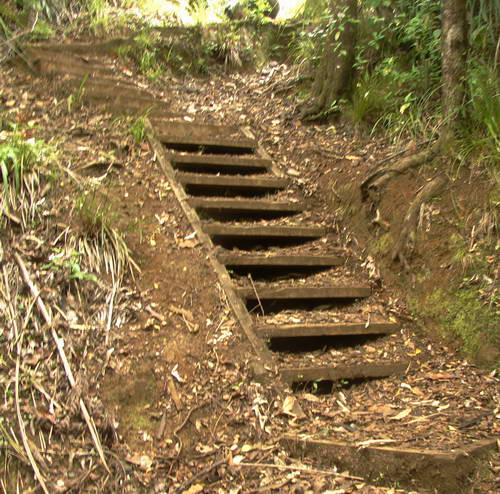 Well, well, well. That last bit was just to see if I was serious.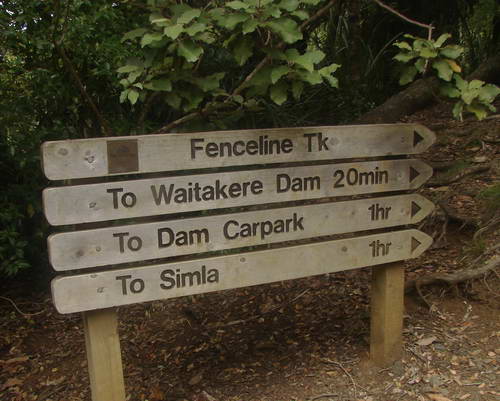 Down to the right, confronting me with a "Suitable for EXPERIENCED TRAMPERS ONLY" sign, the Cascade track continues. Uphill to the left, the Fenceline Track beckons.