3 September 2006
The Auckland City Walk
This is not a cruise around the Central Business District. It's not even in Auckland City.
In 1925, the Auckland City Council stepped in to purchase land in the Cascades area of the Waitakeres when logging interests were about to mill the last remaining big kauri in the block The walk is named to commemorate this purchase.
This is a short 45-90 minute stroll along an excellent track with very few serious hills, and a host of big trees and lush vegetation. Linking with this walk are a whole bunch of others beginning at the same point, of varying length and difficulty. I'm getting around to them slowly.

To get there, get out your mapbook and locate Falls Rd off Te Henga Rd off West Auckland's Scenic Drive, and carry right on through the golf course to the car park at the end of the road. It's a great picnic spot even if that's all you do, with mown lawns, gardens and bush at the back of everything.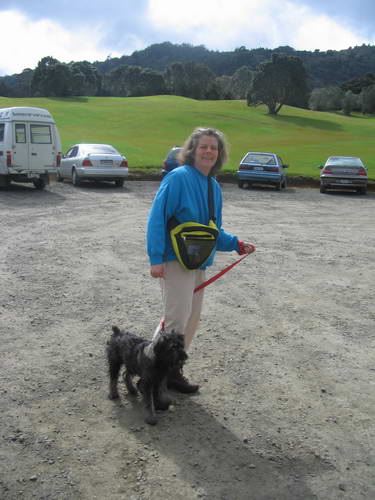 The Auckland Regional Council takes a slightly more relaxed view of dogs than does DoC, and, I suspect, gets a much better compliance rate.
New Zealand robins, last seen here before 1900, have recently been released in the area - we are lucky enough to hear one of them on our walk - but because they spend a good deal of their time on the ground, and have almost no fear of people, we are asked to keep the dog on a short lead. We are happy to do so.
We roll up almost half an hour late, and very apologetic, having grossly underestimated the effect of winding roads on average speed. Leigh and Brett are waiting for us, along with their dog Freya, and the two dogs hit it off straight away. Miranda makes like a maypole as the sniffing ritual is enacted.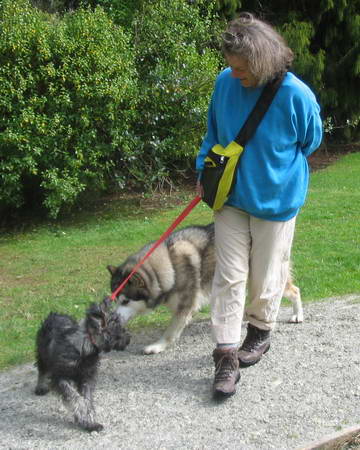 Straight off we cross the Waitakere stream on a suspension bridge, but one after my own heart.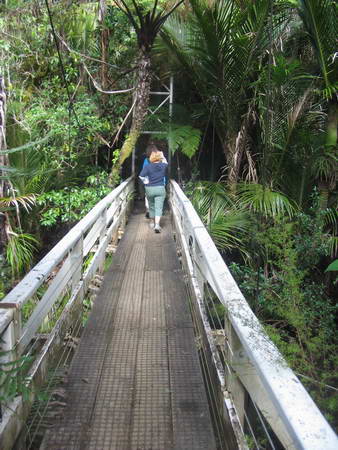 This stream is beside us for a good deal of the walk. We cross it a couple more times on conventional bridges.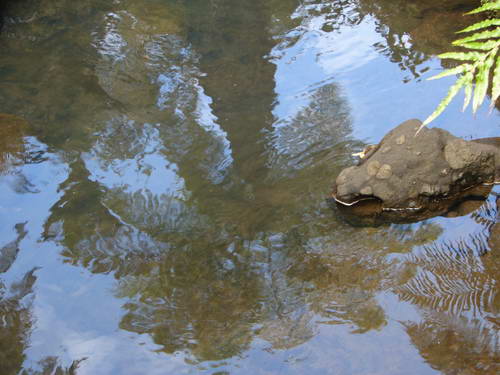 photo by miranda woodward
These fellows with their old leaves wrapped around them like a cloak have always seemed almost human to me.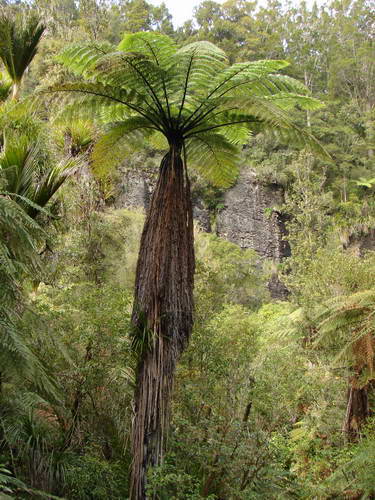 photo by miranda woodward
The stream is peaceful and calm, and this boulder has gathered its share of moss, but in a full spate, this stream is capable of rising 4 metres very quickly, and boulders in these conditions do not make good landmarks.
photo by miranda woodward
Another boulder that didn't get this round by staying in one place.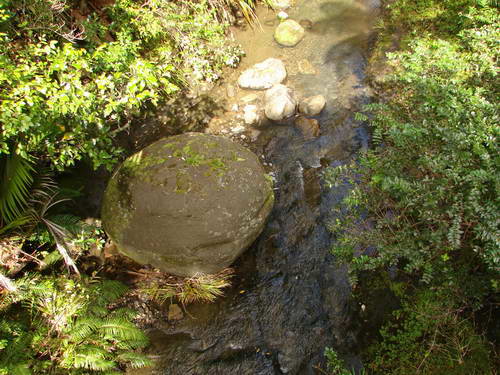 The path is flat, wide and for the most part dry underfoot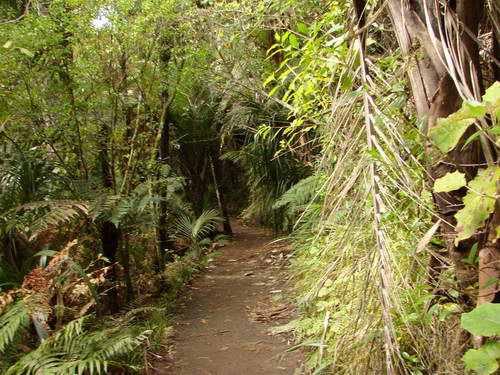 Note the young lancewood and the rangiora to the right of the picture. In the days before fibreglass, my dad, as a teenager, made a decent side- income bringing young lancewood rickers out of the local bush for transformation into fishing rods. The wood is straight grained and exceptionally resilient for it's width.
Shortly we pass the first fork heading off along a collection of routes, some of which have been gathered together as The Montana Heritage Trail. This is a joint venture between ARC and Montana Wines, whose history in the area is a long one.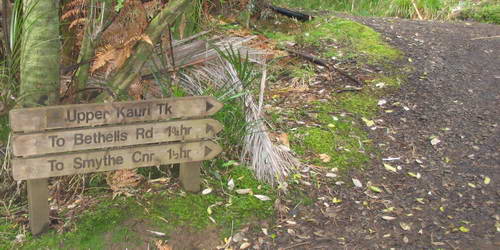 In shallow pools like this one, as a boy on our farm, I would toss out a piece of string with some meat tied on it and wait for a crawkie (koura) to locate it and grab hold. When we had about four or five, we'd build a small fire and boil the billy, and feast on fresh cooked crayfish. These days, and maybe then, only Maori are allowed to harvest these.
(The local Maori kids would often beg a sheep's head from Dad when he was slaughtering and leave that tied to a rope in the pond and there'd usually be a feed tangled up in the wool next day. You could use it over and over again before it was past use-by date.)

photo by miranda woodward
This is a koura, about maximum lifesize, from the ARC sign beside the pond.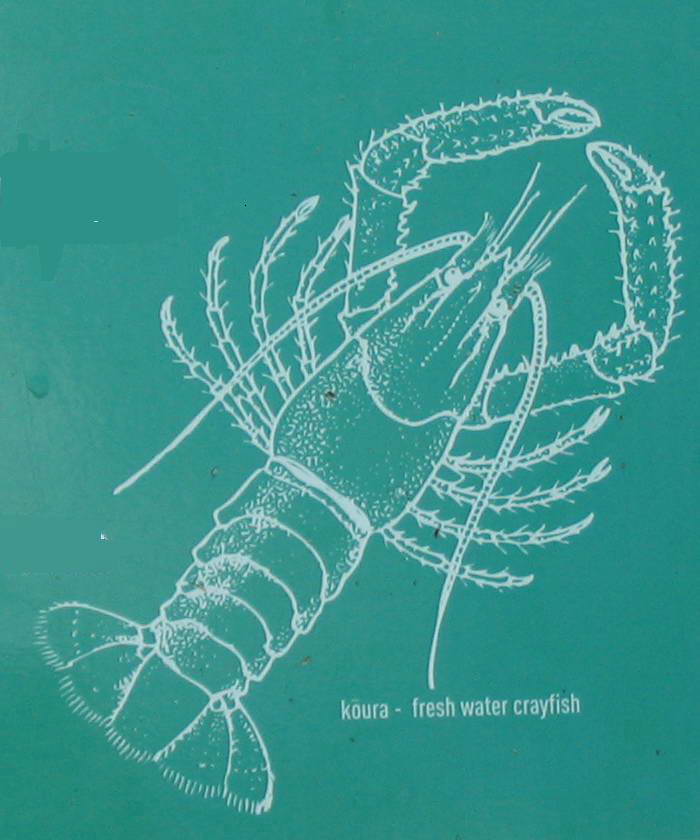 This big old kauri is covered in rata vine. I've never seen rata growing so prolifically as it does in the Waitaks. Along this path, there's a huge one, its spiral trunk the only memory of the giant tree that took it up to the light in the first place. Unfortunately there's no way to get a camera positioned to capture it, so you'll have to keep a lookout along the trail.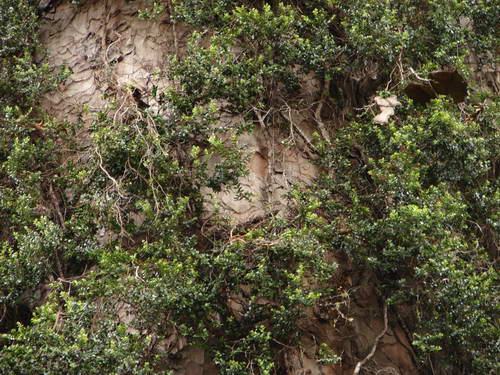 photo by miranda woodward
Miranda is taking some great pictures these days, and one of the side benefits has been that she's much closer to my pace on the track, and we take turns at being tail-end Charlie. Here's a shot which would have been unthinkable on the St James: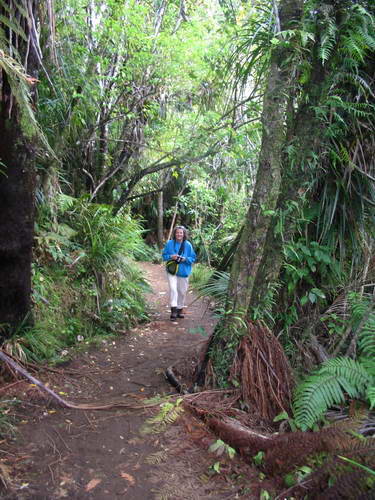 However, it does leave Alice extremely frustrated. There is one place on a walk she cannot abide and that is LAST place. Fortunately Brett obliges and before long Alice is up front with Freya.