8 March 2007
Acland Falls
I left Miranda this morning in Wanaka, with a week of mountain climbing ahead of her, and headed the van towards the Bombays and home. Tonight the Rakaia Gorge Campground. In the meantime, I had faithfully promised to put in at least an hour of walking each day on the trip home, and given that my map of the eastern side of the Alps is not exactly bristling with marked tracks, Peel Forest seemed a worthwhile place to start.
I expected that after a week or two in Westland and Fiordland, I was going to come down a notch or two, and so it proved. There's one pic that probably sums up my disappointment better than most: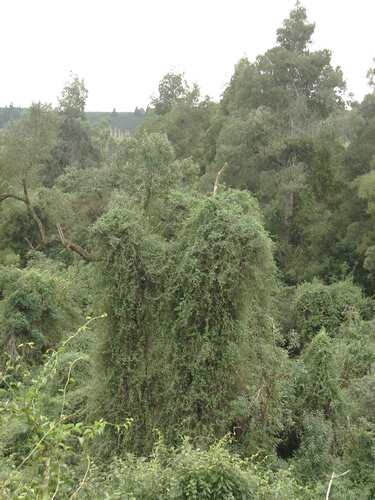 It's an infested forest. It looks as though it's in the process of dying a slow choking death.
Cain Flat, just across the road from the Acland Falls Track, is on the banks of the Rangitata River and just a few kilometres beyond Peel Forest. The campground is a popular one.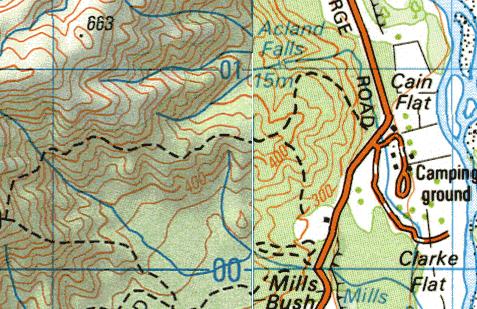 The map shows the track veering around to the left instead of heading for the Falls, but both options are present.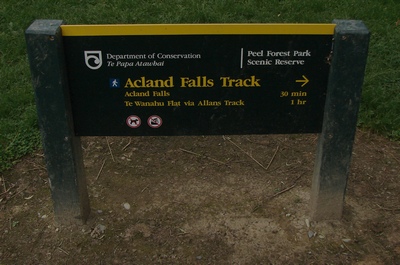 I take about an hour but I'm taking my time to see what's here. It's not a difficult track and the time suggested is reasonable.
It's a bit gloomy to start with.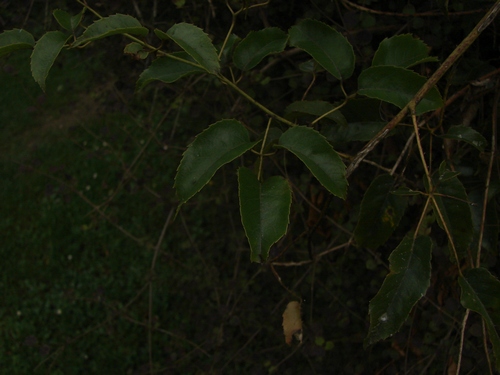 A vigorous Rubus cissoides, bush lawyer, reaches out for me from the edge of the track, which opens out again once we pass the entrance way.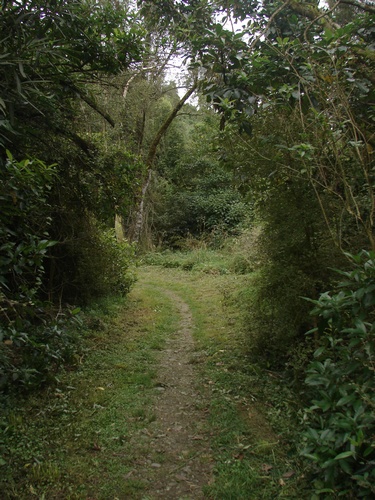 There's a nice Schefflera, but then again, damnation, I wish I could be sure.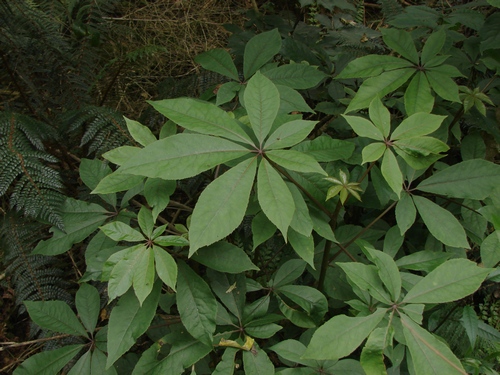 Here's a spreading putaputaweta. There's even a flower or two to be seen along here, but nowhere I can get near with a camera.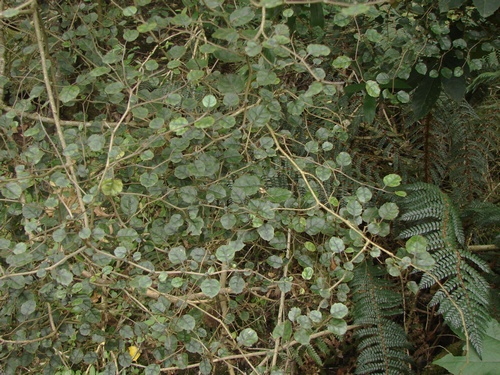 Young mahoe are vigorous.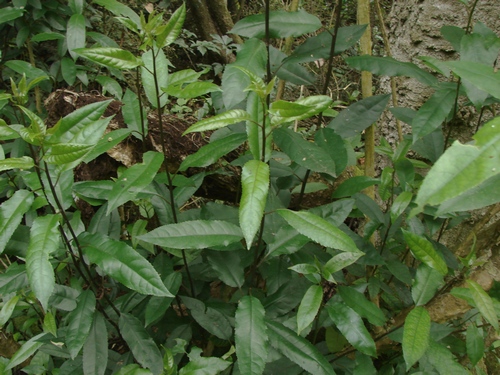 and just ahead you can see the first steps. You can also see the way in which the spreading creeper has defined the shape of the canopy ahead.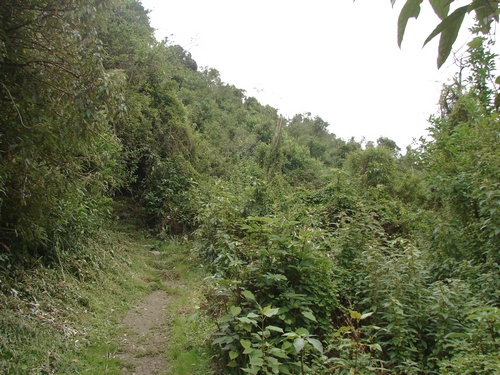 One of the most toothy specimens of makomako I have seen in a while. Wonderful name, if you've ever seen the teeth in a mako shark.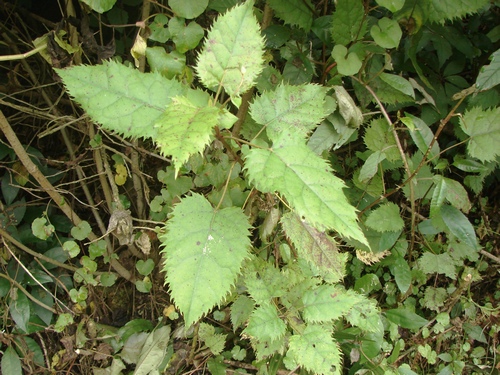 Strands of creeper are everywhere as we begin to climb.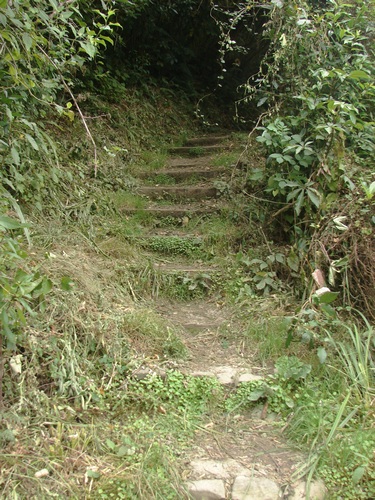 It's fairly straighforward for the most part, and with half an eye out for tree roots most people should be able to walk this one easily.
Well, well. Erigeron karvinskianus, the Epsom curse, Mexican Daisy. In the background you can see a leaf or two of the pervasive creeper.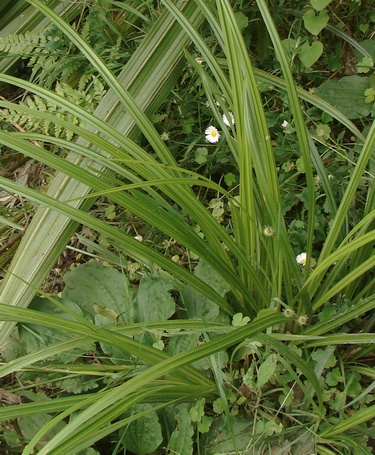 Still climbing and I am glad of my sticks. I'm always glad of my sticks unless I'm walking through long grass.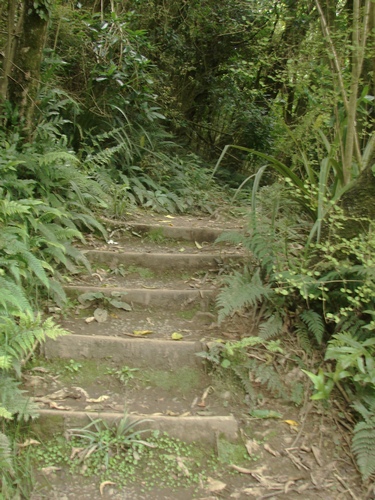 A lush fern feeds off it's host.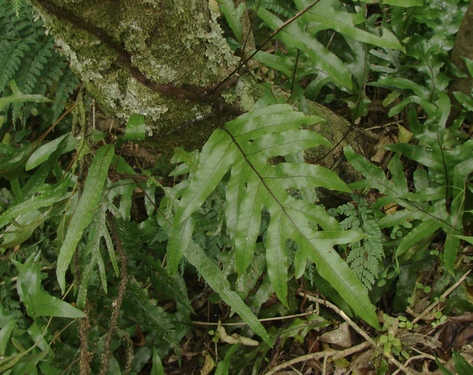 The main track takes off around to the left and we head sharply downhill for a bit to the right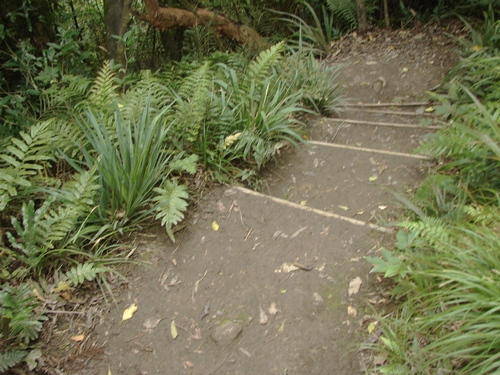 A final staircase takes us down to the creek itself, and from here it's pick and go, partly in the creek, partly along the edge.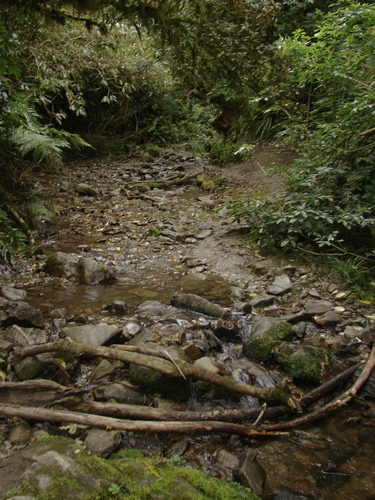 The falls are just around to the right.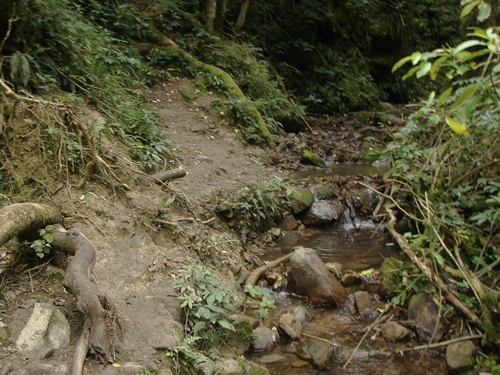 Well, it is a waterfall, and I imagine the harder it is to cover the last few metres, the greater the reward,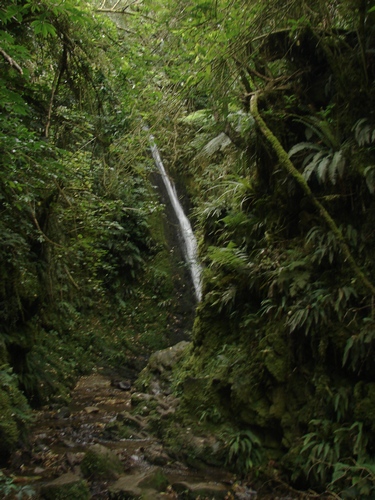 but just now it's a delicate little cataract.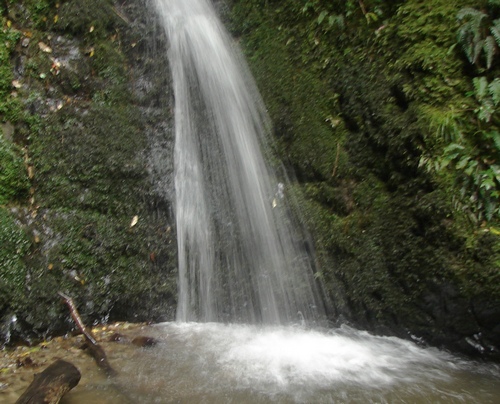 I take a few more shots and head back, passing a wonderful old tree fuchsia which has changed it's m ind suddenly at some point in its growth.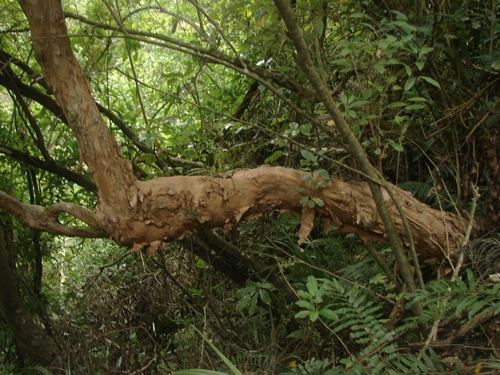 This is a more or less obligatory shot. Every boy likes to bring something home for Mum, and even though Mum's been gone now some 17 years, I never see one of these fine lichen displays without wanting to show her.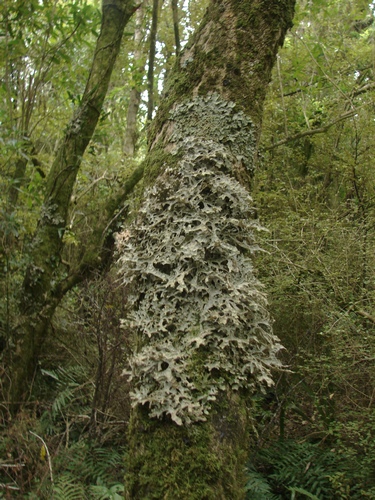 Soon enough the van looms up ahead, and I put the kettle on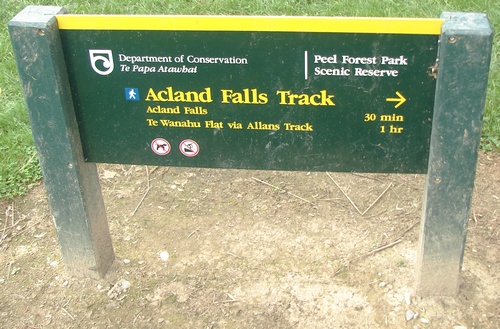 before continuing on to the Rakaia Gorge.
It's been an OK walk, but unless I was camped here and dedicated to checking out the entire network of tracks, not one I'd drive far out of my way for again.