Ballymaloe Brown Bread

(aka Doris Grant Bread)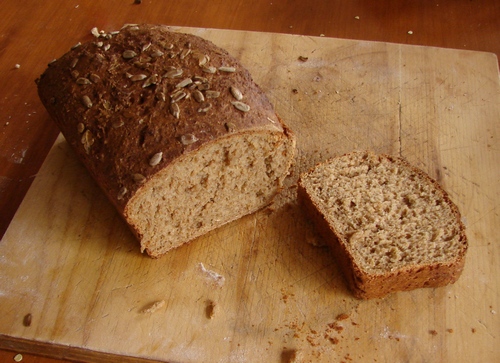 I first came across this recipe in Bread by Eric Treuille and Ursula Ferrigno, which described it as follows: "This no-knead, one-rise bread was introduced by Doris Grant in her book Your Daily Bread." (Doris's husband, incidentally, was a Grant of Grant's Whisky fame.) "This recipe is an improved version devised by Myrtle Allen, founder of the now legendary Ballymaloe House hotel and cooking school in County Cork, Ireland."

This is the loaf I bake when I've been away and come back to a house with no bread in it. 5 minutes to mix, 30-40 minutes rising and an hour to bake. (I also make up a biga for the next day's bread and pop that in the fridge.)

It occurs to me that it has much in common with the later Jim Lahey recipe on which I based my Dutch Oven Bread. Proportions of flour, water and salt are similar, and the loaf tin is heated before the dough is set in it, with the main difference being the use of extra yeast for a fast rise, use of all wholemeal instead of white flour, and use of molasses for extra flavour.

The Lahey recipe uses a s-l-o-w rise technique, with minimal yeast, to develop flavour from the flour, and uses a heavy lidded container to retain steam for a crusty loaf. I'll try that method next time with the Grant bread and see how we get on.
You will need

3.5 teaspoons active dry yeast
400ml water
1 teaspoon treacle or molasses
500g wholemeal
2 tsp salt
Method
Grease loaf tin and warm for ten minutes in 120C oven

Dissolve yeast in water, and add molasses. Leave until frothy.

Combine flour and salt with yeast mixture and mix until a sticky dough is formed that just leaves the sides of the bowl.

Place dough in warmed tin, cover with a tea towel, and leave to rise about 30 min until it just reaches the rim of the loaf tin. If it is left to rise further, it may well collapse or spill over the side of the tin, or the top crust of the loaf may separate out from the rest during baking. (see below)


(This is a 50-50 white flour/wholemeal loaf)

Bake at 220C for 30 minutes, lower to 200 for further 15 min.

Turn loaf out onto baking sheet, turn oven off, and replace loaf upside down in oven for a further 5 minutes.

Note: A little research on Google suggests a large number of variants of this recipe, and a very mixed reaction to it. I followed the above instructions carefully, using a generic wholemeal flour off the supermarket shelf - room temperature for rising was about 22C - and everything performed as promised. The loaf rose in the oven about 2-3cm above the rim of the tin.

This is a much denser and crustier loaf than the standard supermarket white toast loaf, but as far as I was concerned, the flavour and texture were excellent. (It is true that the Kiwi affinity for Vogel's bread may predispose us to a crustier and denser loaf than usual, but I'm certainly not complaining.) It's a little softer than a Vogel's loaf, and the flavour is robust. I might vary this in future by trying golden syrup, honey or soft brown sugar.)

Doris Grant's recipe was originally intended to encourage people away from what she saw as the dangers of refined white flour - "It's slower than cyanide, but just as certain" - and my Home Brand wholemeal she would probably dismiss as white flour with chemical additives. I shall indeed make the effort to see whether stone ground flours perform as satisfactorily as the generic supermarket product
Sauces, Chutneys, Relishes, Jams and Marmalade
Spreads, Dips, Entrees, and Dressings
MAIN COURSES:
With Meat or Fish