Anzac Biscuits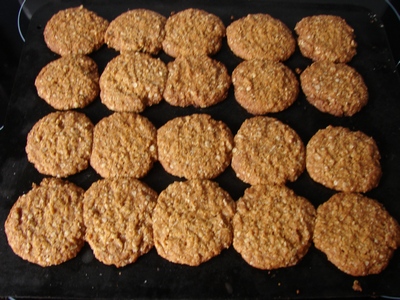 There are a few slightly more elaborate recipes around, and if you're looking just for biscuits, by all means have a go. If you are making your annual politically correct statement, this is the only "approved" recipe.
You will need
1 cup plain flour
1 cup sugar
1 cup desiccated coconut
1 cup medium rolled oats
1 tablespoon golden syrup
125g butter
2 tablespoons boiling water
1 teaspoon baking soda
Method
Pre-heat oven to 160C
Combine dry ingredients and mix well
Melt butter and golden syrup over a gentle heat
Dissolve baking soda in boiling water
Combine all the above in a bowl. Adjust with a little water or melted butter if too dry to ball easily. Add a little flour if too sloppy.
Form into balls about the size of a walnut and place on greased baking tray, allowing 4cm between. Flatten slightly with a fork
Cook in the middle of the oven for 15-20 minutes.
Sauces, Chutneys, Relishes, Jams and Marmalade
Spreads, Dips, Entrees, and Dressings
MAIN COURSES:
With Meat or Fish